The Snap and Wrap is a new product from Little Love Bum. It retails at around £13 for the wrap only. I have reviewed some of the other Little Love Bum range already (Everyday (AIO), and Popper & Pocket (pocket/Ai2)). The Snap and Wrap feels more like their Everyday nappy in terms of the fit and binding around the edges.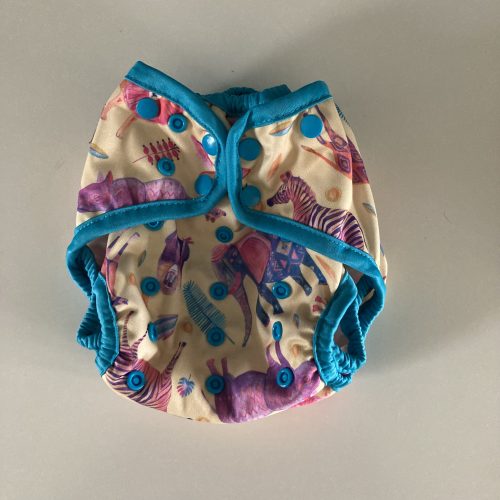 The Snap and Wrap features an external double gusset, which I'm not really a fan of. But despite this and the binding I did find the leg elastics fairly gentle. The waist is a popper fastening. The rise poppers are in three columns which is my preferred option, there is also an extra row to help bring the rise much shorter.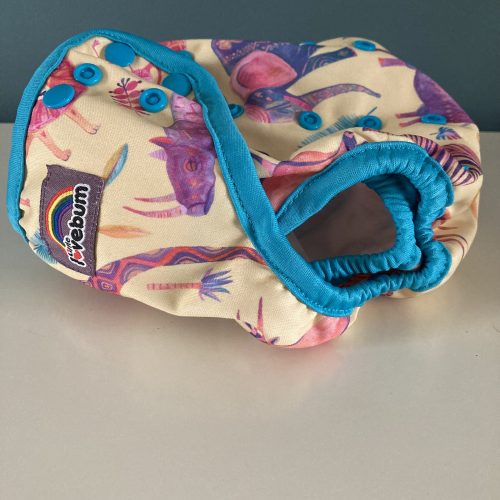 There is an elasticated tummy which I find useful when using the wrap over a bulkier nappy such as a fitted nappy. The elastic helps bring the tummy back in to prevent leaks. But if using the wrap during the day with a slimmer insert I don't find the elastic useful.
Inside the wrap has exposed PUL so the wrap can be wiped down and reused (if not soiled) making it a true Ai2 system. There are front and rear PUL panels which are useful for holding inserts in place, and prevent wicking leaks if your insert managed to move forwards/backwards slightly and stick out of the waistband.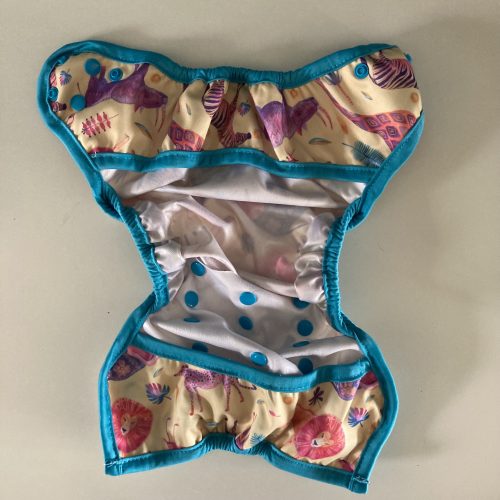 Underneath the front flap is a single popper which is suitable to using with the Little Love Bum trifold. I have already reviewed the trifold as an insert option for the Popper & Pocket and I really like the absorbency offered and the decreased drying time offered by a trifold. The trifold is a hemp and bamboo blend, topped with a stay-dry suede cloth so you do not need to add a liner if you don't want to. At £8 each they are a more expensive option, but you could still buy a full-time day system of these wraps and trifold for under £200. Alternatively you could use any other absorbency you already have with the wrap, a prefold would be a very cost-effective option. The front and rear flaps will hold the absorbency in place so don't worry about the lack of popper on your insert.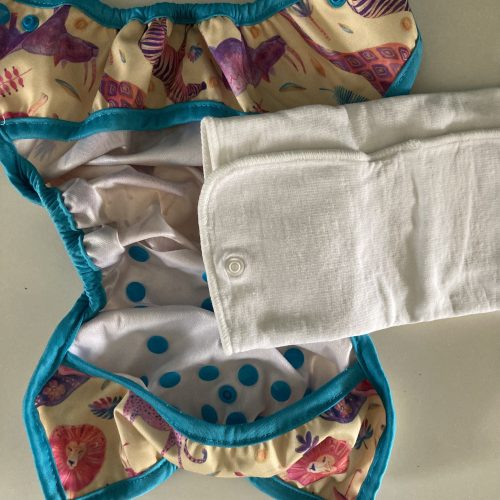 The only negative I have about this nappy is that I was unable to get a decent fit on my boy with the wrap. He is 95cm and the rise just isn't long enough for him. Hopefully it is sufficient for average sized toddlers to last until potty training. Although it is worth considering that if you intend to use this over a bulkier fitted or Terry nappy you may find the length is outgrown sooner as the length is used up in covering the bulk.
Overall I think this is a decent, cost effective, versatile system which offers good absorbency and natural fibres. I would recommend for small-average sized children, but not for taller toddlers.
You can also see this review, and many others, on my YouTube channel.