The Modern Cloth Nappies Pearl Pocket is actually an all in one nappy, despite its slightly confusing name. They also make a pocket nappy called the Duo Pocket, which you can read my review of here. Like the Duo there is a beautiful range of prints but the prints are different for each of the two styles. The Pearl Pocket retails for £17.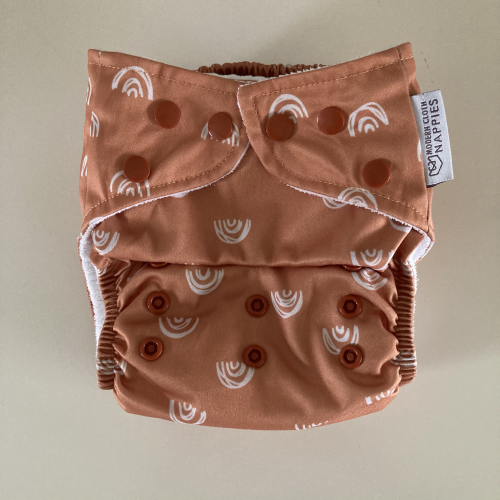 .The outer is made from a good quality PUL. There are three columns of rise poppers which is my preferred option, and a popper waist fastening. Although the waist has hip stability poppers, it does not feature an overlap on the tabs so you will probably struggle to get a good fit on a smaller baby.
Inside the nappy has a beautifully soft fleece lining. There is a PUL tummy panel to help prevent tummy leaks.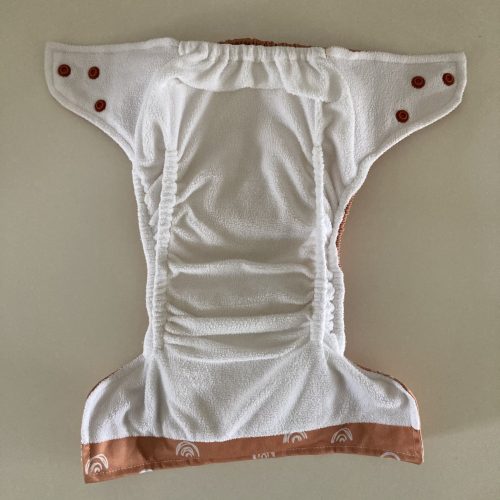 There is also an internal double gusset, which I'm not personally a fan of but this doesn't cause us any issues. At the back of the nappy is a pocket-style opening, which I guess is where the Pearl Pocket name comes from.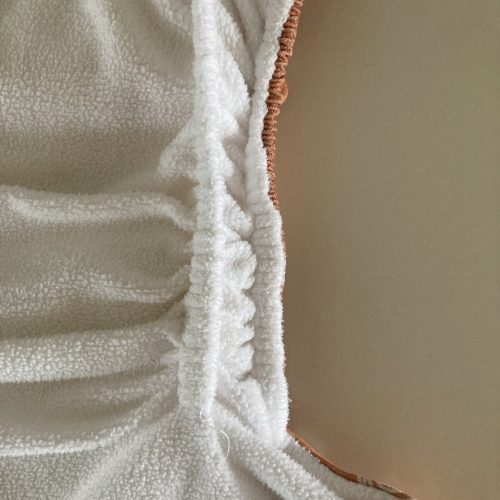 Inside the pocket is a 4-layer hemp:cotton (55:45) insert. The insert pulls completely out of the pocket, but is still stitched on. This allows for a faster drying time because the air can freely circulate, but saves you have to match up inserts after washing. The insert has a stay-shape layer (the whiter side) which helps prevent the natural fibres of the insert misshaping from washing. The stay-shape layer has become slightly baggy as the natural fibres have shrunk slightly, but this is normal and does not affect the use.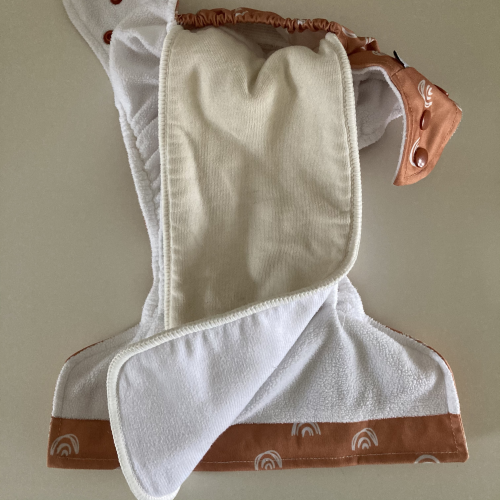 We do not need to boost this nappy. I'm finding the insert alone is sufficient absorbency, although there is plenty of space inside the pocket to add boosters. But if do need to boost then I normally recommend Easy Peasy hemp boosters as they are very slim. Alternatively Modern Cloth Nappies sell their bamboo inserts (the ones you get with the Duo Pocket) separately. These are £2.50, or a pack of 5 for £10. They are 3-layers of bamboo, slim and fit perfectly in the pocket space.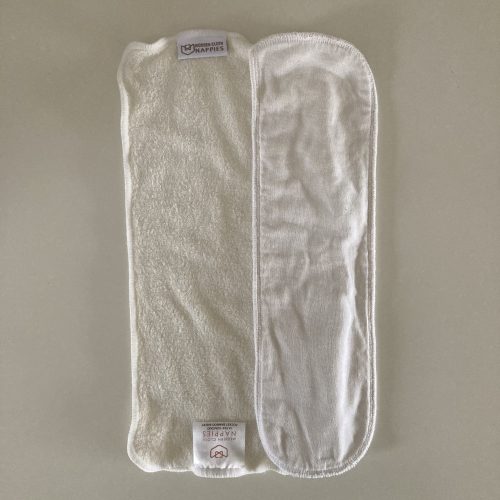 Overall I'm really pleased with this nappy and would definitely recommend. It's absorbent, slim fitting and fairly affordable for an all in one. The only real negative is the lack of overlap poppers on the waist, this doesn't affect us at all, but it you have a younger, skinny baby you may need to wait to get a good fit.
You can also see this review, and many others, on my YouTube channel.