Snazzipants are owned by the company Brolly Sheets who make waterproof bed protector sheets for children who are learning to become dry overnight. I do have one of these sheets so will add the review once I get round to it. The Snazzipants brand is for their training pants. They offer two styles of training pants, the boxers I have here, and a brief style. At the moment they are exclusively stocked in the UK by The Nappy Lady and you can grab a discount here.
They retail for around £14 and come in three different sizes; Small (3-4 years), Medium (5-6 years), Large (7-8 years). I have the Small here and would say it runs true to size. The designs are made to look a bit more grown up than nappy prints and the soft cotton fabric does make them look at feel like underwear.
The absorbency is in the centre panel, it runs right up to the waist band at the front and back. It deliberately is cotton on the inside too so if your child wets the underwear then they will instantly feel wet, helping create that link.
They aren't designed to hold a full wee, they are a potty training aid not a pull-up nappy. They claim to hold 100ml for four hours. I tested this in the video below and I think 100ml is absolutely pushing the limit, so it's best to view these as a peace of mind product for catching little accidents.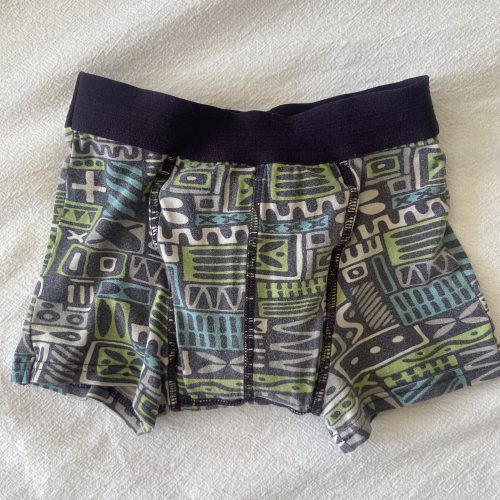 You can boost the underwear by sliding a standard nappy booster (or a flannel!) into the underwear and securing it by putting under the elasticated straps. So you have a degree of flexibility.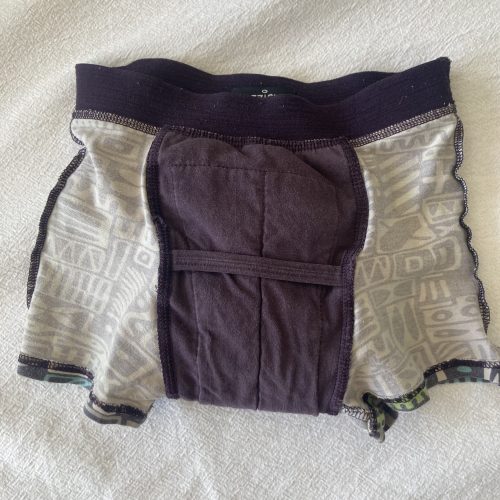 Although my boy never wet these – he potty trained very suddenly and reliably, he did enjoy wearing them at night instead of nappies, and I liked that we had a back-up just in case. They've therefore been washed frequently and although the print has faded a little they are in otherwise good condition.
You can also see this review, and many others, on my YouTube channel.