Fiyyah are predominately a cloth nappy company, but they also make a great range of wet bags which I like so much I wanted to review them. Full disclosure after purchasing one large wet bag myself I was very kindly gifted a medium and large wet bag without any obligation to review or post. If you'd prefer a video version of this review then you'll find one at the end of this page.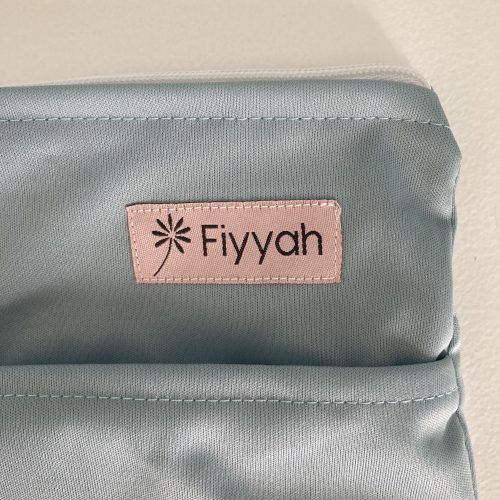 They make two different sizes which they refer to as the medium and large, although I'd personally class the large as an extra large size. Both are available in their stunning range of muted blocks and delicate prints. As beautiful as these blocks are in nappies, they work even better on wet bags, especially the large which is more likely to be displayed in your home and will therefore match your decor.
Medium wet bag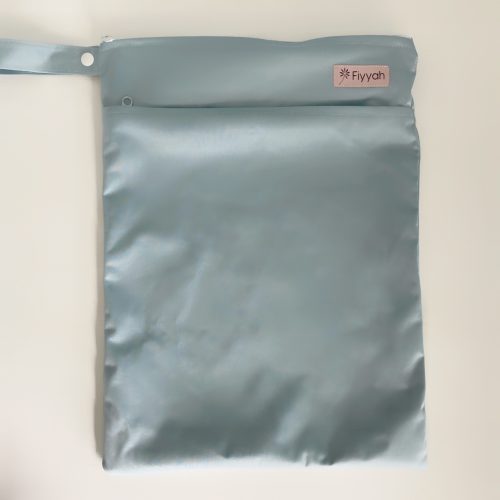 The medium retails for a very affordable £6. It has a full-width zip opening along the top, and a zip-closure pocket on the front which is about two-thirds of the size of the main compartment. Both sections are PUL-lined so can hold wet or dry items. The is also a useful hanging loop with a popper so it can go on your pushchair etc.
The medium will hold around 5-6 nappies so perfect for a day out. But it has so many other uses too! We also use ours for swimming trips, CSP and family cloth.
Large wet bag
As I've already mentioned the large is more of an extra large size. I now use this instead of a nappy bucket and it's absolutely brilliant. I no longer need to spend time rinsing and cleaning the bucket 2-3 times a week, I simply turn the bag inside out and it gets washed with the nappies. My only wish is that I discovered this earlier!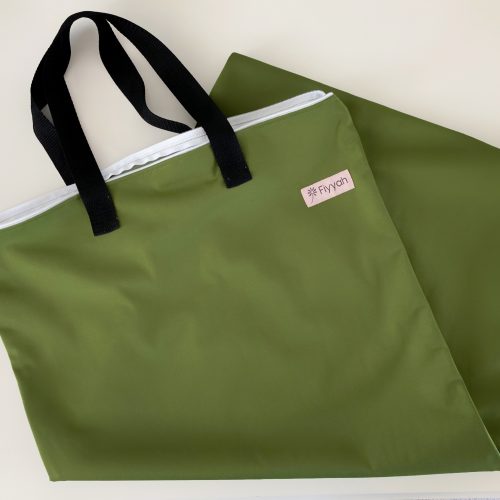 It retails for an excellent £9 and holds 15-20 nappies – plenty enough to hold all my day nappies for washing every third day.
The bag itself is longer and narrower than other bags of this size which is actually a much better shape if you're using it as an alternative for a bucket. There is a full-width zip closure across the top and is fully PUL-lined. What stands this bag apart from other large/extra large wet bags is the carry handles. Whilst the hanging loop on the medium is perfect for a bag of that size (which is carrying a certain amount of weight), it isn't suitable for a larger bag (which needs to carry a much larger weight). Fiyyah have added these great chunky woven straps. The straps are well-spaced so the weight of the bag is distributed evenly. They are also the perfect length to carry on your shoulder, keeping you hands-free for baby carrying.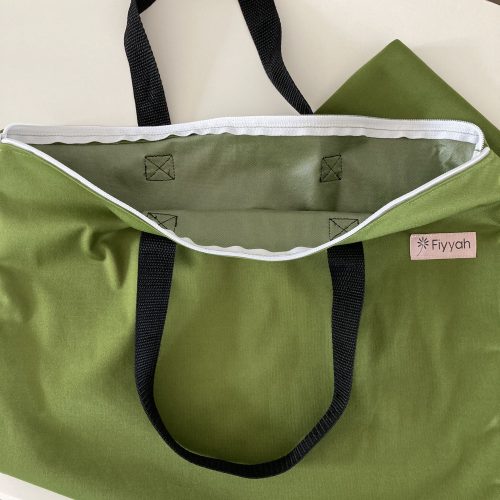 At the time of writing this both sizes of bag are actually in the sale for £2 cheaper than the prices listed above, making them even more affordable.
If you're on the look out for a new wet bag them I'd definitely recommend these, especially the large one!