At the beginning of 2022 Designer Bums expanded their range of nappies to include a newborn and large version of their OSFM (one size fits most – birth to potty) nappy. The Little is available in the same prints as the OSFM nappies, but there is a smaller range of prints. It retails for around £18.
The nappy has a single row of waist poppers, with a double overlap. The is one rise setting as well. Sized down the nappy fits from around 1.5kgs (around 3lbs) and should last until around 5kgs (around 11lbs). I received this nappy when my baby was around 3.5 months, by which point she would have around 11lbs but it not only still fitted but lasted until she was almost 6 months so a really impressive sizing range.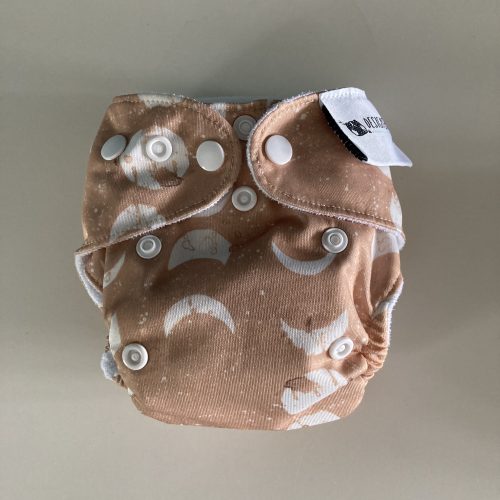 The elastics are all gentle and offer good containment.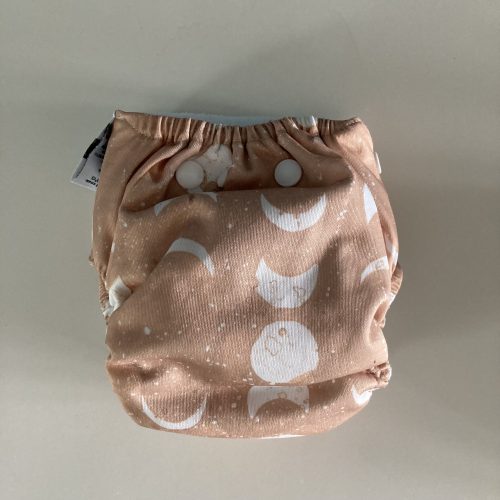 The shell has the typical Designer Bums style of elongated wings, and there is a good range of poppers on the waist panel. In the centre is a cord cut-out popper. This little set of vertical poppers allows you to fold the front of the nappy down to allow space for the cord stump. It is a feature you'll only need for such a short space of time, but if you want to use cloth from birth it is incredibly useful to have. When not in use the cord cut-out poppers do not cause any issues.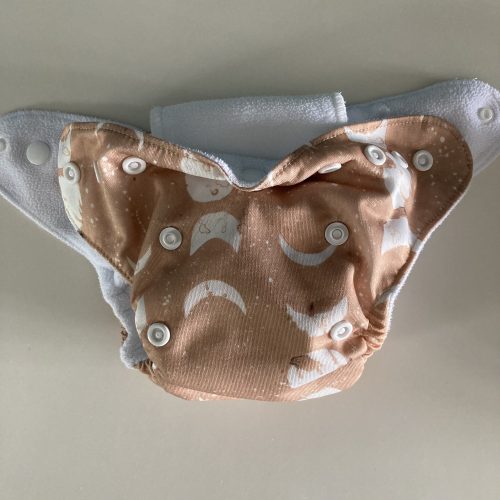 Inside the shell is lined with a soft fleece. There is an internal double gusset which I'm not normally a fan of because it makes removing solids more difficult, but until your baby starts on food you do not need to solids so it doesn't cause us any issues.
The insert snaps into the back of the shell. It is a snake insert, made from 3 layers of bamboo:cotton and topped with the fleece. By being able to remove it from the shell the insert is easier to wash and faster to dry. The insert can either be folded in half to give 6 layers of absorbency, or folded into a Z-fold to place some extra absorbency into your baby's wet zone.
I've found it isn't that common for newborn nappies to be stay-dry lined so I'm really pleased that this one is. The absorbency is good with this nappy, again uncommon for newborn nappies as it is difficult to get sufficient absorbency into a small nappy. Towards the end I was needing to boost but at the same time we were also using the OSFM nappies which are more absorbent. I boosted by placing a small booster between the snake insert fold.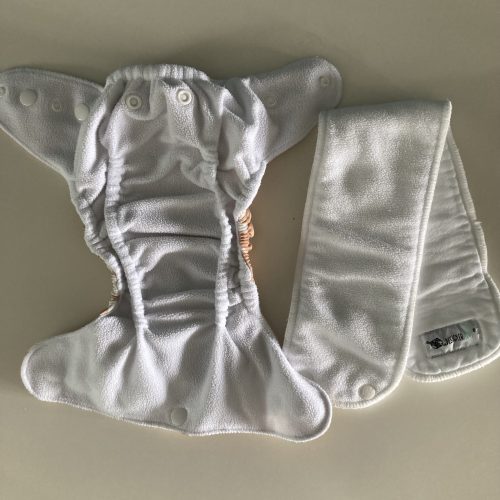 Overall I really like this nappy. It has so many features that I look for in a newborn nappy. I wish I'd had more of them, and I wish I'd had them straight from birth. The only downside is the cost, £18 is expensive for a newborn nappy. But if you can afford these then they are lovely to have.
You can also see this review, and many others, on my YouTube channel.