Blueberry Diapers make two birth to potty nappies, an AIO (Simplex) and a pocket (Deluxe), plus a newborn version of the Simplex which is what this review is for. It retails at around £17, and claims to fit from 6-16lbs. I first used this on my baby just a few days after she was born (7lbs 8oz) and it was a little gappy on her legs so I don't think it would fit most baby's at 6lbs unless they had particularly chunky legs. Despite the slight leg gaps it did work well for us and the more generous sizing allowed me to continue using this until around 14 weeks (she's very average sized and weight).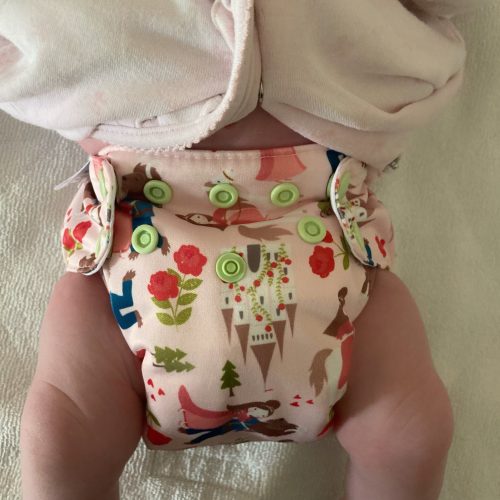 The nappy has a popper waist fastening. Although there are no hip stability poppers the poppers on the waist panel are diagonally positioned to prevent wing drop. There aren't any rises poppers to adjust the length, which is this nappy's biggest downfall. If I had been able to shorten the length I would have got a much better fit around the legs from birth.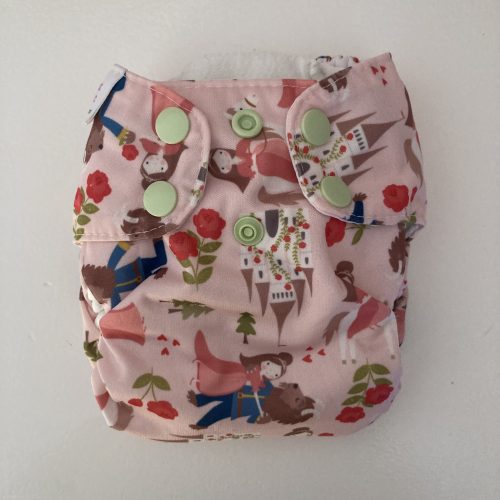 Most excitingly, the nappy has a snap-down cord cut-out. If you're planning to use cloth from birth then a cord cut-out is such a great feature as it keeps your baby more comfortable and allows better air circulate to the cord stump, which in turn aids healing. This is so easy to use, just snap down. And when the cord has healed un-snap and use as normal.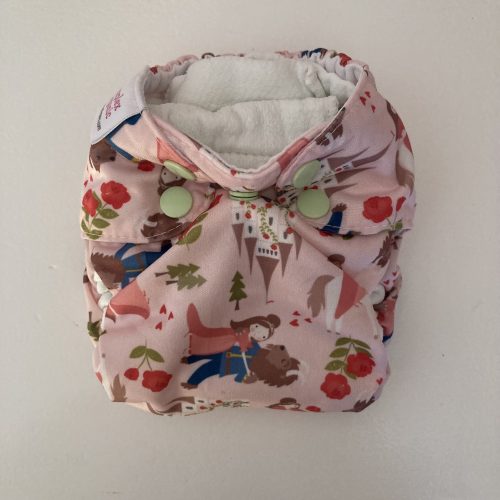 The nappy has rolled leg elastics which I really like as they're so gentle on the skin. it is also fairly narrow between the legs which gives a lovely fit.
Inside is 12 layers of OEKO-TEX certified organic cotton. There isn't a stay-dry layer so you'll need to add a liner if you don't want your baby to feel wet. There is an opening on both ends to allow you to add additional absorbency.
This worked well for us unboosted until around 11 weeks. Then we began adding a small booster (Kit and Kin are great for newborn nappies, or try a cloth wipe). By around 14 weeks the absorbency became insufficient and we moved to birth to potty nappies, although it did still fit well.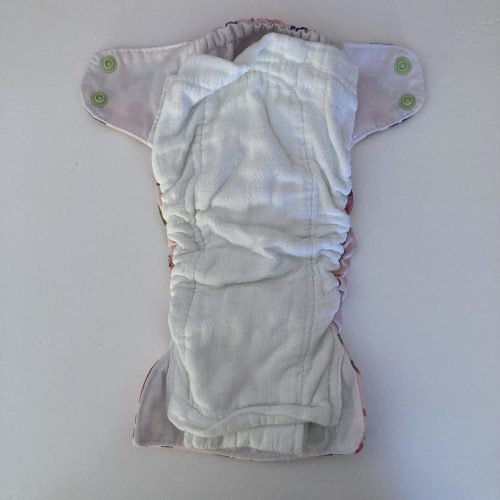 Part of the 12 layers of absorbency is provided via this pull-out tongue which is attached to the front of the nappy. It can be laid flat inside the nappy, or stuffed into the pocket. It isn't fleece topped like the BTP version. Having the tongue separate helps to decrease the drying time, although being an AIO it isn't particularly quick to dry.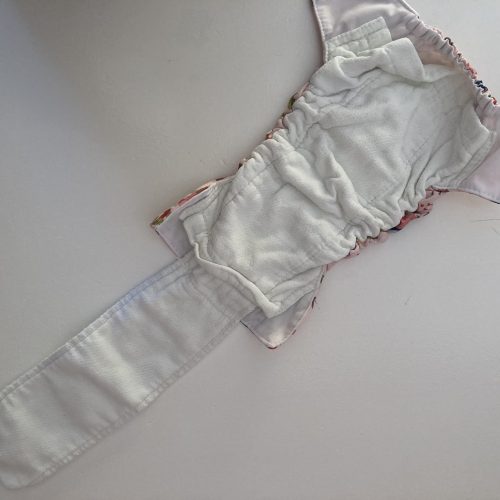 Overall I think this is a really cute newborn nappy. I particularly love the cord cut-out and the rolled leg elastics, although I do think rise poppers would be a great addition. The absorbency is good, which isn't that common for newborn nappies and having natural fibres is great. But having fleece on the pull out tongue like the BTP Simplex would be an extra little improvement. It is also towards the top end of the market, but if you're looking for a newborn AIO and can afford a few of these then I would recommend them.
You can also see this review, and many others, on my YouTube channel.