Thirsties are an American brand who offer a range of nappies and wraps. Their NAIO (Natural all-in-one) is very popular but I've always avoided trying it because I know the lack of a stay-dry layer would mean the nappy wasn't to my personal taste. But then they launched a stay-dry version which I knew I'd like more. It retails for around £24.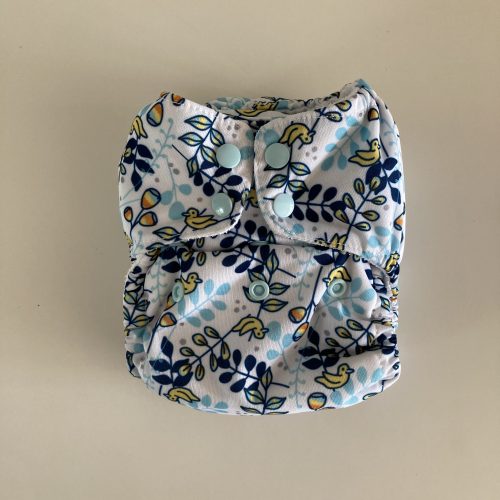 The stay-dry version is only available with a popper waist, but the original NAIO comes in popper and velcro. It's a double popper but without an overlap tab. The tabs themselves are really short, but the waist panel has a good range of poppers so there is a lot of flexibility with the fit.
The rise poppers are in three columns, my preferred option. We still have one rise done up (at 2.5 years) so I feel confident this will last until potty training. I do find the poppers rather stiff to undo and do up.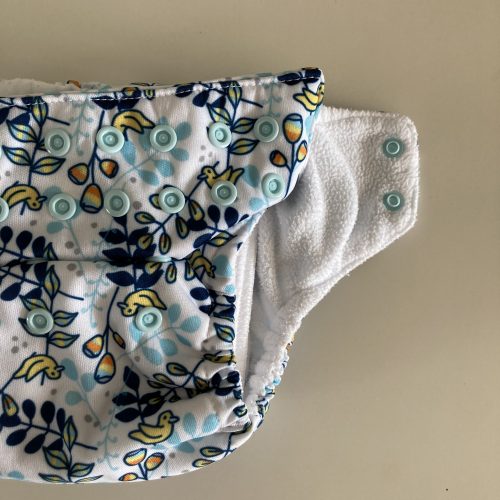 The leg elastics are what I call a semi-rolled elastic. This makes them very gentle on the legs but they are also more forgiving of needing to be fully tucked in like a rolled elastic. Making them a good option for less experienced caregivers. This is a fairly slim nappy for the level of absorbency.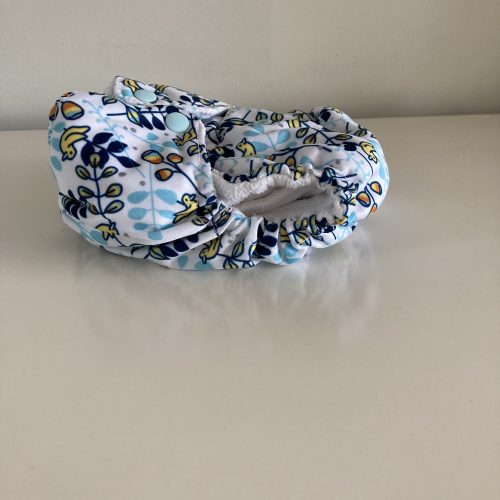 Inside the shell is fully lined with a soft fleece, and a small PUL tummy panel. There is also an absorbent tongue which is fleece topped. The absorbency is split into three parts, this allows for a reasonable drying time, which is good for an absorbent nappy.
The shell. This has 2-layers of GOTS-certified organic cotton under the fleece lining.
The tongue has 4-layers of organic cotton.
The pull-out insert fits inside the tongue. There is an opening in the tongue to stuff this insert into, plus a handy opening on the insert to help you stuff. This has 4-layers of hemp and organic cotton.
Any additional boosters can either be placed inside the tongue, or laid underneath it. Although I haven't found the need to boost.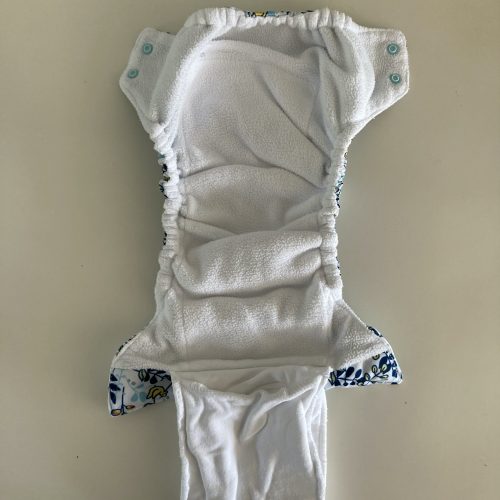 Overall this is a good nappy, with good absorbency. The fleece lining is very soft and I like that the absorbency is all natural fibres. We get a good fit with the nappy, and there is a wide range of sizing options. Plus it is easy to use. I think the PUL feel (although perfectly effective) and the stiff poppers let down the outside a little. At £24 is a more expensive nappy and I would have preferred a more luxurious feel.
You can also see this review, and many others, on my YouTube channel: