Bear Bott are a UK brand whose nappies are ethically made in China. They have a range of cloth nappy styles, the Ai2, AIO, newborn, preflat, cover and fitted nappies, alongside a range of accessories.
The pocket retails for £17 with inserts (see below for more info on those), or £12 for just the pocket shell. I do really like it when brands offer their pocket nappies with the option of just purchasing the shell as it can cut costs and is more sustainable if you have some absorbency you can already use.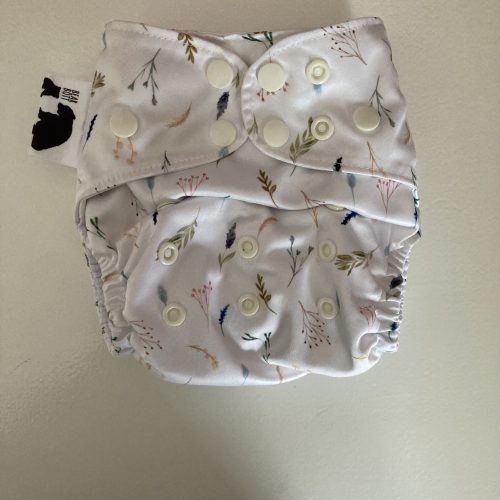 The outer shell features Bear Bott's signature PUL. It is extremely soft and silky to touch and adds a real luxury feel. The leg and back elastics are very gentle.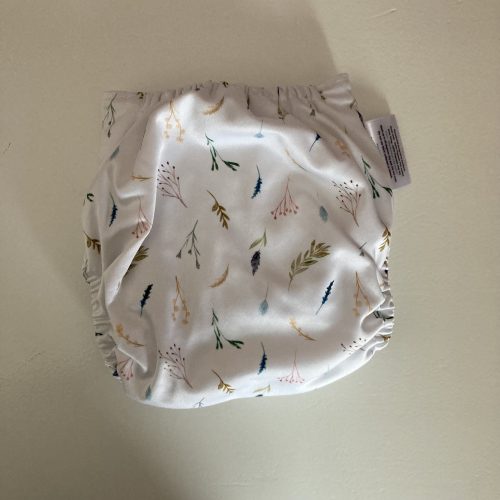 Like the rest of the Bear Bott range it is only available with a popper fastening on the waist. There are low hip stability poppers, and an overlap on the waist tabs. The waist panel has a good range of popper options. The rise poppers are in three columns which is my preferred option.
Over Bear Bott are quite generously sized so they should last until potty training (this nappy lasted my boy, with a rise still done up, when he potty trained at 98cm tall and 16kgs). The downside of a more generous size is that you may struggle to get a good fit on a very young or small baby.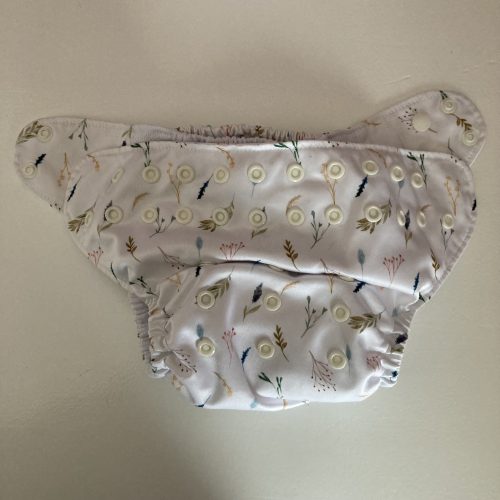 Inside there is a PUL tummy panel and the nappy is lined with athletic wicking jersey (AWJ) to provide a stay-dry layer. AWJ is very resistant to staining and makes removal of solids a bit easier. There is an internal double gusset which I'm never a massive fan of because it makes solid removal a bit more tricky, but combined with the AWJ I can cope with it.
There is a pocket opening at the back of the nappy. It is elasticated on both sides for easy stuffing/unstuffing. The pocket has plenty of space for boosting or bulkier inserts.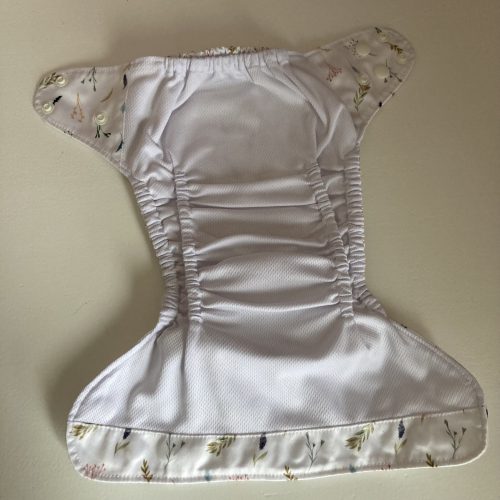 If you buy the nappy with the inserts you'll get these two. Both hourglass shaped and snap together for easy stuffing. The one on the left is three layers of bamboo Terry, the right is three layers of cotton. The bamboo is slightly longer in length but both are still much shorter than a standard pocket nappy insert. This is great when you're on the smallest rise as I can often find inserts are a little long, but once you open the nappy up I find them more difficult. I don't miss the length in terms of absorbency, both my babies would leak through the legs on any nappy long before they had wet an insert to both ends. But it can be a little tricky to ensure the inserts stay in the correct position – in your baby's wet zone.
I don't find these two inserts sufficient absorbency though, and I do need to boost further for either of my children. This actually helps keep the Bear Bott inserts in place as they grip against other boosters and there is plenty of space in the pocket to boost. But of course boosting does add an extra little bit onto the price.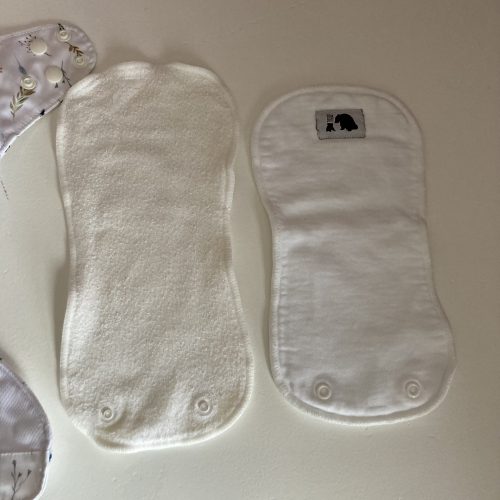 Overall I really like the pocket shell. There's a lot of great features here, and the fit is lovely. (And of course that silky PUL!). I do feel the inserts let it down a little because of the absorbency and the length, but because you can but without the inserts this can be easily overcome. I really like using cotton prefolds in pocket nappies, with an Easy Peasy hemp booster if you need more absorbency.
You can also see this review, and many others, on my YouTube channel.