Bebeboo make three BTP nappies, the Choice, Grow and Flex which I have already reviewed. This is the newborn sized version of the Flex. It retails for around £13. Like the entire Bebeboo range it is sold without inserts to allow you to use whatever absorbency you prefer. I cover some of the Bebeboo absorbency options below.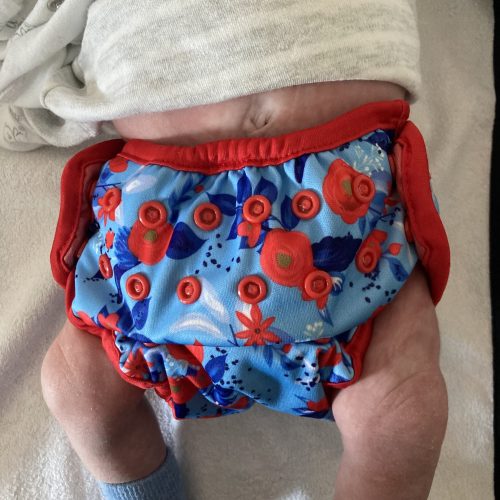 The wrap is PUL, and like the rest of the Bebeboo range it only comes in a popper waist fastening. The edges are covered in a contrasting binding, the rise poppers are in two columns but due to the wrap being smaller than a BTP nappy it works really well. There is an impressive range of sizing options with this wrap. Using the rise poppers we got a good fit right from birth (7lbs 8oz), my baby tracked the 50th centile and this lasted us until 6.5 months – the longest of any newborn nappy I have tried. The downside of the flexibility in the sizing is that on the smaller settings there is a bit of excess fabric which can make the wrap feel a bit bulkier, but in my opinion this is a worthwhile issue for the longevity of fit.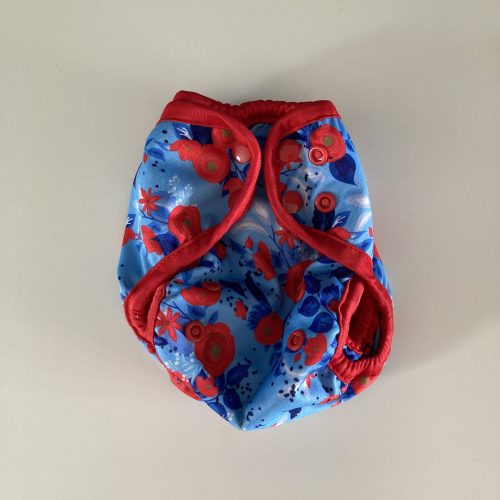 The front of the nappy has a small piece of tummy elastic. I'm always in two minds on whether I like tummy elastic but on this particular nappy it works really well. My preference was to use this wrap over a muslin and the elasticated tummy kept everything tucked in nicely. Additionally, as this nappy doesn't have a cut-out for the cord stump, having tummy elastic allows you to pull the front down a little to create a bit more space around the cord area. There is an external double gusset on the legs.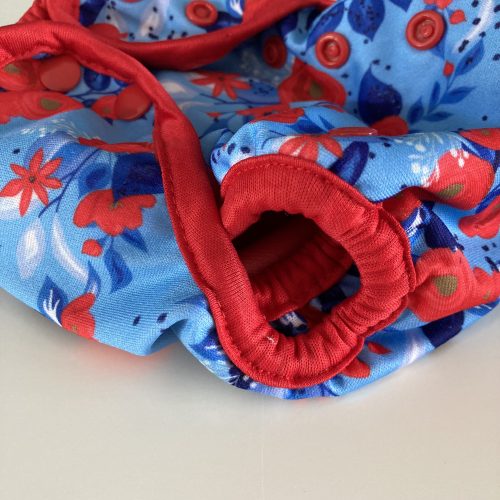 Inside the wrap there is a large tummy panel flap, this is great if you want to padfold your absorbency (or lay any absorbency into the wrap) the flap will hold it in place securely.
The shell is wipe clean – making it a more economical option as you can reuse the shell around 4 times as long as your baby hasn't soiled it. The PUL is a double layer, making it less likely to leak if your insert inside is fully saturated.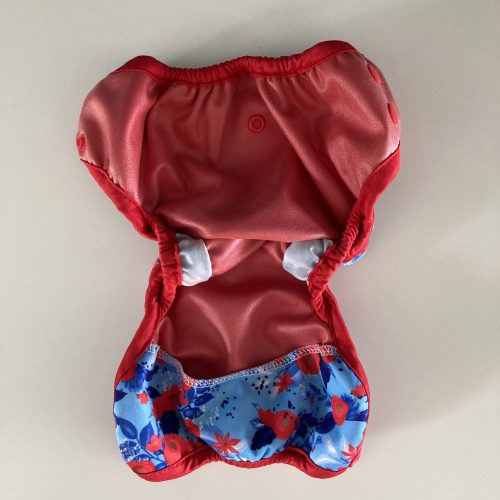 There are also two female poppers inside the wrap, one at the back and another hidden under the front flap. The poppers are a universal size so should work with any brand of insert that has a single popper (although of course you do not need to secure your insert you can lay anything flat). The Bebeboo inserts obviously work really well with this wrap.
Absorbency options
Pictured below is the standard Bebeboo BTP inserts (picture 1, far left). I only have the V1 style insert which is a standard rectangle (5-layers of pure bamboo). The V2 is a layer thinner but a snake insert. Both would work well in this wrap as they have a single popper to secure into the wrap.
I also have the Bebeboo Petite inserts (picture 1, in wrap). This is a great little insert, 4-layers of pure bamboo with a single popper at one end. It can also be snapped to the standard Bebeboo inserts to add more absorbency, although you could simply lay it flat against any insert to become a booster as your baby needs more absorbency.
Bebeboo Fold (pictures 2 and 3) a trifold made from 3 layers of bamboo:cotton. Gives good absorbency but also dries quicker because it can be unfolded. This can be used from newborn right through to potty training. Again you can use any prefold/trifold you already have.
After using muslins we progressed onto using the Bebeboo inserts. At around 4-6 months she became a really heavy wetter, a stage I think most babies go through before they start weaning. A lot of nappies really struggled to cope with her output, but I found using the standard Bebeboo insert, along with the Petite insert a really reliable option.
However I didn't like using this wrap with fitted newborn nappies. Because of the width of the fitted nappies I found they would touch the binding and once wet they would cause wicking leaks. This is my only real criticism of the wrap.
Overall I think this is an excellent wrap. it worked brilliantly over muslins, which is my preferred newborn absorbency. The Bebeboo inserts were able to offer us the required absorbency later on, but it is flexible enough to be used with any absorbency. The sizing is very impressive, and whilst there is a small tradeoff with it being a little bulkier at birth, I think that is worth it.
You can also see this review, and many others, on my YouTube channel.