Dinky Dodo are an eco-retailer who have branched out into their own cloth nappy, sometimes referred to as The Label as well as Dinky Dodo nappy. It is an Ai2 / pocket hybrid and retails for around £20.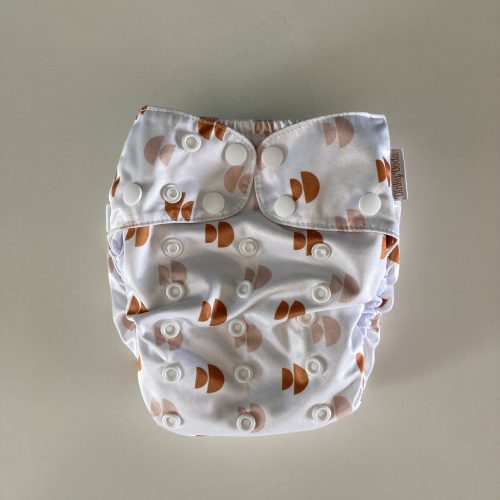 The PUL outer is very soft and has a slight stretch, it is also made from recycled materials which I love. It has gentle rolled leg elastics, and wide back elastic too – all good features in my opinion. There is also a piece of tummy elastic on the centre of the waist panel.
The waist is a popper fastening. There is a huge range of rise poppers so there is good flexibility in the fit. The nappy is long so I think it would be well suited to tall children. But with the rise poppers we were able to get a good fit at 13 weeks which is when I received the nappy.
Inside is lined with Athletic Wicking Jersey, there is a PUL tummy panel to help prevent leaks and a back pocket opening. There is also an internal double gusset which I've never seen alongside rolled leg elastics before. I personally don't like internal double gussets as they make removing solids more difficult, but we used this nappy prior to weaning so it was never an issue.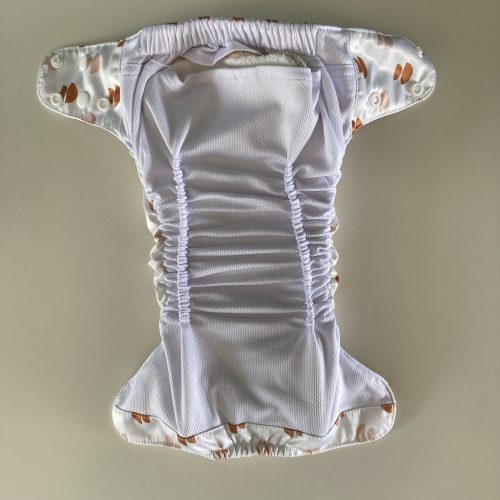 With the nappy you get an anchor insert, I like anchor inserts as they give you some flexibility on where to place the absorbency (see the Z-fold here). It has curled which is a little frustrating, I never tumble-dry my nappies and I do try to reshape whilst damp. It is 4 layers, 1 layer hemp:cotton, 1 layer bamboo:cotton, and two layers of bamboo Terry. I find the absorbency good in this nappy.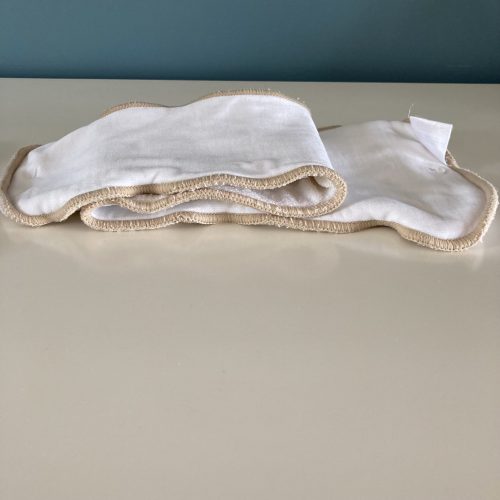 What makes this an Ai2 is that there is a popper inside the pocket and on the insert. You can snap the insert to the shell and lay the insert inside the nappy, rather than inside the pocket. Although the insert is not stay-dry topped so either your baby will feel damp or you need to add a fleece liner. You can also leave the insert attached to the shell so it doesn't need re-pairing after washing.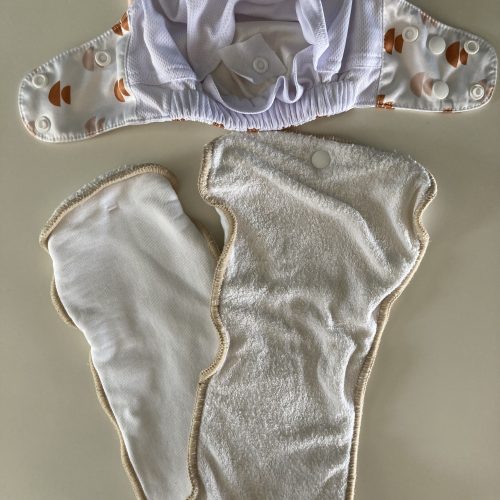 The downside of this nappy was the poo containment. every time my baby did a poo we got a little leg leak. these were small but unexpected in cloth. I didn't find the internal double gusset offered any additional containment. This may be because the leg elastics are gentle, but I have other brands with rolled leg elastics that have not had this issue. As I mentioned she hadn't started solids just yet, and it may be that older babies do not have this issue if their poos are more solid but I felt I couldn't trust the containment.
Overall the nappy has a lot of features which I like. The gentle elastics, recycled PUL, and a natural fibre insert. But the lack of containment we experienced has put me off.
You can also see this review, and many others, on my YouTube channel.