Tickle Tots make both all in one (AIO) and all in two (Ai2) versions of their nappies. This review is for the AIO.
The nappy is birth to potty sized and only available in a Velcro fastening. The Tickle Tots prints are mostly muted countryside designs which I rather like.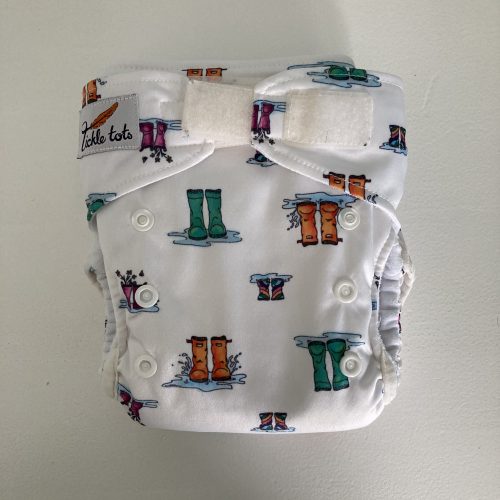 The nappy retails for around £16. As well as being stocked by many nappy retailers, it is also available in Waitrose making it really accessible. Because it is sold in stores it does need some packaging but this is just a simple card.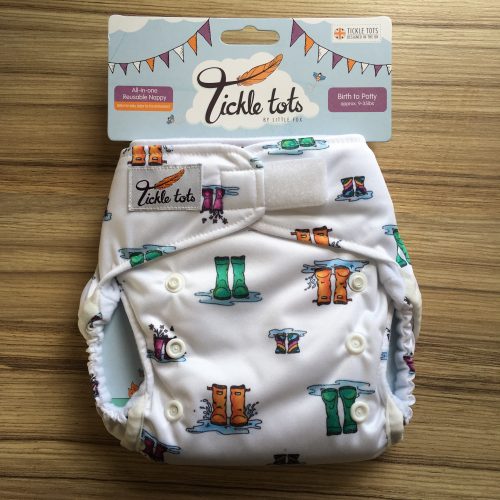 There are only two columns of rise poppers, I do prefer to have a third column to help hold the nappy in shape. But as this nappy is a lot smaller than others we have I've only ever used it fully open. It is designed to sit much lower than other cloth nappies, more like underwear. I do have other nappies of this style but I am particularly concerned about this one lasting until potty training. That said it is tiny when on the smallest rise, and the waist tabs overlap so it should fit most newborns. I do find the top of the nappy folds over a bit when worn. So the PUL strip above the Velcro tummy panel folds down. This doesn't cause leaks but it does mean the top of the nappy is now the Velcro panel. Just make sure you angle the Velcro tabs down slightly to stop them rubbing on your baby's tummy.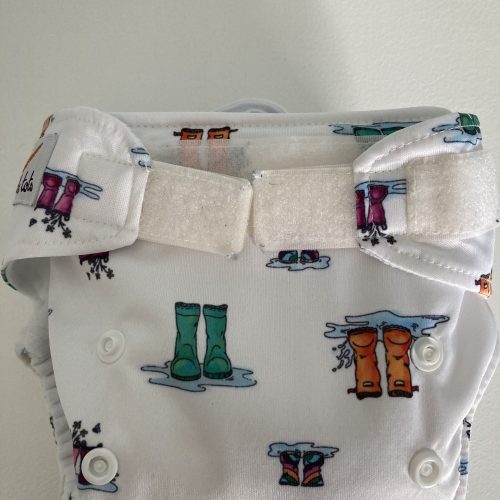 The leg elastics are soft but effective. They don't really leave sock marks. There is a double gusset on the legs. I don't normally like double gussets as I find they leave extra sock marks, but these don't at all so I'm not unhappy with them being there.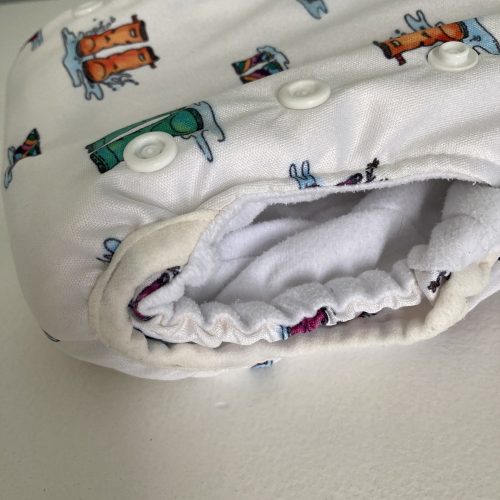 Inside is fully lined with a stay-dry faux suede. There is a pocket opening at the back, although this is rather small.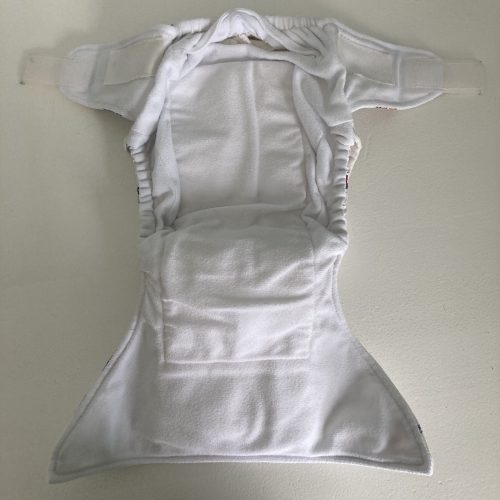 The absorbent core is bamboo, making it very slow to dry. They have designed it so the tongue stitched to the nappy can be partly pulled out to speed up drying time. But the part that remains stitched to the stay-dry liner does take a while to dry. You also get a separate bamboo booster to increase the absorbency.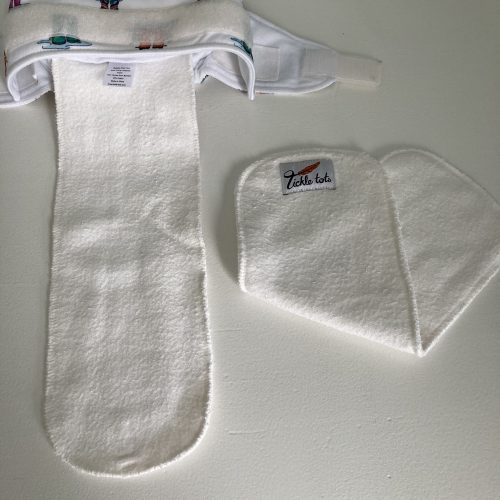 Even using this I find it insufficient for my heavy wetter. After playing around with a few different options I've found the most reliable insert to be adding a cotton prefold. A newborn sized one will just about fit when the nappy's rise is fully open, this won't work if you're on the smaller rises. To get it to fit I stuff the tongue back in first, and then add the prefold so it is against the PUL in the pocket. This effectively means I'm having to use the AIO as a pocket nappy.
I've only had this nappy for a few months and it is already showing signs of wear. The manufacturing quality is good, I'm not worried that the nappy is going to fall apart but it certainly looks noticeably used. The Velcro tabs are all looking a little tatty on the edges. The bamboo inserts have bobbled. And the bindings on the double gusset has bobbled and folded. None of these affects the function of the nappy but it is a shame and I do wonder what it might look like after 1-2 years of use.
Overall I do like this nappy. It is very slim fitting, even once I've added a prefold it remains pretty slim. It's soft and comfortable. They are fairly affordable, even when you consider this has basically become a pocket nappy for me. With the good quality Velcro they are easy to use, much like a disposable and it's great that you can maybe pick one up from your local supermarket. I do have concerns about the size, sadly I really don't think this will last us to potty training even though they are supposed to sit lower. I wish I'd started using them when my baby was tiny. The absorbency levels aren't great, but if you're prepared to put a prefold in then it will become a reliable, slim nappy.
You can find this review, and many others over on my YouTube channel.