This nappy was very kindly gifted by Little Love Bum in exchange for an honest review. This review accurately reflects my opinion of the nappy. I have separately reviewed the Little Love Bum everyday nappy already.
The pocket
The pocket and popper is a birth to potty nappy and only available in a popper fastening, which is true of all the Little Love Bum range. It is a crossover between a normal pocket nappy, and what I like to call an Ai2 hybrid.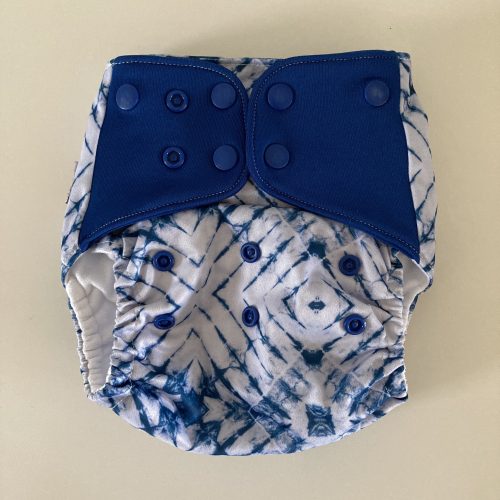 There is the option to purchase the shell separately, and use your own existing inserts for £10. Or there are a range of inserts to choose from.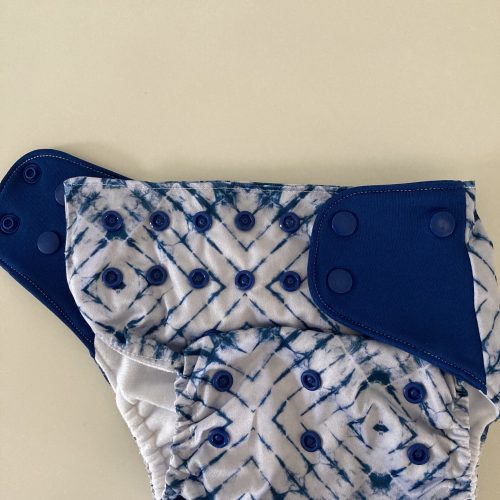 The pocket is really well designed. The leg elastics offer good containment but are gentle. The back elastic is a bit thicker which I prefer as it think it is more comfortable. The waist poppers have an overlap to make a smaller waist, and there are hip stability poppers too. One of the best features is the stretchy tabs. The darker blue fabric isn't PUL but a stretchy fabric which helps give a really good fit and plenty of movement for your baby. Especially useful once they are mobile. The rise poppers are in three columns which I also prefer. Overall this is a larger nappy, even on the smallest setting it will likely be too long for most newborns, but it should comfortably fit all the way to potty training.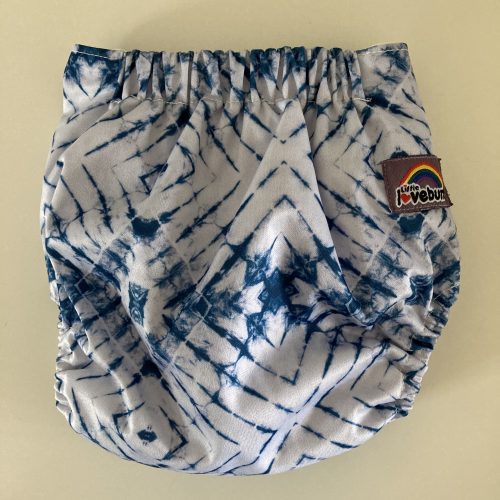 Inside is fully suede cloth lined to provide a stay-dry layer. There is a PUL tummy panel and an internal double gusset. The pocket opening at the back is a good size for easy stuffing.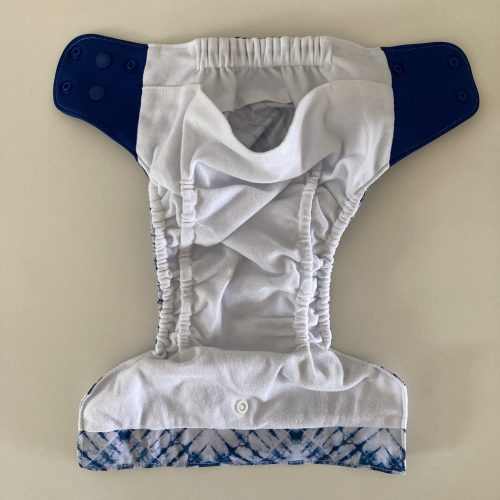 Microfibre booster pad
This is sold as a booster, rather than an insert. But I thought I would give it a go on it's own. It is sold for £2.99 (or £1.99 for the small). Microfibre is prone to compression leaks so is best paired with a natural fibre insert. The booster pad is stay-dry topped so you could lay it flat into the nappy, with the stay-dry side against your baby. But I would recommend stuffing it into the pocket. The booster itself is fairly thick, and so I remarkably managed to get 2 hours out of it. The booster was fully saturated but I didn't have a leak, although I would have expected one had I gone out in the car etc. So overall I was impressed with the booster, I wouldn't recommend using on it's own, and indeed it is not sold to be used in this way either. Microfibre is good for flooding so great when combined with other inserts.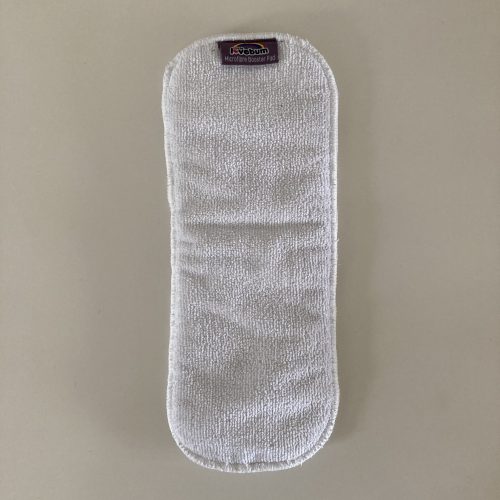 Organic bamboo inserts
These are sold in a pack of two for £5 and are available in 'one size' only. Each insert is four layers, two bamboo and two microfibre. I need to use both of these for my heavy wetter, but then the nappy is very reliable. The inserts have a reasonable drying speed thanks to their microfibre core. Again I really liked these inserts.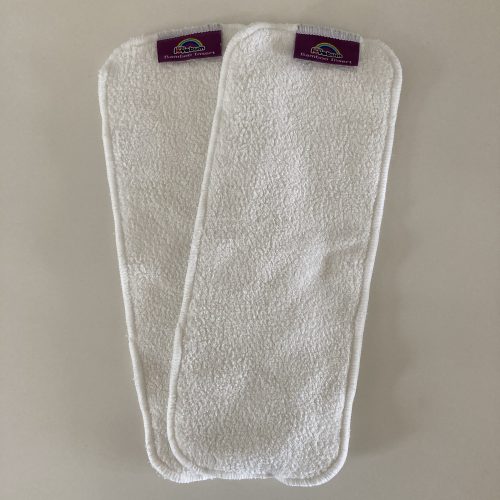 Organic hemp inserts
These are sold in a pack of two for £9 and are also 'one size' only. Each insert is made of four layers of a hemp cotton blend. Being in a hard water area my other hemp products have gone really hard and stiff, these haven't and have curled around the edges a little. It doesn't effect the use as you can't tell once they are stuffed into the pocket. Again I needed both for my heavy wetter, but that creates a very reliable nappy. Compared to the bamboo above these are slightly thinner, but there is a significant jump in price. I did think these would be my favourite inserts, but actually I would recommend the bamboo inserts instead.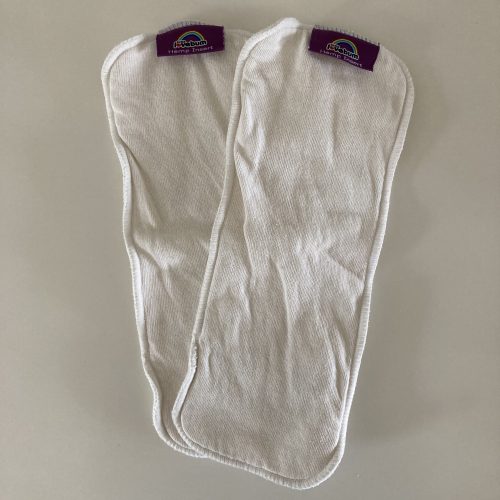 Trifold insert
Finally we have the trifold insert. There are two material options, hemp and bamboo blend (which is what I've tried) which is £8, and a hemp one (not tested) which is £9. Both fabric options are available in the smaller size too.
It is two layers thick, so when folded into thirds it gives 6 layers of absorbency. I found this sufficient for my baby. The trifold can be stuffed into the pocket at the back to create a very slim fitting pocket nappy.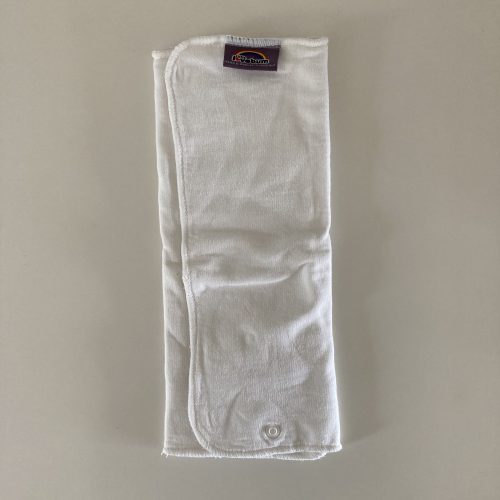 There is also a stay-dry panel along the centre on one side, this is so you can use the trifold as an Ai2 if preferred. To do this simply use the popper on the trifold, and the corresponding one inside the pocket. Once the insert gets wet I do find in bunches a little, and so I personally prefer using as a pocket.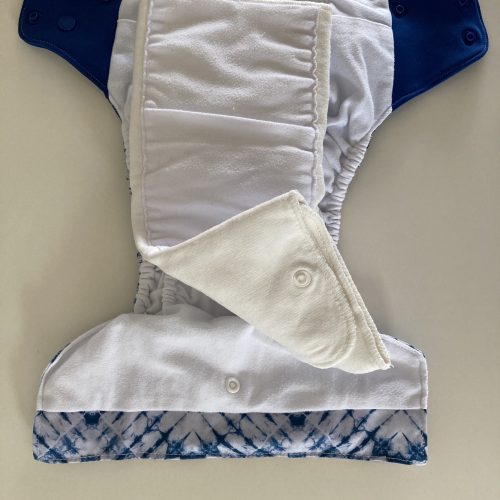 Because the trifold can be fully opened to dry, it drys much faster than the other inserts but gives a comparable level of absorbency for a slimmer fit. This insert is my favourite.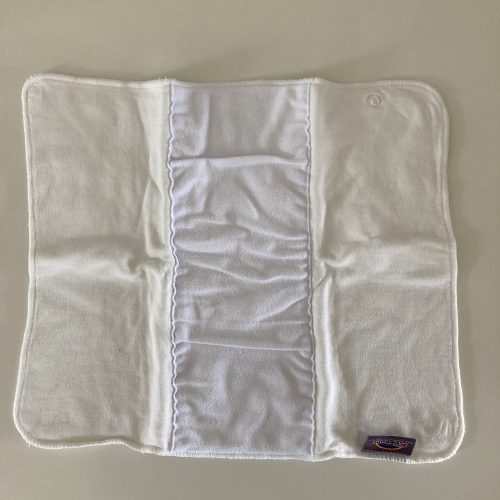 Overall I really like this nappy. The pocket itself is well made and well designed. I like the option to buy either without inserts, or to be able to choose your own to fit your personal circumstances. Therefore I would definitely recommend it. If you need to buy inserts as well then then I would recommend either the bamboo inserts, or the trifold.
You can also see this review, and many others, on my YouTube channel.