The TJs premium charcoal nappy is a pocket nappy which retails for around £12. This nappy was gifted to me for review, but this review is my honest opinion of the nappy.
The outer PUL feels quite sturdy and a bit thicker than many of my other nappies, and with just using the insert that comes with the nappy, it is very slim. The leg elastics are gentle.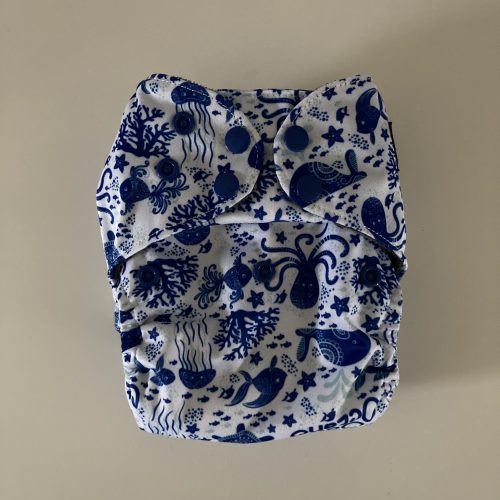 It has three columns of rise poppers, which is my preferred option as it help's keep the nappy's shape. We're on the middle rise at 2 years old so I feel comfortable this should last until potty training, although it doesn't size down really small for younger babies. It is only available with a popper waist fastening. The waist panel has a good range of poppers, but I do find the tabs a bit short. There is an overlap on the tab to take the waist in really small.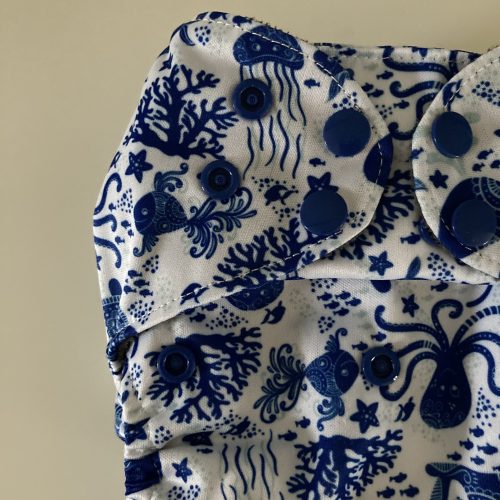 Inside the nappy is fully lined with a grey microfleece. This is bamboo charcoal fleece, in that it is made grey by super-heating bamboo until it chars and it is then binded to the fleece. It is claimed that charcoal bamboo has the same antibacterial properties that bamboo has in a plant form. However I really doubt this is the case. During the production of bamboo from plant to fabric the process is very intensive and it is highly unlikely that the finished fabric retains any of bamboo's natural properties. If you're burning bamboo into nanoparticles and then binding them to a man-made fabric then I think it is even less likely. So just view this as a grey fleece lining. The fleece itself is soft and although my personal preference would be for white fabric, the grey will hide stains better.
There is a PUL tummy panel to prevent front leaks. And an internal double gusset, which again I'm not a personal fan of but I know they are popular. the pocket opening is at the back. Only the PUL part of the pocket is elasticated, but it is a good size for easy stuffing.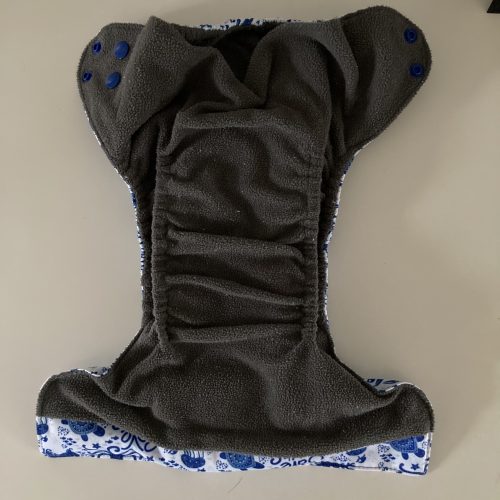 With the nappy you get a single 4-layer hemp insert. On one side the insert the top layer of fabric is nice and smooth. On the other side it appears to be missing that extra layer and has bobbled quite a bit with washing. This doesn't affect the use of the insert, but it does leave lint of other items during washing, including the fleece lining which seems to pick up the white fluff easily. The insert itself is very slim, although I do need to boost for my average wetter. There is plenty of space inside the pocket to add extra boosters.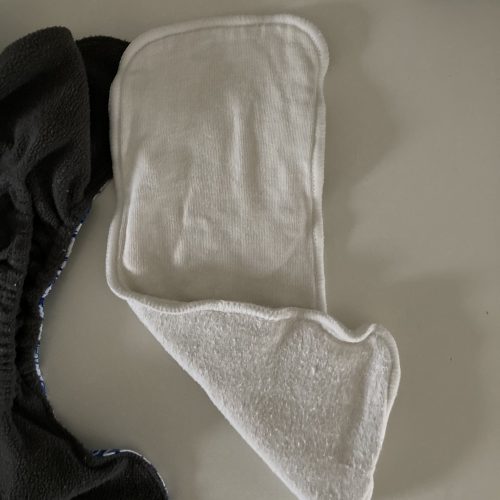 Overall this is a reasonable nappy for the price, although of course it you need to add a booster that does increase the cost a little. Just don't buy it because you think the lining is going to be antibacterial. But a cost-effective and slim option especially if you need to bulk your stash a little.
You can also see this review, and many others, on my YouTube channel.