A trifold an insert made from multiple layers of fabric sewn together into a roughly square shape.
They are designed to be padfolded into thirds (hence the name). Some feature stitching lines to help with the folding, and this is also because many will have additional layers of absorbency in the centre. Some will also feature a stay-dry layer.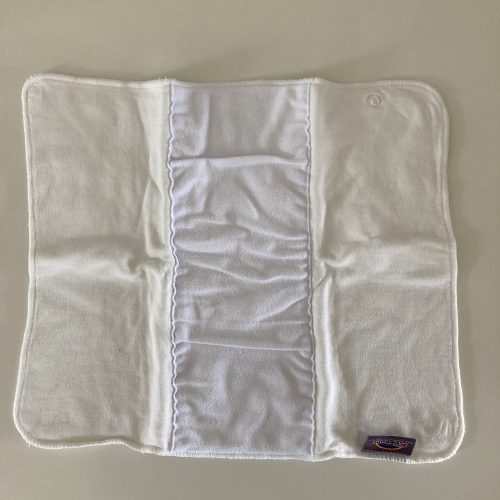 Some brands feature poppers so you can snap the trifold into a dedicated Ai2 shell. Others are intended to be used either in pocket nappies or as a booster. Of course you can use them however you wish. If your trifold has poppers and you don't want to snap it to a shell, then just simply fold so the poppers are between the layers so they don't irritate your baby or rub the PUL.
The biggest advantage of trifolds over standards inserts is the decreased drying time. By allowing the layers of fabric to separate it will dry much faster. Definitely useful in the winter when drying can become a real struggle.
On smaller babies you can even use trifolds as a nappy. The Little Love Bum trifold pictured below is on my baby at one-month old (probably around 9lbs at this point). It wouldn't fit like this for long, and it would be an expensive way to use cloth on a newborn if you didn't intend to use the trifolds beyond this stage. But it is a great way to repurpose something you already have. These Little Love Bum trifolds are very slim and absorbent so they'll make great inserts or boosters once you move to birth to potty sized nappies. You can purchase these trifolds here.