Comfybums are a fairly new brand to the market (2022), at present they just offer an AIO nappy. It retails for around £16 and there are just four prints currently available.
The outer is a very soft silky PUL with a small amount of stretch to it. The nappy is OEKO-TEX certified, and PUL is also made from recycled plastic which is great, I'm a big fan of companies doing this. It has a popper waist fastening. There are plenty of sizing options offered by the rise poppers, which are also in three columns which is my preferred style. My average 4-month old gets a lovely fit with this, and I'd say it should last the average toddler until potty training.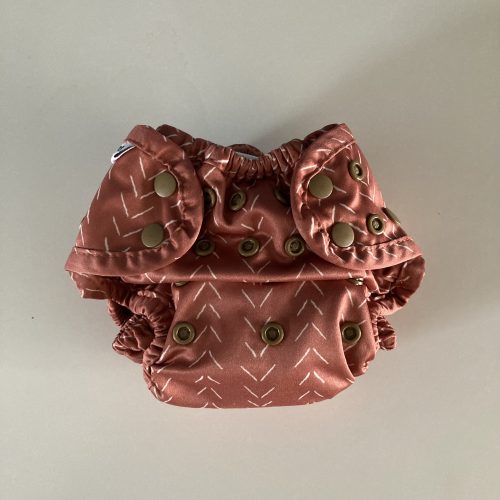 There is an external double gusset on the legs, I don't particularly like double gussets because of the extra sock marks they can leave. I do find both sets of leg elastics very tight on this nappy, and so the double gusset, and the leg elastics in general are a real negative point for me.
The front panel has a good range of waist poppers to again give plenty of sizing options, and there is at elasticated waist too.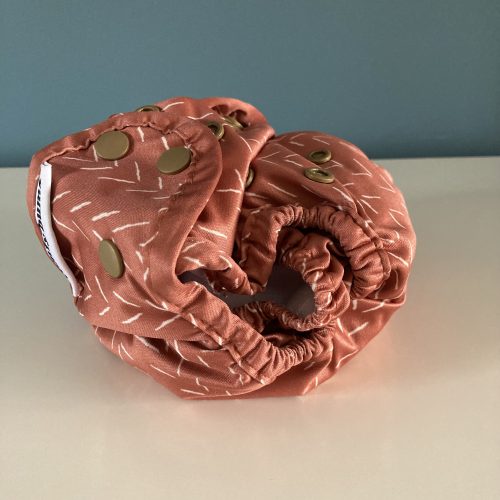 Inside the nappy is lined with athletic wicking jersey, which is particularly well suited to warmer climates. It is also highly stain resistant. The lining doesn't go all the way to the edges of the nappy, it stops where the first set of leg elastics falls. In my experience with pre-weaning babies, it is not uncommon for a poo to seep through the PUL when it isn't lined. Although mob baby hasn't ever soiled this particular nappy so I cannot confirm whether this would be the case with this nappy or not, but just something to potentially be aware of.
There is an opening for the insert at either end. I personally don't like nappies to have a double opening as I find it a bit unnecessary, but I know some people prefer it as it can make the nappy easier to stuff.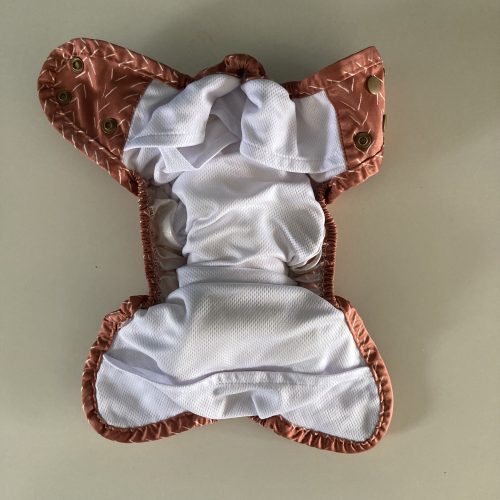 The insert is a long snake insert, stitched to the front of the nappy. It is 3 layers of bamboo, depending on how you fold it this can give you 6, or even 9, layers of absorbency if you do the Z-fold, see photo, to place the extra layer in your baby's wet zone. I find the nappy dries really quickly.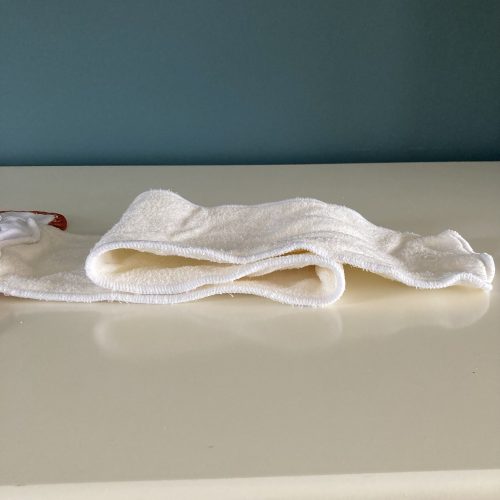 There are some single poppers on the insert so you can either snap the insert to itself to make it easier to stuff. Or Comfybums sell some boosters which can snap onto the insert. You can however use any booster you already have, either using the popper (which is a universal size) or just stuffing into the pocket. The Comfybums boosters are £2.50 for the bamboo, or £4 for hemp. My baby is a heavy wetter at the moment and we definitely need to boost the nappy. I use Easy Peasy hemp boosters which are always my go-to boosters.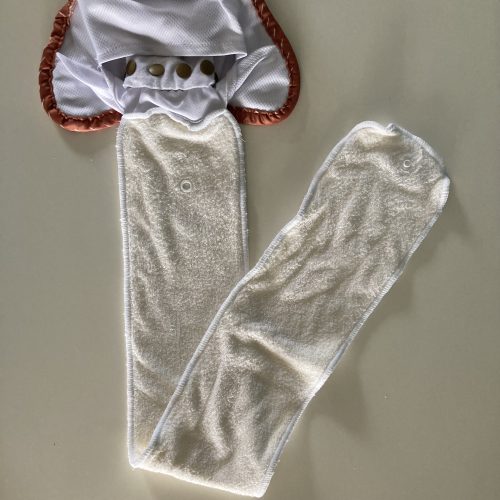 Overall this nappy has some good features, but the leg elastics make it unusable for us. The sock marks are too deep on my baby, and although I have played with the fit I cannot seem to make them any gentler on her. She does have quite squishy thighs, but also at 4 months her legs are small, maybe it is just her size/shape but this nappy just doesn't work for us. Therefore I could not personally recommend it.
You can also see this review, and many others, on my YouTube channel.