The Born Smart is the newborn nappy from US company, Smart Bottoms. They also make two birth to potty sized nappies, and a wrap. I have previously reviewed the Dream 2.0. The Born Smart retails for around £17 which is at the top price range for a newborn nappy. It is designed to fit from 6-12lbs.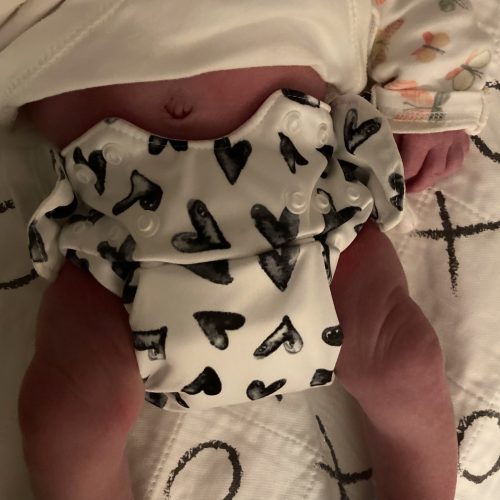 It is an AIO making it very easy to use. It has a lovely PUL outer and a popper waist fastening. the nappy is narrow between the legs which helps give a great fit and isn't overly bulky, even on a tiny baby.
As you can see the poppers are set back a little on the tabs. This is presumably to create space for the cord (see below). This does mean when worn the flaps stick up a little at the front, although this is a cosmetic issue.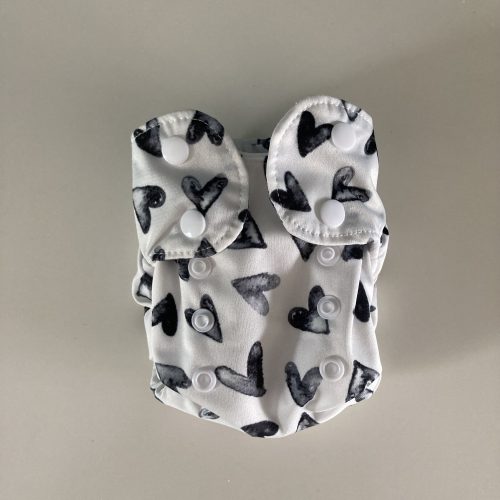 The legs have rolled elastics making them really gentle on newborn skin, but I still found the containment good. The back elastic is wide which means it is also gentle.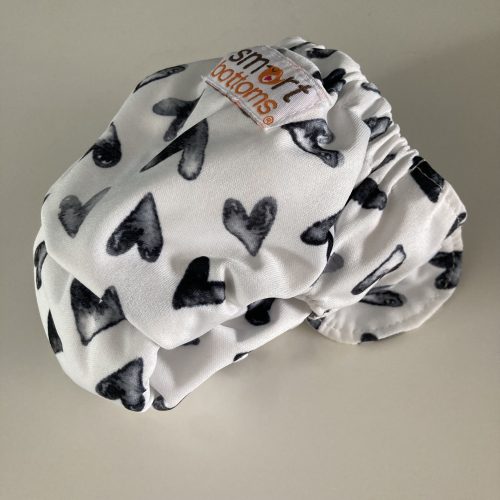 It features rise poppers which isn't that common on a newborn nappy. This helps give you an excellent fit and adds a bit of longevity in the length. I absolutely loved the fit of this nappy on my baby, it gave us a great fit in both the length and around the legs. Although she was over the minimum 6lbs weight range I feel like this should give a decent fit on smaller babies too. This did stop fitting at around 6 weeks though (9lbs 13oz) which was a real shame. The length was still ok but the legs were too tight. The poppers being so set back on the tabs didn't help, if the poppers was closer to the end of the tab, or if the waist panel was wider it might have fitted a little longer. So for us a maximum weight of 12lbs wasn't achievable.
There is also a cord cut out which is an excellent feature if you want to use cloth straight from birth. Sadly for us my baby's cord fell off really early and we didn't quite get this nappy in time, but I know from using other newborn nappies what a handy feature this is. And if you're using this after the cord has gone it won't cause you any issues.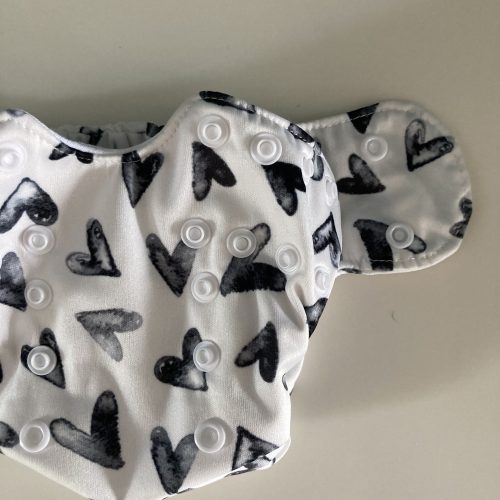 Inside there is sewn in absorbency which is 4 layers of hemp and organic cotton, and then an attached tongue which is also 4 layers of hemp and organic cotton. By having some of the absorbency in the tongue it helps to decrease the drying time. The nappy isn't stay-dry lined so you'll need to add a fleece liner if you don't want your baby to feel wet.
If you need to boost the nappy there isn't a pocket opening so you'll need to lay something inside the nappy, either on top to underneath the tongue. Cloth wipes make great newborn boosters as they're really small. I found the absorbency reasonable it is difficult to get sufficient absorbency into a tiny nappy but this was one of my more reliable AIOs.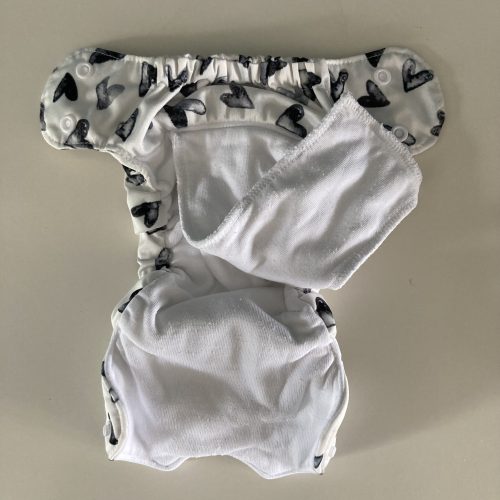 Overall I think this is a really cute nappy that gave us an excellent fit. I love the cord cut out and the elastics. The absorbency was decent but I do wish it had a stay-dry layer. The negatives are the sizing options, and the price point. It is great for smaller babies but to have outgrown by 6 weeks was disappointing. And I feel it is an expensive nappy for such a small timeframe.
You can also see this review, and many others, on my YouTube channel.