This review is for the Little Love Bum AIO Everyday. They also do an AIO quick dry, popper and pocket nappy (which I have reviewed), and a newborn nappy. The Everyday retails for £20. All Little Love Bum nappies are only available with a popper waist fastening. The Everyday has hip stability poppers and the option to overlap the waist tabs.
The outside of the nappy is PUL with a silky binding material around all the edges. The binding colour changes to match the prints, although I'm not really a fan of the binding from an aesthetic point of view. The prints themselves are bright and colourful, not my personal style but they seem popular enough.
There are three columns of rise poppers, which is my preferred option. The nappy is very wide between the legs the the third column is definitely needed. It's also a very big nappy, in terms of length and width. Great for older babies but it's extremely unlikely you'd get a good fit on a newborn.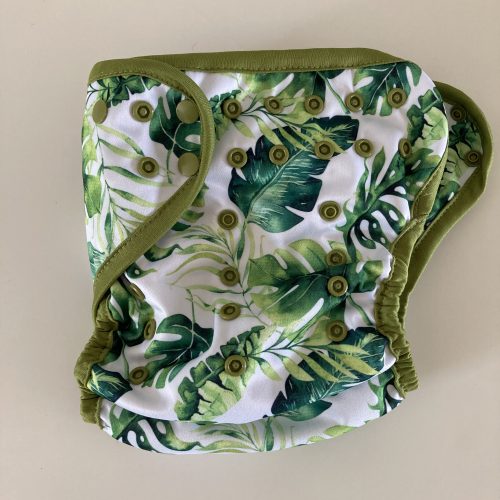 The nappy fits slightly differently from other cloth nappies, you don't need to tuck it into the knicker line, it just sits on the thighs. I find the nappy very gentle on the legs. It has good containment and yet doesn't leave any sock marks which is a massive plus for me.
It's a very slim nappy, there is almost nothing to it. Having a heavy wetter, I was concerned about the absorbency levels, but actually we haven't needed to boost at all. The insert is made from hemp and bamboo.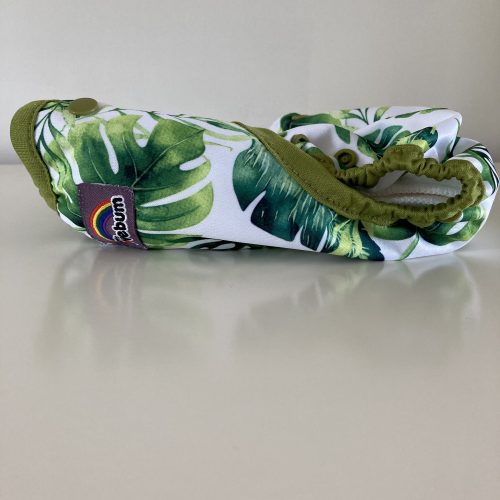 Inside the insert is stitched both ends and loose along the sides. This does make it very slow to dry but there is no stuffing required so it's an easy option. I call this a true all in one as it is ready to go once dry. The insert is topped with a stay-dry layer so no need to add any additional liners if you don't want to. I do find nappies in this style more difficult to boost as the booster can move around or fall out until the nappy is secured on your baby. But as I haven't had to boost this yet it's not been a problem.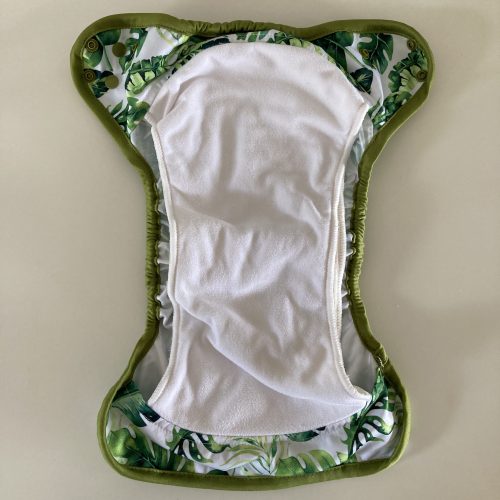 The inserts are made from bamboo and hemp. You have the white stay-dry layer which is bamboo backed. Then the hemp insert is underneath that. A particularly absorbent combination. I do worry that a more runny solid would be difficult to clean from all the layers but that isn't something that has happened to us.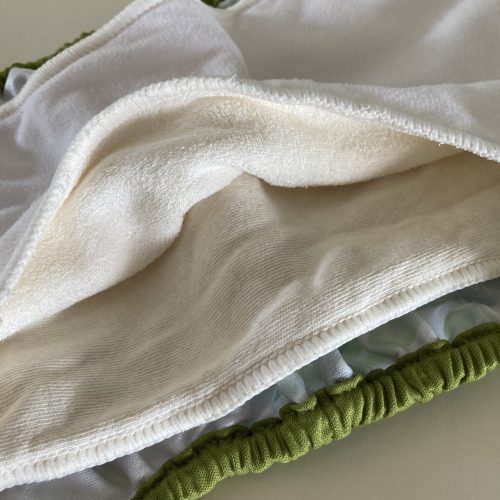 I've been really impressed with the absorbency of this nappy, it has definitely proved that my first impressions were wrong. It is an easy nappy to use and because the fit is similar to a disposable it could be a good option for childcare. I don't like the width between the legs, although otherwise it is slim fitting. For the price I think this is a good quality nappy though.
You can also see this review, and many others on my YouTube channel.