Coco & Rex are another new cloth nappy brand. They currently just make the one style of nappy, which is a pocket / Ai2 hybrid. If you purchase the nappy with the inserts it retails for around £17. The shell-only is £10, and the insert set (of two) only is £8. I really like it when brands offer their nappy as a shell-only option as it can help cut costs, allowing you to use inserts you already have. Plus it reduces unnecessary purchasing of inserts if you already have something you can use.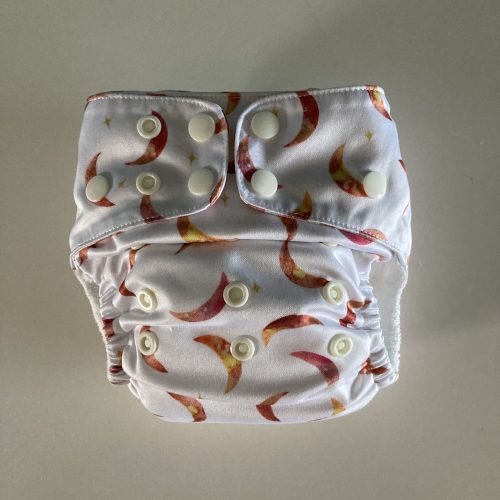 It only comes in a popper fastening. The rise poppers are in three columns which I prefer to help hold the nappy's shape, although this is very narrow between the legs (which I also really like) so two columns could have sufficed.
There is a good range of poppers across the waist panel, and the wings are fairly elongated, giving a deceptively generous fit. If you like that 'fits like pants' style (which I do!) then you'll like this. At 12 months, and averagely sized, by baby has a rise left and plenty of rise poppers so I feel like this should last her until potty training. It also has the potential to size down very small on younger babies.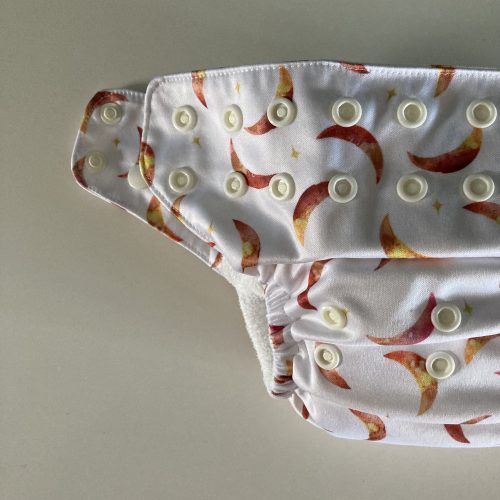 The elastics are all gentle on the skin. I had been concerned that the back elastic would be harsh as it looks narrow, but because of the fleece lining it sits gently on the skin.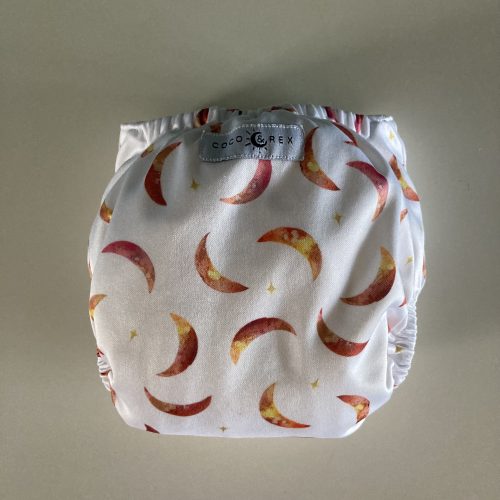 Inside there is a PUL tummy panel and soft fleece lining. There is an internal double gusset, which I don't generally like as it makes solid removal more difficult, but I know it's a popular feature for many. The decent-sized pocket opening is at the back, there is a single female popper just underneath the main lining.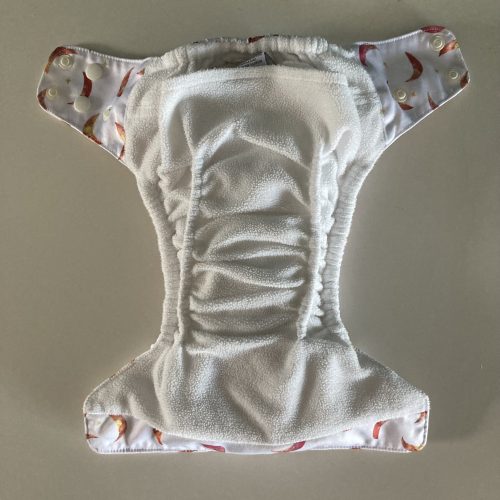 The standard insert set that comes with the nappy is two 5-layer bamboo inserts, both topped with a suede cloth stay-dry layer (left and centre on photo). The one bamboo insert is slightly longer and features two poppers, the other bamboo is shorter has a single popper. The larger bamboo can be attached to the pocket shell and laid flat, rather than stuffed (or attached and still stuffed) . If used this way then the stay-dry layer is closest to your baby so you don't need to add a fleece liner if you don't want to.
You can also purchase an additional 3-layer hemp booster (right) for £3. This also has the same male popper as the shorter bamboo insert. So either of the shorter inserts can be attached to the larger bamboo insert.
I tend to use all of these inserts in the nappy. I attach the hemp to the larger bamboo, mainly because the hemp curls and annoys me. Then the shorter bamboo just gets stuffed in at the same time. And I do snap the larger bamboo to the shell even though it is in the pocket. The absorbency of this nappy is fantastic, I don't need to boost further and it is one of my most reliable nappies. That said I wouldn't personally recommend the hemp insert, it works but the curling is frustrating and I think something like the Easy Peasy Hemp booster would give similar/better levels of absorbency, without the curling, for a similar price.
However for an average wetter you may find that just using the two bamboo inserts is more than enough so I would recommend trying this before purchasing additional inserts/boosters.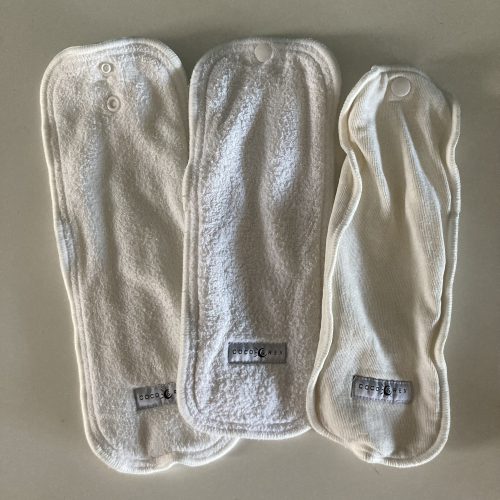 Another clever little design feature is that these also help with potty training. One thing that can really help children learn is if they feel wet when they have wet their nappy. If the shorter bamboo insert is attached to the shell and laid flat inside the nappy then you have the bamboo Terry fibres closest to the skin, not the stay-dry. This means that as soon as your child wets the nappy, they should feel wet. Plus Terry fabrics are great for flooding.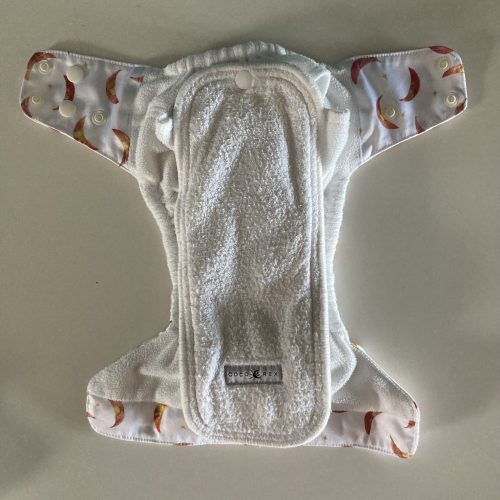 Overall I've been really impressed with this nappy. I love the fit, gentle elastics, and amazing absorbency. The price point is reasonable too. I would definitely recommend this.
You can also see this review, and many others, on my YouTube channel.