Hippynut are a relatively new UK brand, launching in 2020. They offer a wide range of different nappy styles, but I have only tried the Wholenut which is their AIO nappy. This nappy retails for around £18.50.
The outer PUL is smooth to touch, but a little bit squeaky/rustle when moving. The print range is all very colourful and bright, and there is a binding around the edges.
There is an external double gusset around the legs, which I'm never normally a fan of anyway. The leg elastics are quite tight.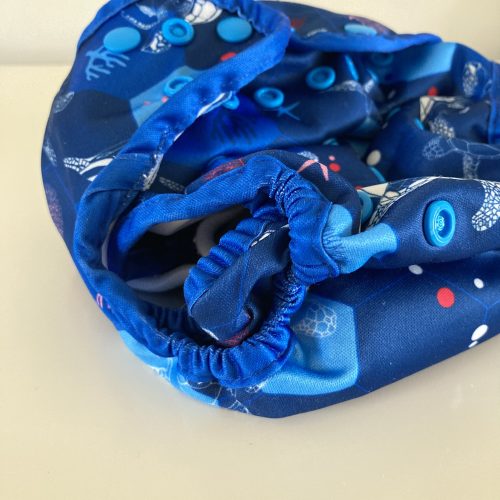 The rise poppers are in three columns which I prefer. There is also an extra row allowing the nappy to offer a wide range of sizing options. The nappy is only available with a popper waist fastening. There are overlap poppers on the tabs and a good number of poppers on the panel, including right to the edges, allowing more adjustment of the size.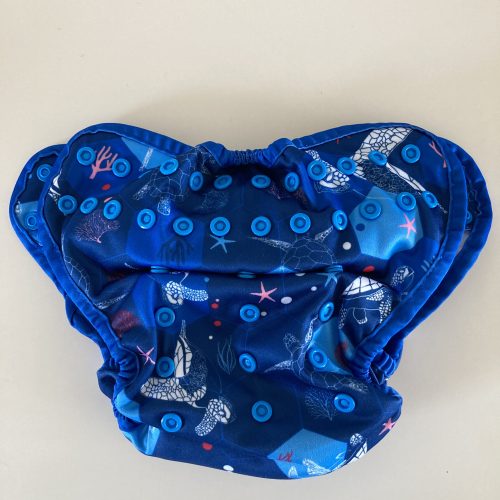 The nappy is what I call a true AIO in that the insert is fully attached. This means there is no prep required after washing the nappy, although it does lead to a slower drying time. The insert is four layers of bamboo, sandwiched between a grey athletic wicking jersey. I personally don't like coloured insides to my nappies, but that's a personal point. The absorbency is good, but the stay-dry athletic wicking jersey does not keep my baby as dry as I'd like.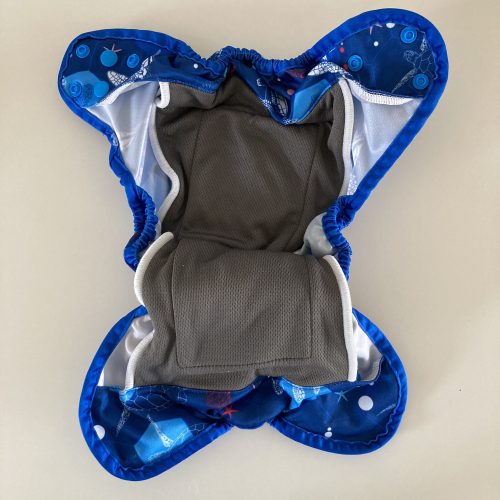 You can also purchase additional booster sets for the nappy – or use anything you already have by simply slipping it under the main insert. There are two sizing options (small 4-layer, or large 6-layer), available in two fabrics – hemp or bamboo. Depending on size and fabric these retail from £3 to £7.50 which I feel is expensive.
The Hippynut boosters have poppers which allow them to be connected to the back of the insert. The smaller one clips to the front poppers. The larger one, which needs to be folded in half, can clip to either popper set. You can also attach the small booster to the larger one.
By adding the extra inserts you can create a very absorbent nappy, perhaps even one that can be used overnight, although the price point is now around £30. Considering the amount of absorbency this is a fairly slim nappy, especially when compared to some night time options.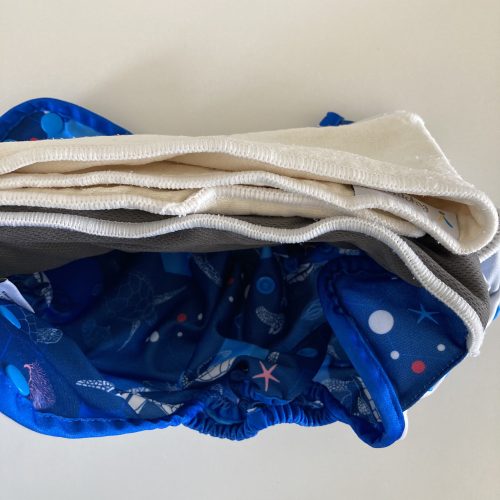 Overall this is an absorbent nappy with a good range of sizing options to suit most babies. However for me the leg elastics are too harsh on my baby's skin and I wouldn't personally recommend it.
You can check out this review, and many others over on my YouTube channel: