Bear Bott are a fairly new UK brand. They offer an Ai2, AIO, and pocket nappy versions (plus newborn) of their nappy, alongside some wet bags, pods, change mat and liners. This is the newer (version 2) of the Ai2 version, I haven't tried the previous version to compare. The nappy was very kindly gifted for review, but all views are my own.
The Ai2 retails for around £22. The first thing you notice about this nappy is the PUL, it is so silky soft and feels really luxurious. It offers good containment and yet the elastics are gentle.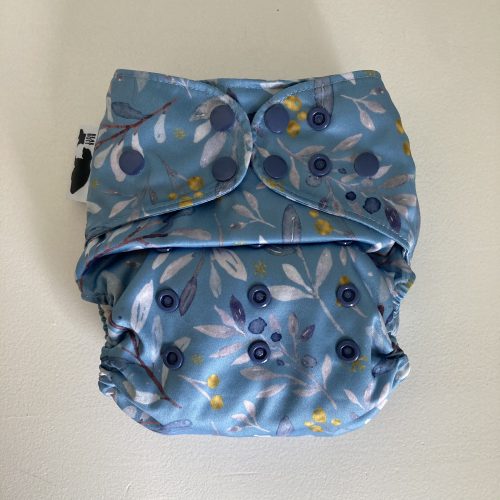 It is only available in a popper waist fastening, there are hip poppers and an overlap tab. The rise poppers are in three columns and there is also an extra row. Although the nappy is quite generous, and I feel confident it will last us until potty training, it sizes down surprisingly well.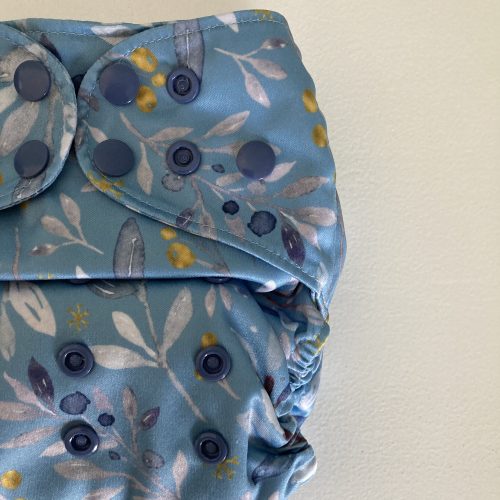 Inside the shell is lined with a stay-dry suede cloth. It has bobbled slightly but that is fairly normal for this fabric and doesn't affect the use. There is a small PUL tummy panel which works well.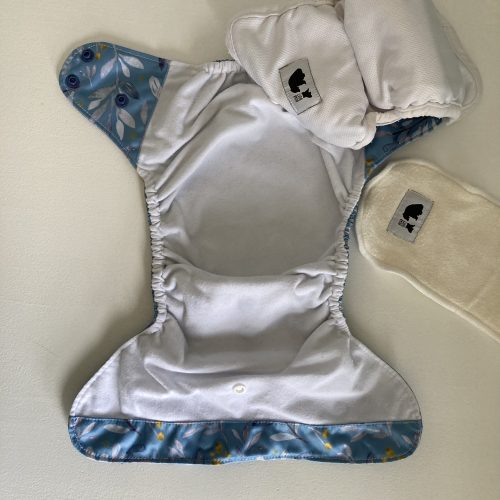 With the nappy you get two inserts. The main one poppers into the shell using a single popper at the front and rear, this is very quick to do. As the insert is elasticated, it not only provides a double gusset function, but it also shrinks and stretches to fit the length of the nappy as you adjust the rise. This insert is available in either stay-dry or bamboo, I have the stay-dry version.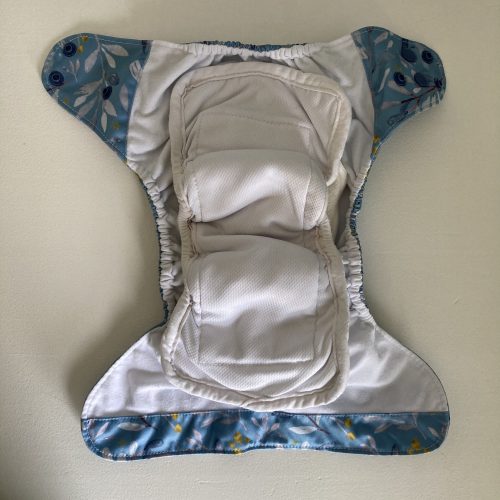 The main insert is mostly microfibre with a small proportion of bamboo. It is fairly quick to dry. Microfibre is prone to compression leaks, and so the additional insert is a bamboo hourglass, this should prevent any compression leaks. The bamboo hourglass is simply laid underneath the main insert, you can fold it in half at the front for boys. The insert set is available to purchase separately which is a cost-effective way of bulking your stash, especially with slow drying times during the winter.
My baby is an average wetter and I sometimes struggle to get to 2 hours using the above combination. I have found swapping out the bamboo hourglass for one of my own boosters (Easy Peasy hemp) gives more reliability.
Overall this feels like a premium nappy. The materials are lovely and the design is well thought out. I personally don't love Ai2 nappies for our circumstances, but if you don't like having to stuff nappies then this is a really good option. The absorbency could be a little better, but you do have a fast drying time. I like the fit of the nappy and there are a good range of size options. So I would recommend it as long as your baby isn't a heavy wetter, and especially if you want something that feels high quality.
You can also see this review, and many others, on my YouTube channel.