Pēpi Collection make a small range of pocket nappies. There are currently just four hand-illustrated prints in their 'Designer Collection', which retail for £16 each. And a further four block colours in their 'Colour Collection' which retail for £15 each. I really respect their small collection as it doesn't encourage excessive consumerism. This particular nappy, Fluffy Clouds, was very kindly gifted to me in exchange for a review. This review is, as always, my honest opinion of the nappy.
Pēpi have considered their environmental impact and looked at ways to reduce this, for example using light-weight, compostable mailing bags. The nappies also come without any further packaging. The nappies are ethically made in China and transported to the UK via rail.
The nappies are only available with a popper waist. There are two sets of overlap poppers on the tabs, to get the waist really small. And hip-stability poppers. The waist panel has a good range of poppers to allow the size to be adjusted.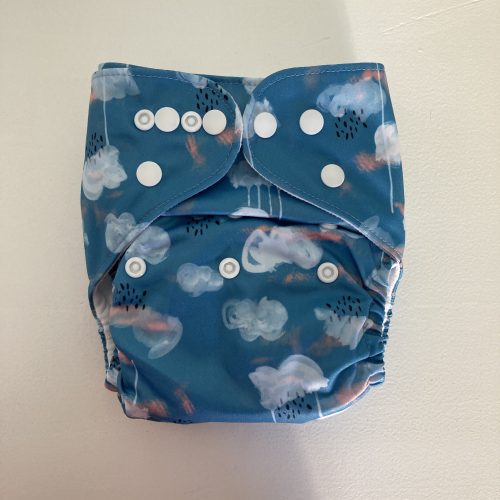 The rise poppers are in three columns which is my preferred option as it helps hold the nappy's shape. My baby is now 2 years old and yet he is still on the middle rise with this nappy, so I feel comfortable this will last him until potty training. It is a generously sized nappy. Although the waist can be made small using the overlap poppers, the length doesn't go particularly tiny, even on the smallest rise, so you might struggle to get a good fit on a small baby, especially if they are short.
The back features a cute little logo patch. And the leg elastics are gentle. With both the inserts in the nappy is it a more bulkier option, but I do get a good fit with the nappy.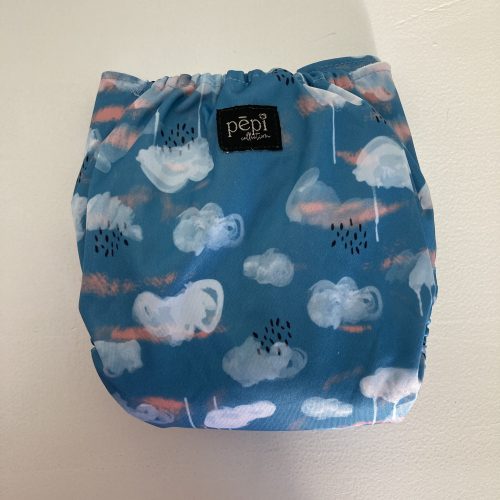 Inside is fully lined with a stay-dry suede cloth so you do not need to add additional liners if you don't want to. The fabric has bobbled slightly which is fairly common for this fabric, it doesn't affect the use and it has remained soft. There is an internal double gusset, which I'm not personally a fan of because it is more difficult to clean, but I know most people do prefer a double gusset. I do feel this particular nappy could benefit from a PUL tummy panel as the lining has a tenacity to creep out the top a tiny bit. This hasn't caused us any leaks however.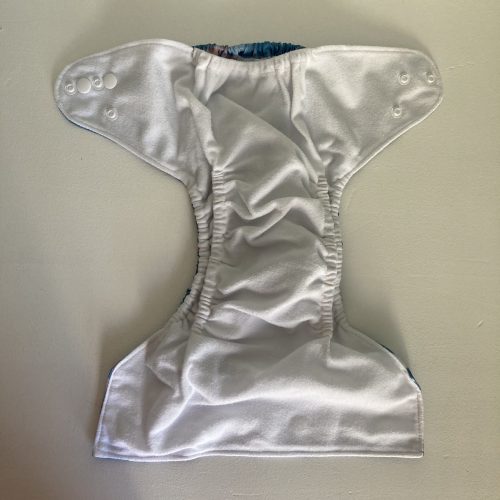 The pocket opening is at the back of the nappy. Both the lining and the PUL shell are elasticated, providing a decent-sized opening for easy stuffing. There is a care label at the back of the nappy (not pictured) which states the nappy can only be washed at 35c, however the care instructions of the Pēpi website do state that you can wash up to 60c.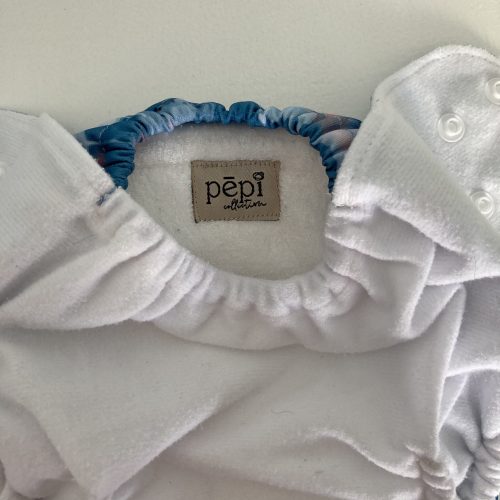 With the nappy you get two 4-layer branded inserts. Each insert has two outer layers of bamboo, and two inner layers of microfibre. For my average-wetting 2 year old I need to use both inserts and although this is a bit bulky I do not have to boost further. For a smaller/younger baby you might be able to use just one insert.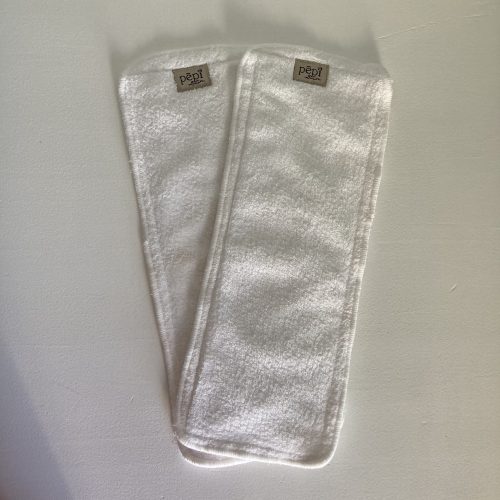 Overall I think this represents a good-value affordable cloth nappy, which doesn't compromise on the pretty prints. Whilst the fit might not be great on a smaller baby, it should last well until potty training. The absorbency is good, although a little bulky, but I do like not needing to add extra boosters (which of course means an extra cost too).
You can also see this review, and many others, on my YouTube channel.