The Charlie Banana is a birth to potty pocket nappy. There is also a newborn version available. Unlike most birth to potty nappies which are unlikely to fit well until the 10lb mark, this one does go that little bit smaller and therefore I think it could work well as a newborn nappy providing your baby isn't particularly small or premature. Don't be concerned that this means the nappy is smaller than most and won't last until potty training. It actually had a fairly generous length so should fit average-tall children until potty trained.
The first thing you might notice is the lack of rise poppers on the front of the nappy. This is the whole reason the nappy is capable of such a generous size range. Instead of poppers there is a patented adjustable leg elastic system. This allows the leg elastics to be tightened and loosened as required, which in turn changes the length of the nappy, whilst ensuring you have a nice snug fit on the legs.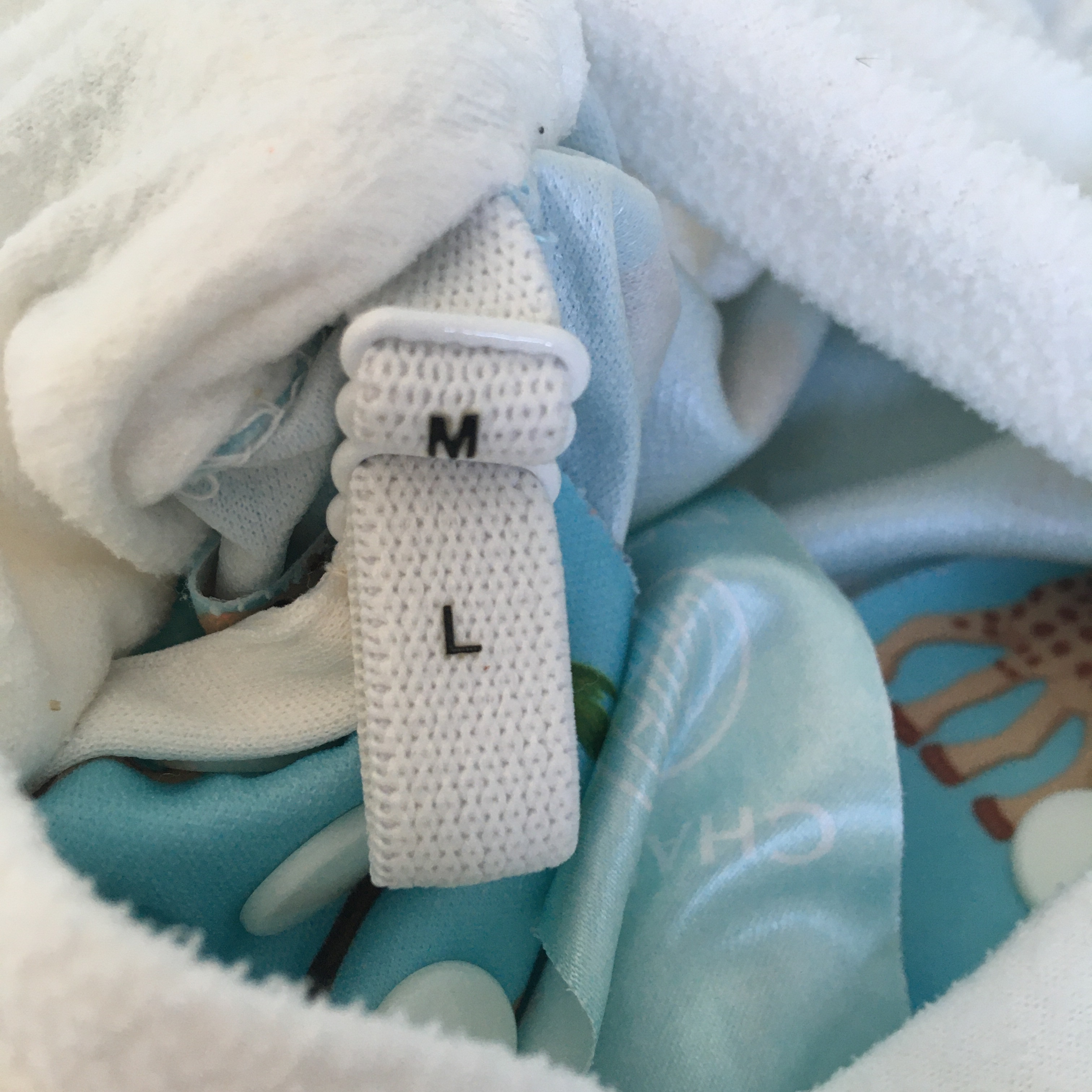 For ease of use the elastics are marked to show a size guide from extra small up until large. This helps get the elastics even on both sides and gives you a starting point to try when you get the nappy. But there is nothing to stop you choosing your very own setting, or even having one leg slightly looser if needed. It is highly customisable. I will say that the elastics are fiddly to adjust, certainly much more so than rise poppers. But it's the sort of task that won't need to be done very often and because I really like this system it feels like a good trade-off.
The nappy is only available with a popper fastening. There is an array of poppers across the waist which will help get the perfect fit whilst on the different length settings. The waist tabs can be overlapped as well to make a really small waist.
The outside of the nappy is PUL. The leg elastics are very gentle as you'd expect from something customisable. The back elastic is fairly thick which I also think is more comfortable as it prevents it digging in and causing deeper sock marks.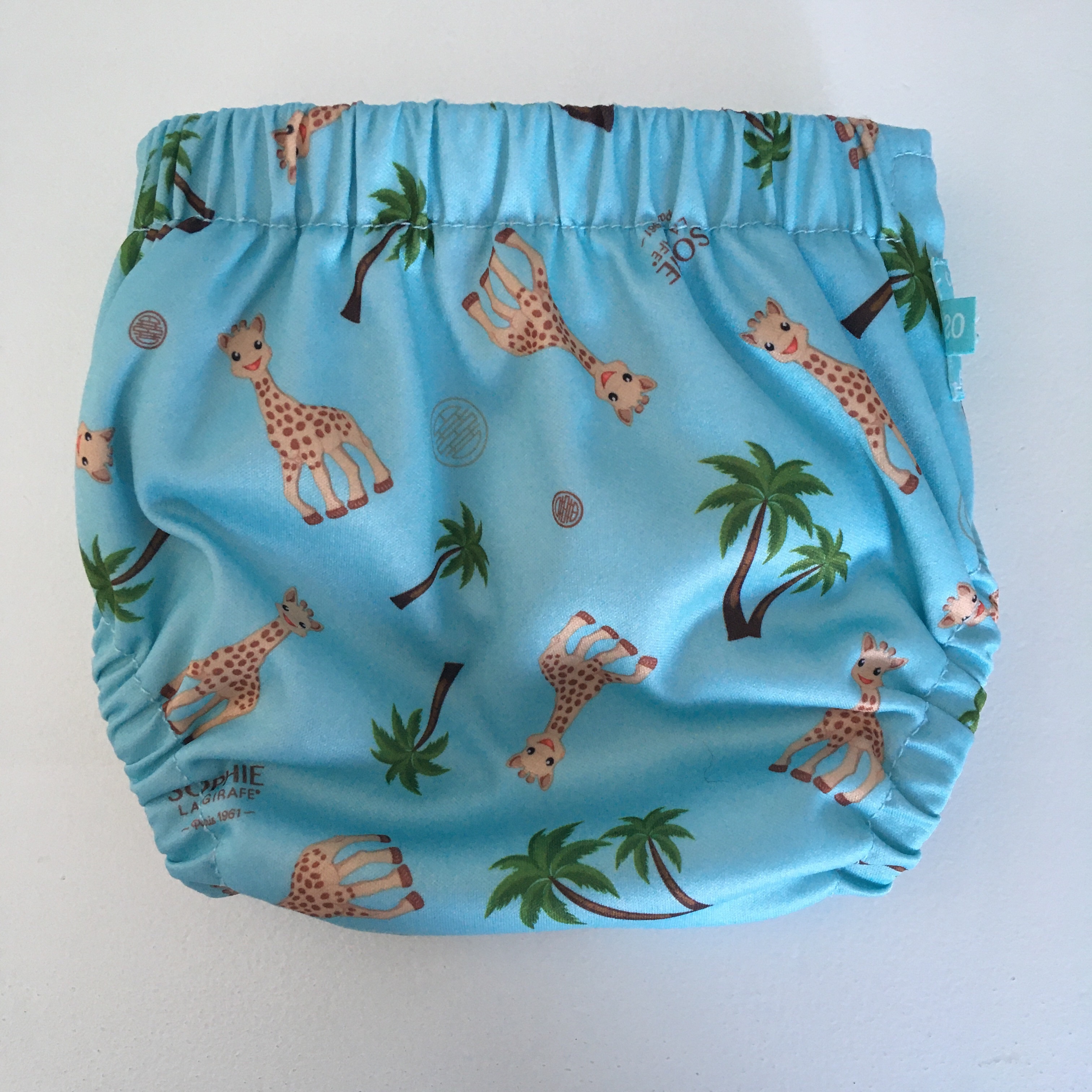 For a large brand they have a fairly small range of prints. There are also some bright block colours. The collaboration prints with Sophie la Girafe are particularly stunning.
Inside is fully fleece lined and it feels very soft. The pocket opening is at the front, which is not my preference but not a major issue.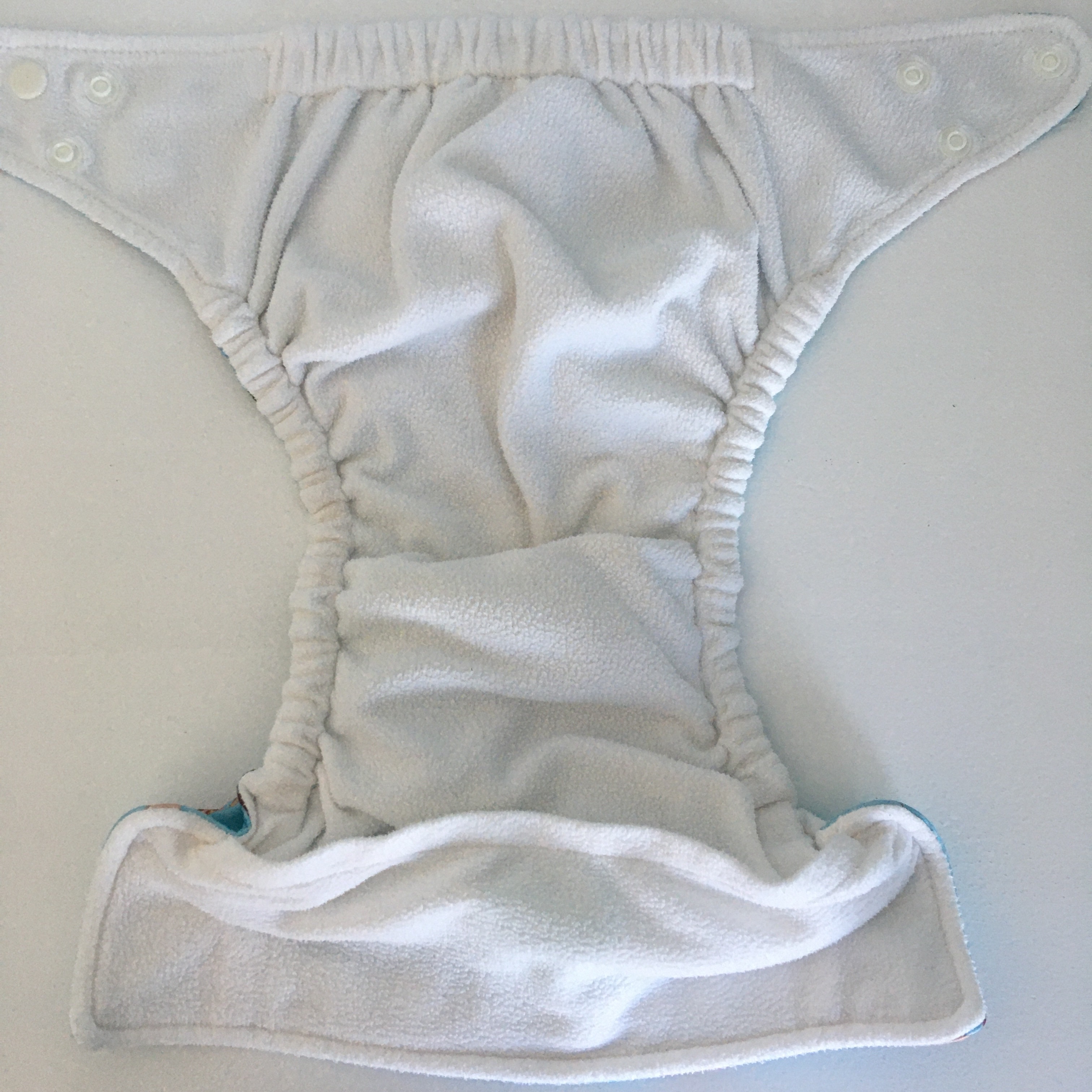 Whilst the pocket opening is a good size because the nappy is narrow between the legs (which I like) it does make it harder for those with larger hands to stuff the nappy.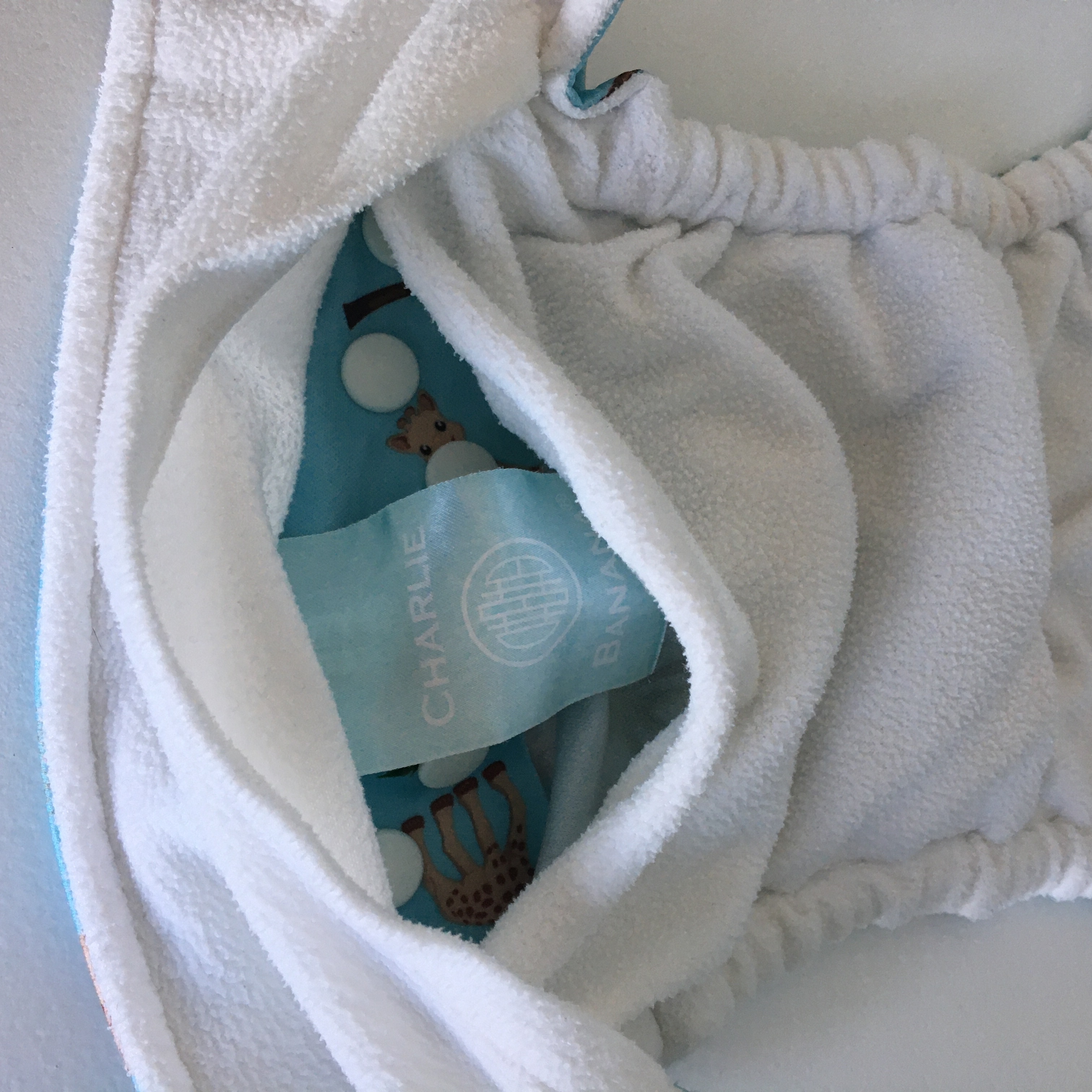 With the nappy you get two inserts. One is for when the nappy is in the extra small and small setting, the other for medium upwards. They are clearly labelled. You can also combine the inserts to add more absorbency if needed.
I think the inserts really let this nappy down. Both are microfibre. I dislike microfibre but from an environmental perspective because it sheds microplastics during the wash process. But also for performance reasons as it is prone to compression leaks. To avoid leaks you'd need to add a booster made of natural fibre. Although you could use anything you have to hand such an an old flannel or tea towel. I do find it frustrating when I have to spend extra money on boosters/inserts on top of the cost of a nappy.
Personally I don't use the inserts at all. I stuff the nappy with a Muslinz cotton prefold in newborn size, which is a great size for a pocket nappy insert. And then because my baby is a really heavy wetter I add an Easy Peasy hemp booster too. I find using these two together still makes the nappy slimmer than using the two Charlie Banana inserts together, but it is far more reliable and absorbent.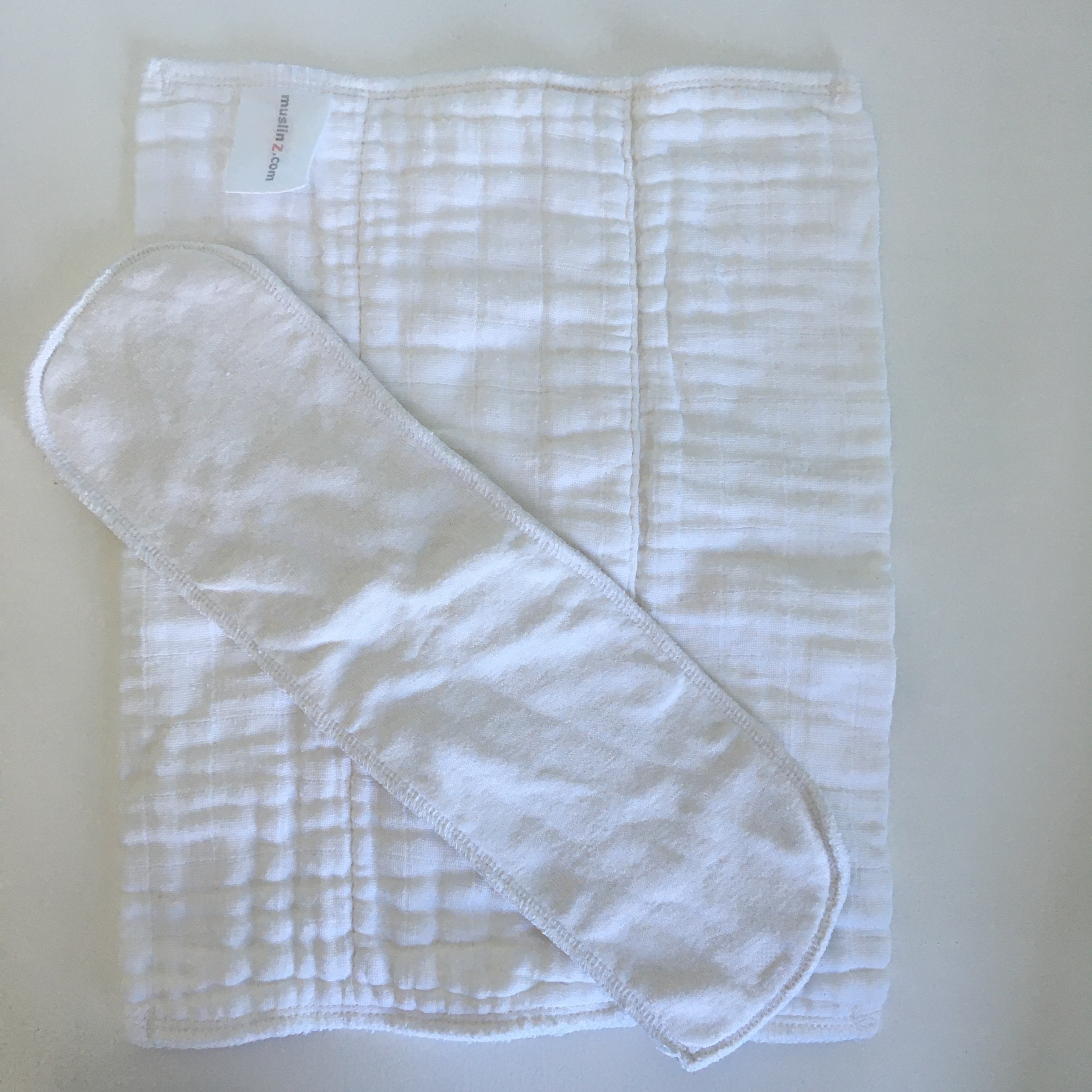 This is such a cleverly designed nappy that has just fallen at the final hurdle. If they had provided cotton inserts instead then I think it would be unbeatable, certainly the best pocket nappy I would have come across. At £23 it's at the top of the price bracket for a pocket nappy, so having to change or boost the absorbency is frustrating. That said I do love the adjustable sizing, and the few prints I have are firm favourites. These nappies are very well used and loved in this household. So if you can get over the financial outlay you won't be disappointed.
You can also see this review, and many others, on my YouTube channel.