The Baby Bare Teddy Bare nappy is a side-snap. They also offer an all in one and all in two versions of their nappies which I have already reviewed. All three versions retail for just under £19, but there are often offers available (such as buy 4, get a fifth free) to make the overall cost slightly cheaper. I also have an exclusive discount code CNG10 which will get you 10% off everything on the UK Baby Bare website, including sale but excluding the duo packs. This Teddy Bare nappy was gifted to me in exchange for a review, but this review remains my honest opinion of the nappy.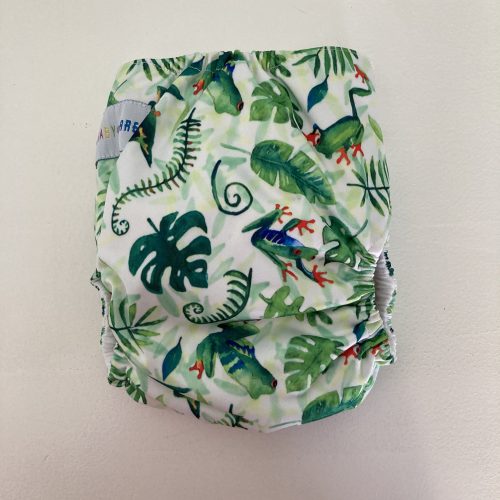 The outside of the nappy is available in either a PUL or minky, depending which print you choose. Both work the same. Baby Bare prints are all limited edition, so once a release has sold out it won't be available again.
It is only available with a popper waist fastening. Unlike 'normal' nappies when the tabs come from the back to fasten at the waist, these tabs are very short and go from the waist backwards. There is a double row of poppers which gives a bit more flexibility in adjust the waist and leg tightness. Each side has 5 popper setting so there is a good range of waist sizing. Unlike most birth to potty nappy, the side-snap doesn't have any rise poppers. The elastics just grow with your baby. Although generous in length, and I'm confident this will last us until potty training, it does make it very difficult to fit on a smaller, shorter baby. Whilst the waist goes fairly small you may find the nappy too long initially.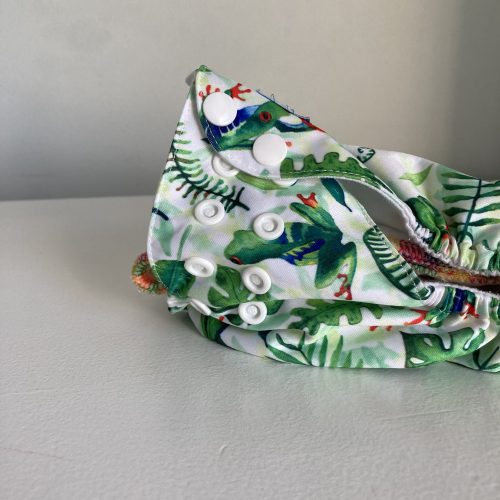 The is a small piece of tummy elastic on the front to help with the fit. I'm not often a fan of tummy elastic but this is really gentle and does mean we get a good fit. The leg elastics are also gentle.
Inside the shell is lined with a suede cloth to keep the PUL from touching your baby's skin. You get one snake insert with the nappy which is a 3-layer bamboo and cotton blend, topped with a stay-dry suede cloth on one side.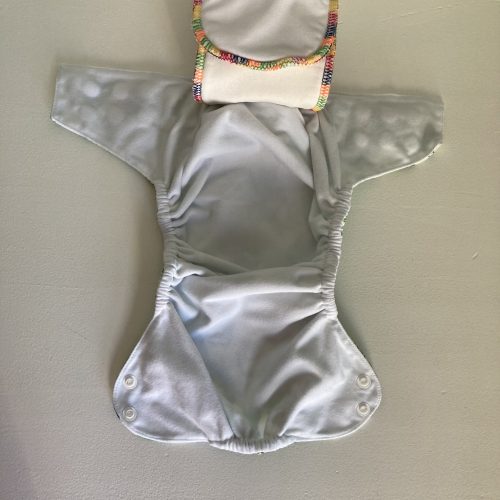 The insert is poppered onto the back of the shell. Folded in half the insert is about right for the length of the nappy. If you need to boost you can add a booster underneath the insert. However before adding a booster you may like to consider folding the insert into thirds, into what I call a Z-fold, which will place an extra layer into the wet zone. I personally don't find I need to boost this nappy.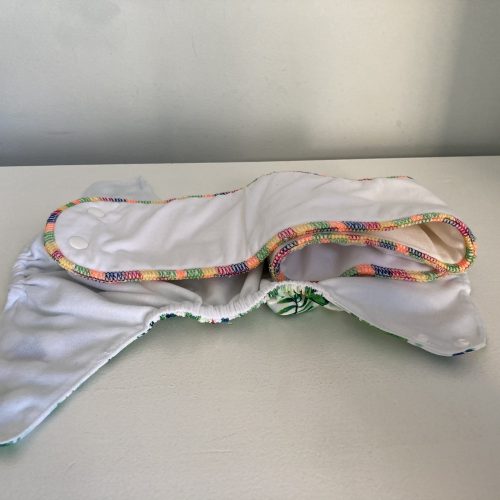 Being able to remove the insert from the shell for washing does speed up the drying time a little. Although being an absorbent, natural fibre insert it isn't a super quick drying nappy.
Another benefit of this nappy is that it can also be used as a pull-up if your baby doesn't like lying down for nappy changes.
Overall I really like these nappies. They are fairly affordable with cute prints. The fit really suits my baby and they seem comfortable on him. And the absorbency is great. I would definitely recommend them.
You can also see this review, and many others, on my YouTube channel.