The Trima is Petite Crown's AIO/Ai2 hybrid nappy. They also make a pocket nappy, the Packa, which I have reviewed here. The Trima is available in a standard birth to potty size, or a larger size for older/larger children. This review is just for the standard size which retails for around £21. For every nappy that Petite Crown sell, they donate one to a family who cannot afford nappies.
Like all of Petite Crown's nappies, it is only available with a popper waist fastening. The shell is identical to the Packa on the outside. There is a double popper waist fastening, top-row hip stability poppers and the option to overlap the tabs to make a smaller waist. The rise poppers are in three columns, my preferred option.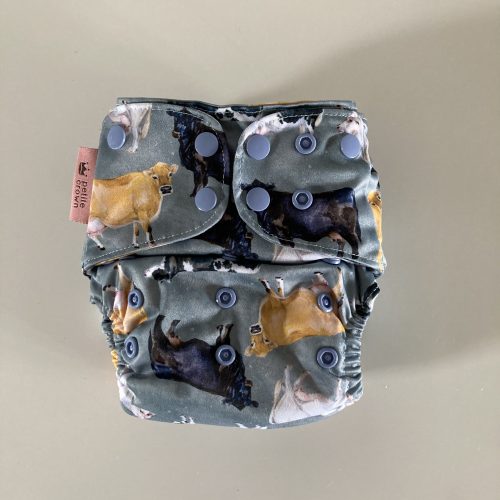 The elastics on the nappy are gentle, but offer good containment. The nappy is also slim fitting, the below photo shows the nappy with both inserts inside.
Inside the nappy offers a good sized PUL tummy panel which helps prevent leaks. There is an elasticated pocket opening at the back, in case you wish to add additional boosters. The shell is lined with a single layer of bamboo:cotton so it does have a very small amount of absorbency already. This does mean that it takes a bit longer to dry than most shells as they are normally lined with a man-made fibre which dries quickly. The lining has a single front and rear popper to secure the inserts.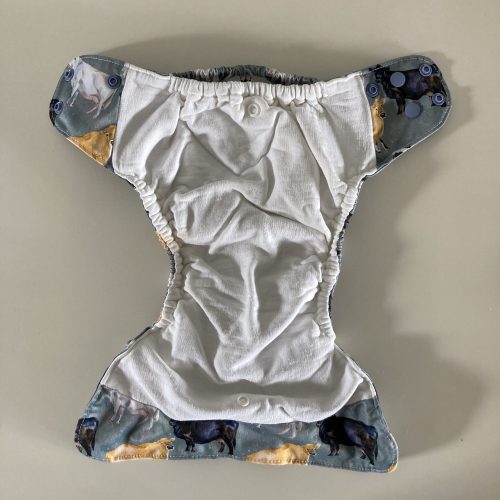 With the nappy you get two inserts. These are identical, both 3-layers containing a single layer of bamboo:cotton and two layers of a bamboo:cotton:hemp blend. The inserts are natural fibres, so they do not have a stay-dry layer, and nor does the shell. So if you want your baby to feel dry then you'll need to add a fleece liner. However, Petite Crown now offer a stay-dry version of their Trima inserts. These are exactly the same absorbency, but with an additional fleece layer on one side (see turquoise-edged insert below). They are only available separately, and come in a pack of two. Realistically you only need one stay-dry insert and then could use a standard one underneath, so a pack of two will allow you to use in two nappies if you wanted. Unfortunately you cannot buy the Trima without the inserts, so adding the stay-dry inserts does represent an additional cost. I'm hoping this will change.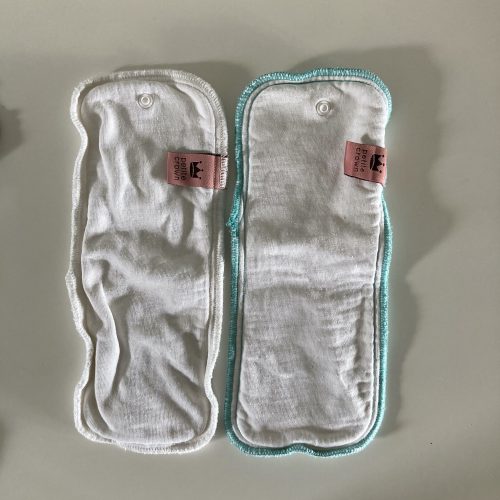 There are a few options on how you can use the nappy.
If using just one insert then this can be snapped to either the front or rear popper (it makes no difference), or stuffed into the pocket.
To use both inserts, again snap one or both to the shell, or place in pocket. To have both snapped to the shell they will lie overlapping each other (see photo below). If you're on the smallest rise you might find it difficult to get these to overlap smoothly, so either put one in the pocket, or fold one to create space to reveal the other popper.
For extra absorbency you can add boosters to the pocket too.
With both inserts in I don't need to boost for my toddler, I find this sufficient absorbency to last us 2-3 hours comfortably.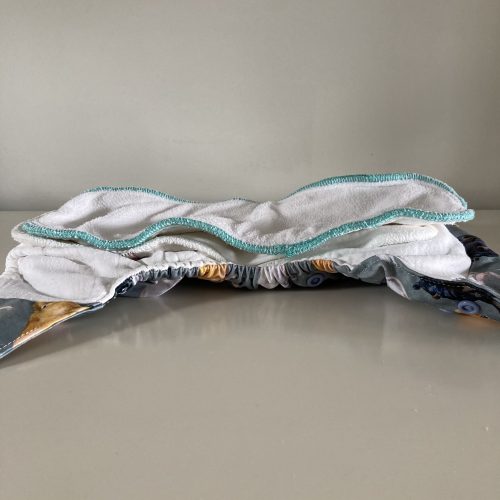 Overall this is another great nappy from Petite Crown. Good absorbency, natural fibres, well-designed shell, and still a slim fit. Plus I do love their giving back via charity. Personally I would prefer for the Trima to have a stay-dry layer as standard, or for the nappy to be sold with the option to select your preferred insert pack. But that is the only real change I'd make, it's a great nappy and I would recommend it.
You can also see this review, and many others, on my YouTube channel: