Crackadaks are an Australian brand, they have a OSFM (one sized fits most – bit like birth to potty) nappy, and a LOSFM (large one size fits most – like a plus or toddler sized nappy). This review is just for the OSFM, I haven't tried the LOSFM. It retails in UK for around £22 and is an Ai2.
The PUL outer feels really silky smooth. The elastics are all gentle. It is only available with a popper waist fastening, it has a low hip stability popper and the waist can be overlapped to make it really small. The rise poppers are in 3 columns which is my preferred option. There is a really good range of sizing here to bring the nappy down really small. I have successfully used this on my baby when she was 8lbs. My toddler however has outgrown the length of the nappy when he was around 95cm tall. The tabs cut across the tops of his thighs.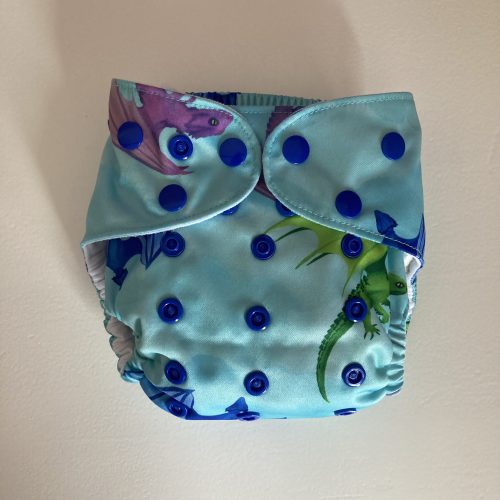 Inside the nappy is suede cloth lined and has a pocket opening at the back. Suede cloth provides a stay-dry layer so you don't need to add a liner unless you wish to. Both inserts fit inside the pocket if you wish to use the nappy as a pocket.
The nappy comes with two inserts, a short rectangle and a long anchor. Each insert has two layers of bamboo, and two layers of microfibre. The rectangle poppers to the shell if you don't want to stuff it. However as neither insert has a stay-dry layer if you didn't want to stuff the inserts then you are going to need to add a fleece liner. I would much prefer the rectangle insert to have a stay-dry layer as well.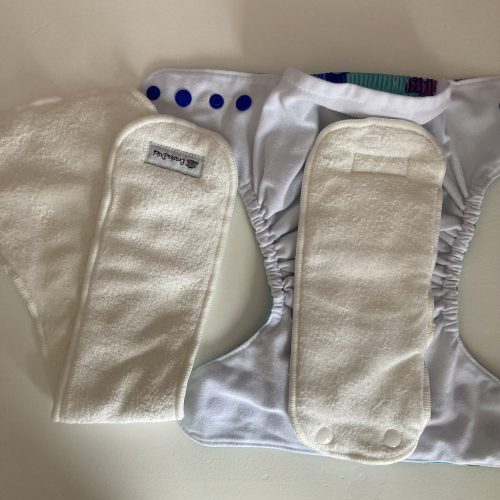 The wider part of the anchor insert will provide a little more absorbency. For girls, and younger babies who spend a lot of time on their backs, I would position the wider part at the back of the nappy. For boys, especially mobile ones, it may offer better absorbency if placed with the wider part at the front, although it is more difficult to do this if you are using the rise poppers.
I found the absorbency when using both inserts, sufficient for my toddler who is now an average wetter.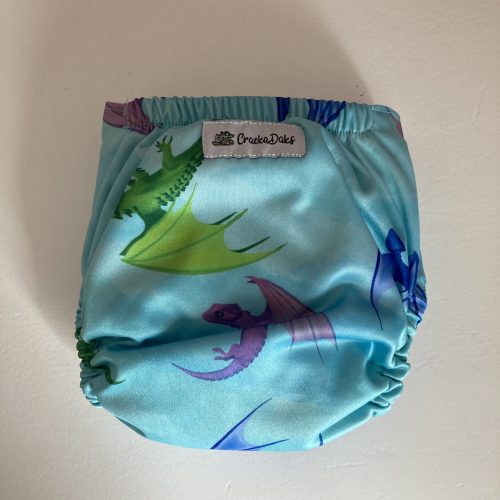 If you're looking for a nappy that can be used from birth then this is a good option, if will last far longer than newborn nappies. However for older babies or toddlers I would opt for the LOSFM for longevity.
Overall this nappy offers a great range of sizing options, although you may struggle to get it to last until potty training. I also feel £22 is expensive for a nappy that still has microfibre mix inserts.
You can also see this review, and many others, on my YouTube channel.