Little Fern are a small UK brand, alongside their BTP range of nappies they also offer a newborn AIO called the First Fern. The First Fern retails for around £10. Like the rest of the range it only comes with a popper waist fastening.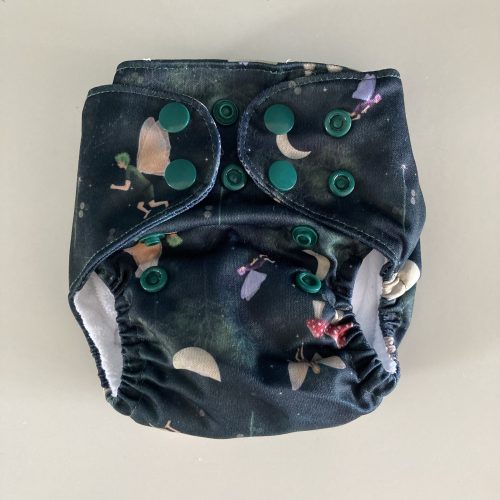 It has an overlap on the waist and a single row of rise poppers to make the nappy small. I found this nappy gave an excellent fit from birth (7lbs 8oz). It also has a snap-down cord cut out. If your planning to cloth right from birth this is such a useful feature to look out for. And once the cord has fallen off you simply unsnap the nappy and use as normal.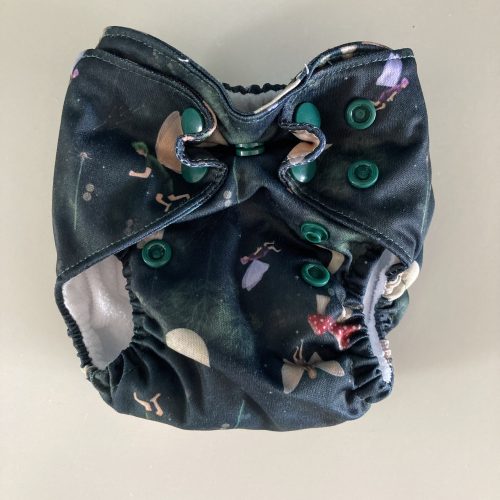 Inside there is a PUL tummy panel and the nappy is lined with a soft fleece which provides a stay-dry layer. I've found it actually not that common for newborn nappies to have a stay-dry layer so this is a real plus. There is an internal double gusset which I'm not really a fan of because it makes removing solids more difficult, but on a newborn nappy when you don't need to remove solids it isn't not a problem.
Underneath the fleece is the built-in absorbency. It is 3-layers of bamboo:cotton.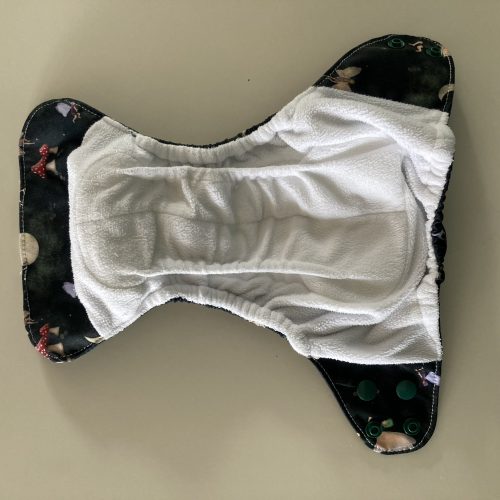 The nappy is a true AIO. Everything is completely stitched into the nappy so there is nothing to do, just wash, dry and use on your baby. This makes it a great beginner nappy, or handy to use when out. The downside of this is that it is difficult to tell if the nappy is dry due to the stay-dry fleece. I ended up having to guess based on other nappies.
We had to stop using this nappy around 6 weeks (9lbs 13oz) due to the absorbency. At that point we were still on the smallest rise and had plenty of space left on the waist due to the elongated wings, so I think there is decent longevity in the sizing, just not the absorbency.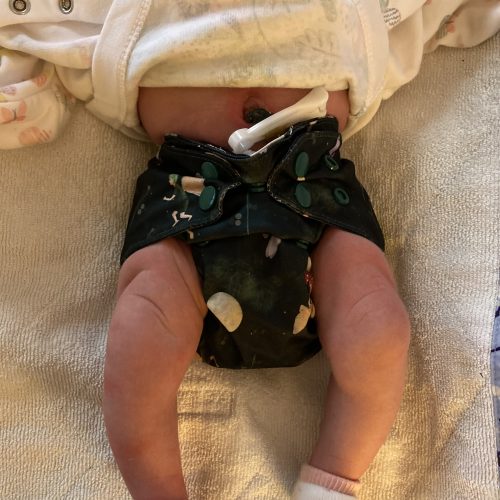 It is a difficult nappy to boost. There is no opening to place additional absorbency so your only option is to lay something flat into the nappy. When looking to boost newborn nappies I always recommend trying a cloth wipe at first because they're small and you likely already have some. However this will cover the stay-dry layer so you'd need to add a fleece liner to keep your baby dry. Alternatively, Little Fern sell a newborn booster. It costs around £3.50 and is fleece lined on both sides so you maintain the stay-day aspect. I've not tried the booster myself so I cannot comment on its effectiveness but I expect it will help with absorbency issues at least to some degree.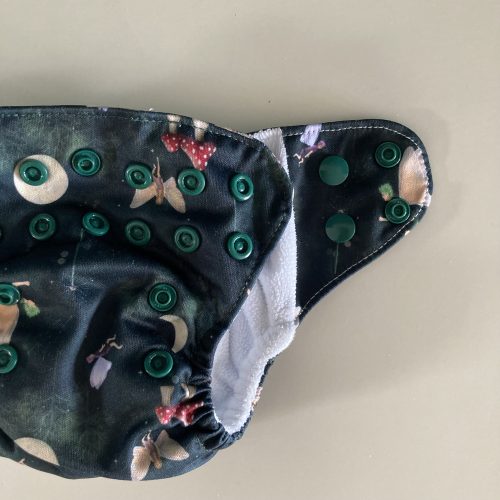 Overall I really like the design and fit of the shell, but the absorbency let it down for us, although that isn't uncommon with a newborn AIO.
You can also see this review, and many others, on my YouTube channel.