Baby Bare have an all in one (AIO), all in two (Ai2), and side-snap nappies. I have reviewed the Ai2 here and the side-snap here. All three types retail for around £19, or can be picked up cheaper as part of their 'duo packs'. I also have an exclusive discount code CNG10 which will get you 10% off everything on the UK Baby Bare website, including sale but excluding the duo packs.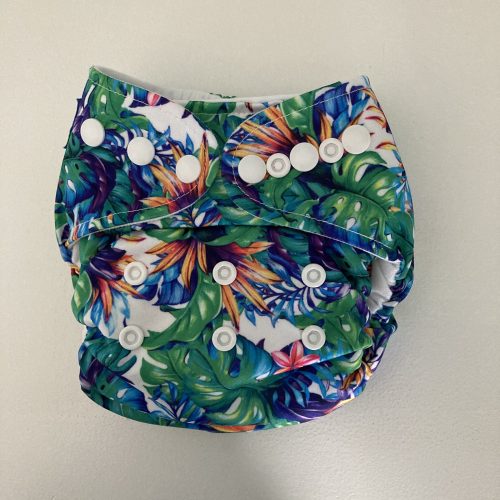 The outside of the nappy is available in either a PUL or minky, depending which print you choose. Both work the same. Baby Bare prints are all limited edition, so once a release has sold out it won't be available again.
It is only available with a popper waist fastening. The waist poppers are in a single row which I prefer, but each tab has three poppers to keep the nappy's shape and stop wing-drop. There are good waist over-lap poppers for a snug waist. The rise poppers are also in my preferred configuration of 3 columns. There is also an additional row of poppers to help make the nappy really small for tiny babies.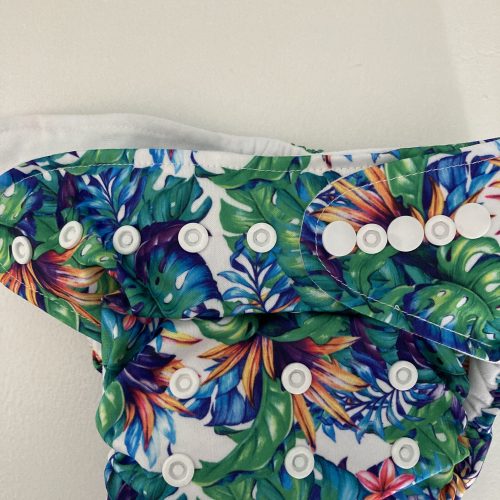 The nappy is designed to fit quite small, similar to underwear. but we still have one rise left to open so I feel confident that this will last us until potty training. The leg elastics are rolled which is absolutely love. They provide good containment whilst being really gentle on the legs. You just need to run your finger around the legs to ensure the elastics have rolled in correctly.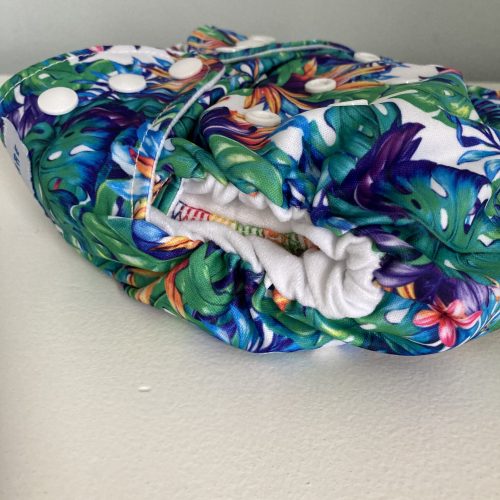 Inside this is a true all in one. There is nothing to re-stuff and no additional boosters. There are two inserts, one (shown on the left) is sewn in completely underneath the stay-dry lining. The second (right) is stitched at the back of the nappy and you just need to lie in flat. It is topped with a stay-dry layer so no need to add additional liners if you don't want to. Ideally this second insert should be tucked under the fabric strip at the front of the nappy to hold it in place. Although even when tucked under the fabric strip I do find the insert bunches up between the legs when wet. It doesn't cause my baby any discomfort and thanks to the stay-dry layer he is always dry but that is the downside to having an insert not fully stitched in.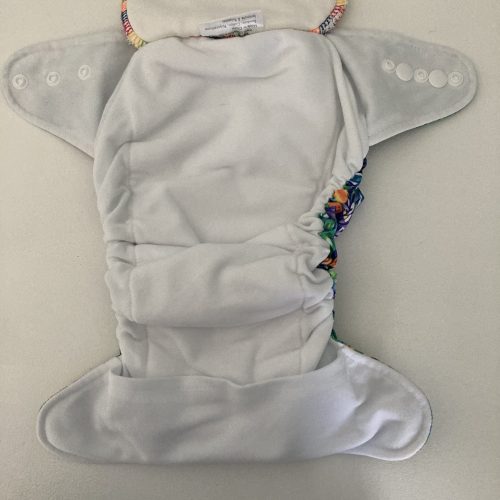 The inserts are made of bamboo and cotton. They are really absorbent and I don't need to boost. If you did need to add a booster then I would suggest lying one underneath the second insert. The downside of this absorbency is the slow drying time, this is compounded by the insert which has been stitched in. Because there is a stay-dry layer on top it is actually pretty much impossible to tell if that insert is dry.
Overall I really like these nappies. They are fairly affordable for an AIO. The fit really suits my baby and they seem so comfortable on him. And the absorbency is great. I would definitely recommend them.
You can also see this review, and many others, on my YouTube channel.