This nappy was provided to me free of charge for a review, this is my honest, personal, opinion of the nappy.
The Bonny Bots Solo V2 (I haven't tried or seen the V1 to compare) is a true AIO nappy. Unless you need to boost it, there is nothing more to do other than wash, dry, and pop back on your baby. It retails for around £19, or you can add a hemp booster on for an extra £3.50 (£4 separately).
The outside is a silky PUL, it has a popper waist and three columns of rise poppers. My tall toddler was wearing this up until potty training (at nearly 3 years) with a rise done up, so I feel confident this will last most children until potty training. With the extra row of rise poppers it does go down small too so offers a good range of sizing options.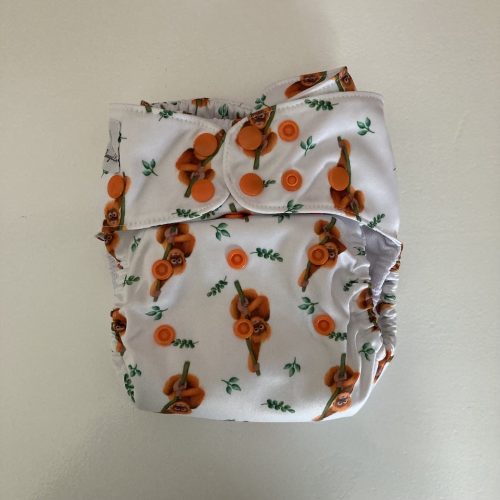 The leg elastics are gentle and the back elastic is wide which I also prefer as I think it is more comfortable.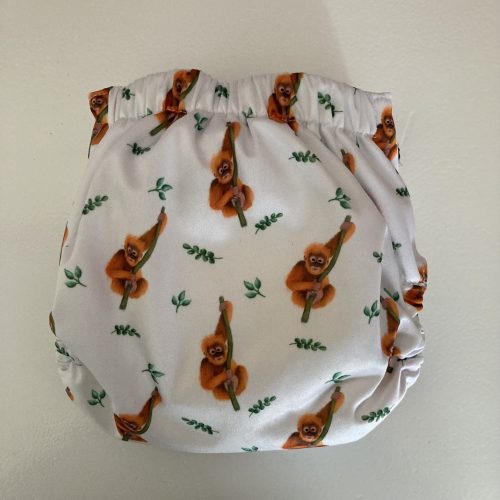 The nappy features a small piece of tummy elastic. There is a good range of poppers on the front of the nappy, again increasingly the range of shapes and sizes this nappy should fit. Interesting the top row of poppers on the waist panel are all female poppers, with the bottom row male poppers. This means that the corresponding poppers on the tabs allows you not use the hip popper to allow the waist to be one more popper wider. This leaves only the flat female popper against baby's hips, rather than the raised male popper. We didn't need to use this feature, and I'm not sure how comfortable I am with it personally, but it's an option and doesn't affect the use if you don't use or need it.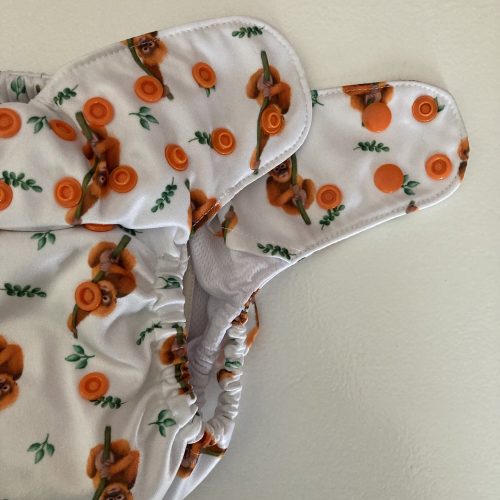 Inside the nappy is a true AIO as I mentioned above. It has a PUL tummy and back panels which are flaps. Depending on your baby's output of solids you may find this makes them more difficult to remove before washing (pre-weaning solids do not need to be removed).
The insert is topped with athletic wicking jersey which acts as a stay-dry layer so you don't need to add a liner if you don't want to. I also find it highly resistant to staining. The absorbency underneath is 6 layers of bamboo terry, the optional booster is 4 layers of hemp:cotton (55:45), although you can use any boosters you already own. I found the absorbency of using both the insert and the booster to be really good, and didn't need to boost further.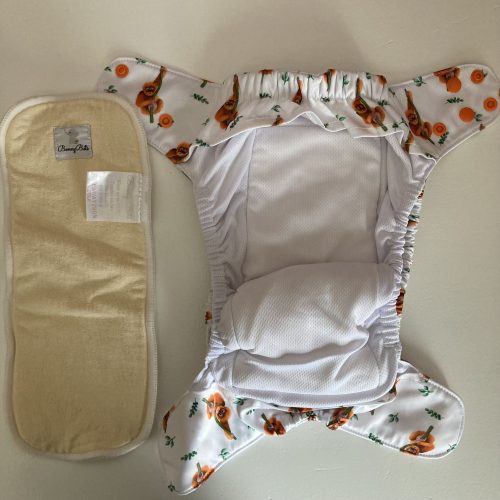 The nappy offers a double gusset (via what I call a secondary gusset) as both the shell and insert are elasticated. Hopefully this prevents solids from getting between the insert and shell as removal could also be difficult.
Boosters can be placed between the insert and the shell.
It is slow to dry due to the insert being attached. You can help speed this up by allowing the air to circulate between the insert and shell as much as possible, and turning the nappy inside out part way through drying. But either way it isn't quick to dry.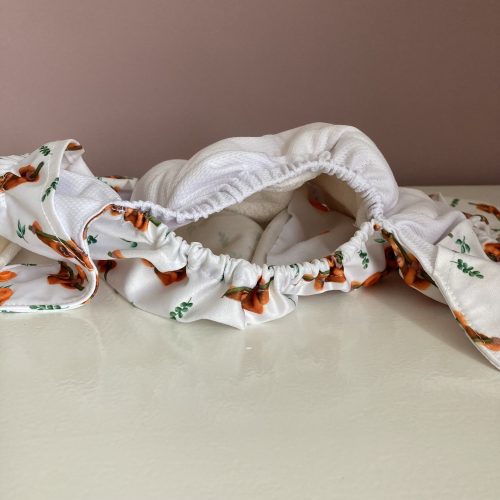 The downside for us was the fit. Although my toddler is tall it felt like the PUL was always baggy on him. Maybe that was to allow for more boosting space. The nappy worked but it looked a little messy, maybe it was just not right for his shape.
Otherwise I think this is a reasonable nappy for the price point, and simple to use.
You can also see this review, and many others, on my YouTube channel.