Seedling Baby are an Australian brand. As well as this wrap they also offer a pocket nappy called the Multi-fit which I have reviewed here.
The wraps and pockets look fairly similar from the outside. They come in the same prints and feature the same contrasting binding. This wrap is the birth to potty version, they also offer a newborn and larger size. The wrap retails for around £13-14.
The nappies all come with the popper waist fastening. This one has a double row of poppers, it doesn't have hip stability poppers but I don't find that an issue. There also isn't an overlap option on the waist so you may struggle to get a good fit on a small or skinny baby.
Being a birth to potty wrap it will be a more economical system than many wraps which are sized. The length is adjusted via the rise poppers on the front. There is a good range of sizing using the poppers, and it works well for only having two columns.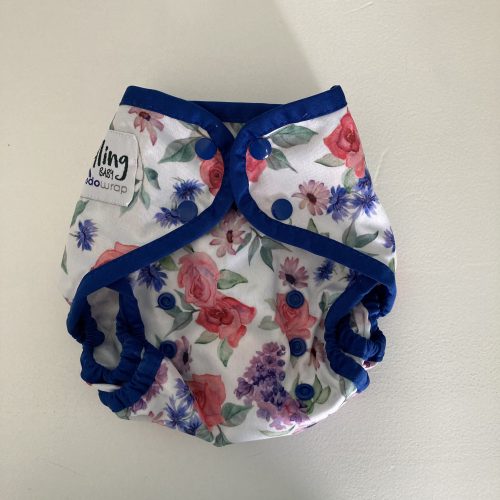 I'm personally not a fan of the binding edges, both for aesthetics and because it feels rougher on my baby. It also has an external double gusset. This can be helpful with containment on babies pre-weaning but I've not ever found it massively helpful. I do find the elastics on the legs quite tight, so the sock marks are deeper than I would like. The addition of the double gusset, and the binding, makes this worse too.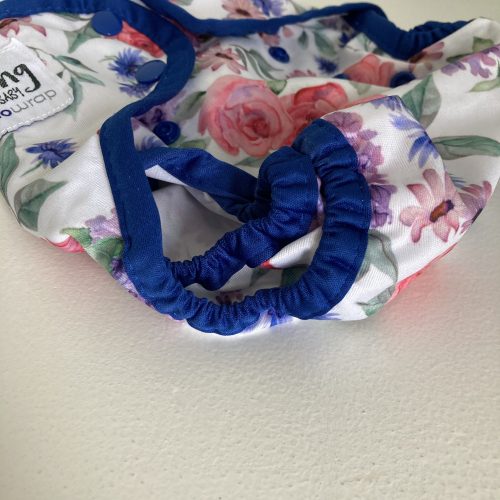 Inside the wrap is a wipe clean shell. If using during the day then when you change the nappy you can swap out the absorbent part and simply wipe down the inside of the wrap and reuse (as long as it isn't soiled). You can use a wrap like this around 4 times before needing to wash it. For overnight use you need to change in the morning.
You can use this wrap over fitted nappies or flats. If using over a fitted nappy you will probably find you need to open the rise of the nappy sooner to accommodate the bulk of the fitted. However if you're using with an insert, or pad-folded flat it will last you a bit longer. They can also be used over Terry nappies, and being a more fitted wrap will hold a Terry in place if you don't have a nappy nippa to hand.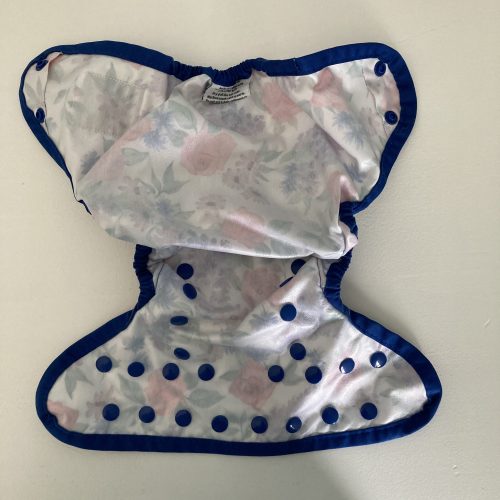 Overall I think this is a reasonable nappy for the price. The prints are very pretty and being birth to potty it is an affordable option. For me, the leg elastics and binding let the nappy down. The sock marks just don't look comfortable, and the double gusset makes this worse. The binding can also cause wicking leaks around the legs, especially when using with more saturated night nappies.
You can also see this review, and many others, on my YouTube channel: