Little Love Bum are still a relatively new British brand, but they have gained real popularity and have an impressive range of products, including an AIO (Everyday), pocket nappy, and wrap. The Mighty is an AIO nappy and retails for around £22. It is marketed as a plus sized toddler nappy, and whilst I think it is a good choice for toddlers (due to the absorbency – see below), I don't feel the sizing is much bigger than others in the Little Love Bum range, especially as they are a more generously sized nappy anyway.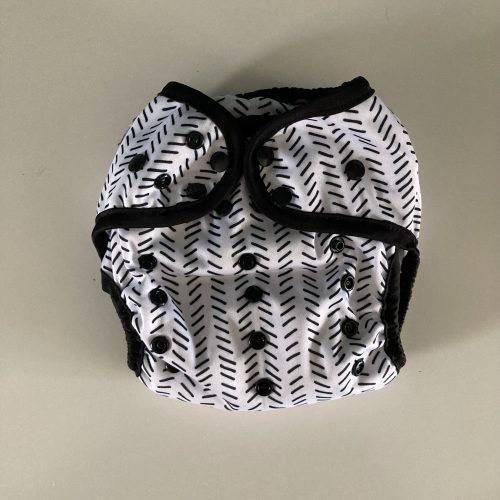 Like all of Little Love Bum's range, it is only available with a popper waist fastening. It features a contrasting binding around the edges, which I'm not a personal fan of, but the leg elastics are gentle. There is also a small piece of tummy elastic. The rise poppers are in three columns, my preferred option and there is a good range of sizing options. The nappy is quite wide between the legs, again common with the Little Love Bum range. It is designed to fit more like a disposable nappy (resting on the thighs rather than tucking into the knicker line), but even on my toddler I find it wide. But the nappy is pretty slim so it isn't bulky.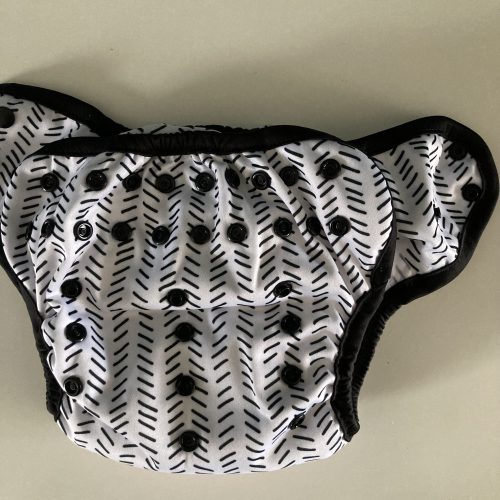 Inside you'll see this is a true AIO nappy. With nothing to re-assemble or tuck back in. Simply use, wash, dry, and put back onto your baby. The downside of this is increased drying times as it is difficult for the air to circulate, but the absorbent core is only stitched at either end, and is in two separate layers, so you can move it around and even turn inside out to help speed up the drying a little. The front and rear PUL panels help prevent leaks.
The absorbency, as I mentioned, is aimed at toddlers who can often flood their nappies as they approach toilet training and learn to hold their bladders. The top layer is a soft suede stay-dry cloth so you won't need to add a liner if you don't wish to. Under the suede cloth you have some microfibre which is why this nappy is good for toddlers, microfibre is a very fast absorber. Together this makes up the first layer in the nappy. The downside of microfibre is that it can cause compression leaks, so it needs to be paired with a natural fibre, and that's where the second layer of absorbency comes in. The second layer is hemp:cotton so will efficiently soak up and lock in any liquid which the microfibre lets go of. I find the absorbency sufficient with this nappy and I haven't needed to boost. But if you need to then this is easily done by sliding a booster between the layers and outer shell.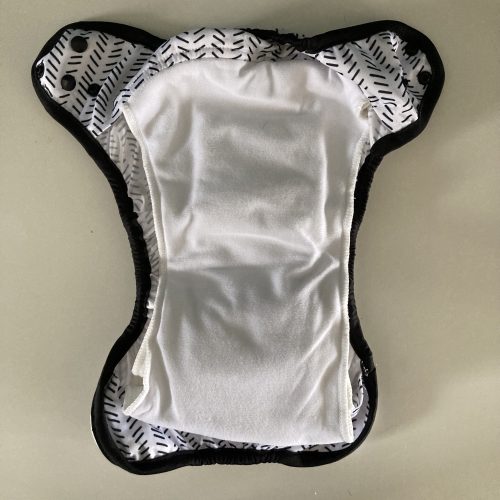 The downside of all nappies designed like this, is that when wet the insert will bunch between my boy's legs. Whilst not a problem as such, due to the microfibre content of this nappy I don't feel particularly happy with this. When it bunches it exposes the underneath of the top layer – the microfibre, which is then touching his skin. Microfibre can make your skin very sore and so should not be in direct contact with skin. Now this has not causes him any issues or made his skin look sore but I'm a bit uncomfortable with this.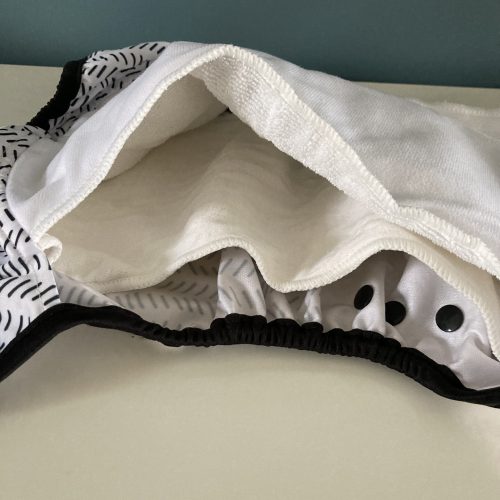 This is good option for flooding toddlers as the absorbency has been constructed well to cope with their needs. And the absorbency is good, and easy to boost if needed. But I don't feel this is a plus sized nappy, so if you're looking for a larger nappy this would not be a great option. For me the bunching of the microfibre is this nappy's downfall however.
You can also see this review, and many others, on my YouTube channel.