This review is for the newborn pocket nappy, Baba and Boo also make a BTP pocket nappy which you can read the review of here. The newborn retails for around £14 and has a velcro fastening.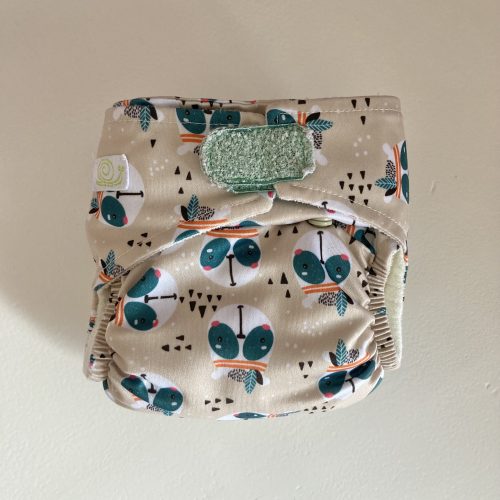 It has a PUL outer, but since my review of the BTP version, Baba and Boo have upgraded their PUL twice. The PUL I reviewed was rather thick and squeaked a bit when my baby moved. The PUL on this nappy, from around 2019, is more like a normal PUL, but more recently (2020 onwards) their PUL is much thinner and silky-feeling.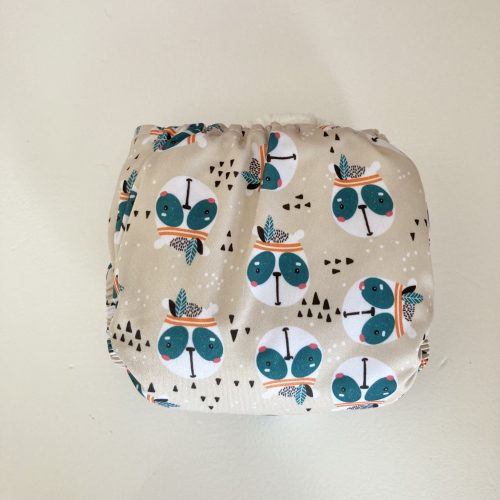 It is designed to fit 5-18lbs in weight. My baby was 7lbs 8oz born and an average build, this nappy was far too big for her. We didn't start to get a decent fit until she was around 10 weeks, by which point she was around 11lbs. The nappy did however last until around 5-6 months (50th centile baby). In my eyes this is not a newborn nappy, but a Size 1. It is great if you want something to use from a couple of months old that you'll get a few months use out of. But if you want to use straight from birth then this is unlikely to be the right nappy for you.
For a newborn nappy it is also quite wide between the legs.
With the velcro fastening there is the option to overlap the tabs to get the waist really small, although this is unlikely to help you fit it on a small newborn as it's the leg holes which are the main issue. There are laundry tabs which is an important feature on velcro nappies. However the velcro really doesn't last well on this nappy. As you can see the waist panel is very worn and the tabs barely stick anymore. It has only been used on one baby and would not need to be replaced if I wanted to use it on a subsequent baby. Given the relativity short period of use this has had it is very disappointing.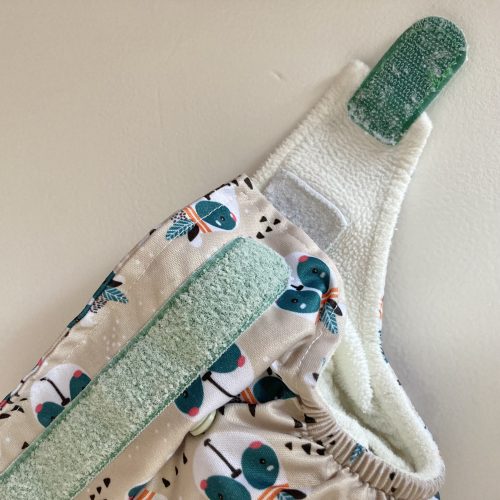 Inside it is very much like a smaller version of the BTP nappy. It is lined with a really soft fleece so you don't need to add a liner if you don't want to. Fleece lining isn't that commons on newborn nappies so it's really good to see it. There is a PUL tummy panel. And whilst this has an internal double gusset, which I don't particularly like on BTP nappies because it makes removing solids more difficult, on a newborn nappy you do not need to remove solids (until weaning) so it really isn't an issue on this nappy.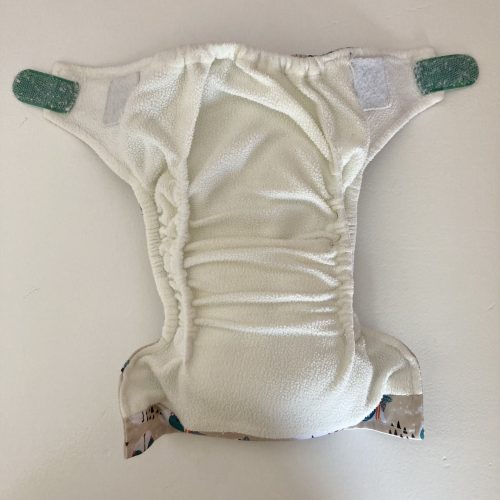 You get two inserts with the nappy, again just smaller versions of the BTP inserts. They are labelled 'bamboo inserts' but actually only the outer two layers are bamboo, the inner two layers are microfibre. So 'bamboo mix' would have been a more appropriate label in my eyes. Being a microfibre core this does make them quite bulky for the absorbency offered. It does offer reasonable levels of absorbency.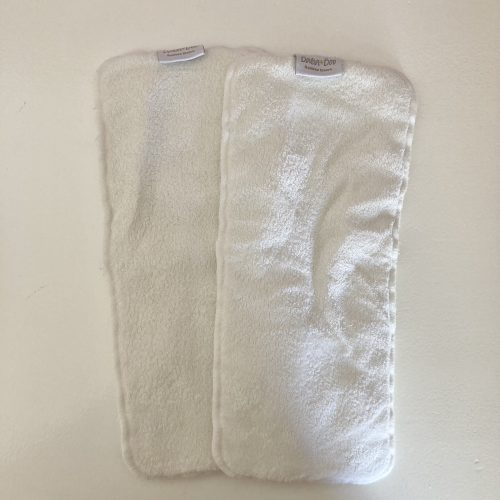 Overall the sizing is a bit off. I think it is definitely for the Size 1 market rather than a true newborn. That's not necessarily a negative, it just depends on when you'd like to start using cloth nappies. The velcro the biggest let down on this nappy. At £14 I would really need this to last more than one baby in order to re-coup my expenditure, but without replacing the velcro that just isn't possible.
You can also see this review, and many others, on my YouTube channel: