There is absolutely nothing wrong with switching to disposables when you need to, especially for holidays. By using cloth nappies, even part-time you are making a difference so if you need a break for whatever reason that is totally fine.
However if you want to use cloth when on holiday here is how I do it. As well as the odd weekend away, I have successfully managed to use cloth nappies (and wipes) full time for two separate two-week trips in Europe in a caravan.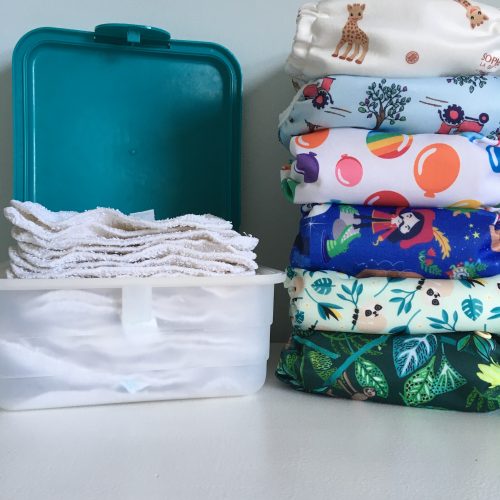 For us these longer trips involved a couple of days and nights of long drives and sleeping in rest points without services. So to start with I make up a larger batch of cloth wipes to ensure we have enough. For the nappies I wash (and dry) them as close to leaving as possible. If you don't have enough nappies for a normal nappy wash then you can always bulk out the wash with baby clothes, muslins etc.
I always take my full stash of nappies and wipes. Any dirties before we leave I take with us too. I also pack my own washing powder and scoop, so that's one less thing to worry about. And my pegs.
Normally I use a nappy bucket at home, but that's just too bulky for a caravan. So I use two wet bags, an extra large and a medium. Wet nappies go in the extra large, dirties in the medium – this just means I know what I'm dealing with rather than playing nappy roulette. The wet bags don't need to be expensive, cheap ones will work just fine. I tend to store the bags in the awning/outside.
For weekend/shorter trips I will just keep everything until we get home. However for longer trips I wash when we're away. We've always booked campsites with laundry facilities, but if yours doesn't have one then check the local area (before you travel) for a laundrette. You can also handwash nappies but this isn't something I've tried.
The washing machines on campsites or at laundrettes are likely to be industrial ones. In my experience they have fairly short wash programmes.
My first step is to take all the nappies to the wash block and find a sink. I remove solids into the toilet and then hand rinse all nappies. Although I do briefly squeeze the water out they are fully saturated and therefore much heavier. This process tricks the machine into thinking it has a bigger load if it weighs the washing. It will therefore use more water to wash the nappies which is exactly what you want. The hand rinsing acts as a substitute for your normal rinse cycle before the main wash.
Using a different machine, when you don't have an instruction manual is difficult enough, and doing this in a foreign country is even harder. Just pick the best programme you can. As long as the temperature isn't too high it will be ok. Add your usual dose of detergent.
If the weather is congenial then you can line dry, guy ropes make an excellent makeshift line. Just remember to keep your PUL out of the direct sun, especially in warmer climes. And bring in anything with elastics once dry, or dry in the shade if possible.
Although I've never had an issue with washing, I will always do a strip wash when I return home. This is just to reset everything so I don't end up with problems further down the line. I do a quick rinse cycle on any dirty nappies from the journey home, then add in enough nappies to make up a full load. First a 60c long cottons cycle with a full dose of detergent. Then another 60c long cottons cycle without detergent. I'll repeat this process if there are too many nappies until all the ones that came away with us have had a strip wash.