Kit and Kin are a major brand in the 'eco' disposables market. They are now trying their hand at reusable nappies which is fantastic. They have the marketing ability to really push cloth mainstream.
If you've read my page on eco disposables then you'll know I'm not a fan, but I am really excited by this nappy.
Kit and Kin launched a reusable nappy in 2020. Sadly it wasn't really fit for purpose. But they've gone away and actually taken feedback on board and created a new version. This review is about their new (early 2021) version only.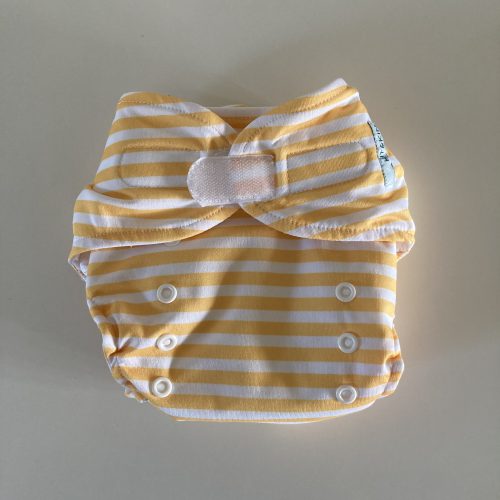 The prints match the theming of their disposable range. And the reusable nappy retails for around £20. You can also buy packs of boosters, 3 for £10. These are very slim but surprisingly absorbent. There is some conflicting washing instructions on the packaging (boosters can only be washed at 30c, but the nappy at 40c even though it contains the same materials). Hopefully these issues will be rectified.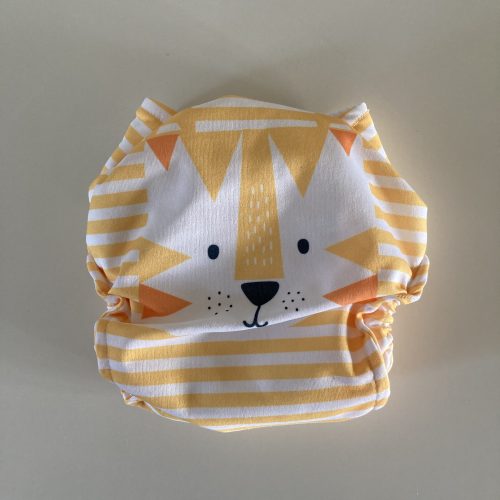 The nappy is a velcro fastening, which makes it a good transition for caregivers most used to disposables. The velcro is sticky and has remained so after several washes, and there are laundry tabs. I find the fit more similar to a disposable nappy. Initially I had the nappy on the middle rise, but the waist didn't fit nicely until I opened it fully up. My boy is 2 and very tall so hopefully this would fit most children until potty training.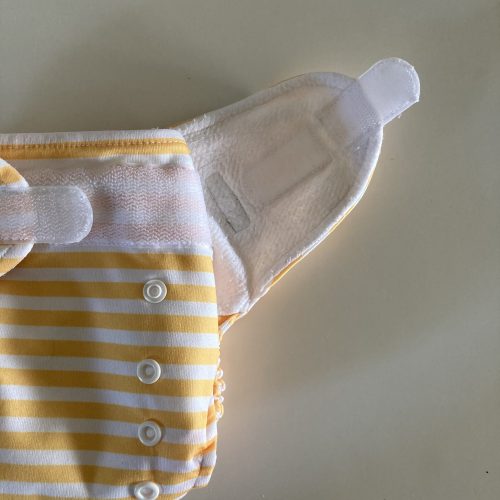 The outer PUL feels smooth to touch. It's not as silky as some, but it doesn't rustle/squeak and does the job. It is made from 100% recycled polyester and each nappy is saves two plastic bottles from landfill.
It has an external double gusset – which you may already know I'm not a fan of due to the extra sock marks. The good news is that the elastics in this nappy are very gentle so you do not get sock marks. However, if you like a double gusset then you may be disappointed as this one is fairly useless. Containment is good. Far exceeding a disposable nappy. My boy has tested the leg elastics to the limit and it did just manage to hold. Tiny newborn poo might be an challenge, but again it is going to be better than a disposable.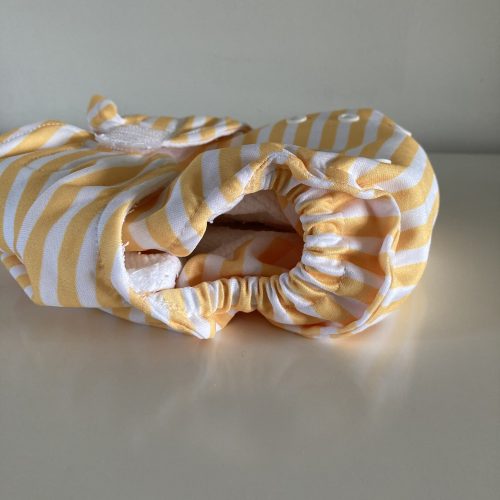 Inside there is a small amount of exposed PUL around the legs. This is not uncomfortable but I would personally prefer it covered – which would also help with the containment a little too. The absorbent core is natural materials so if you want your baby to feel dry then you'll need to add a fleece liner. Some caregivers do prefer to have natural fibres against the skin (a fleece liner is polyester), but personally I do prefer a stay-dry layer.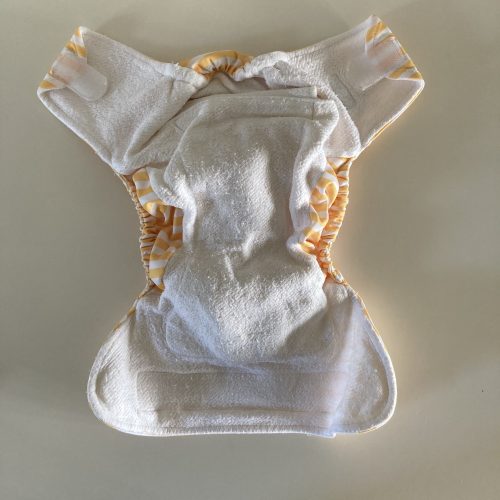 The absorbency is made from a hemp and Tencel blend. Tencel is derived from wood pulp, so a natural fibre, but heavily processed – similar to bamboo but much more environmentally friendly due to the manufacturing process. The nappy is very absorbent, even without adding any boosters. I have to say I was very impressed with the absorbency. It is slow to dry, which is the price you pay for good absorbency. But there is a pull-out tongue to help speed up drying time. The tongue has a small pocket to help with re-stuffing, it is also useful to hold any boosters in place.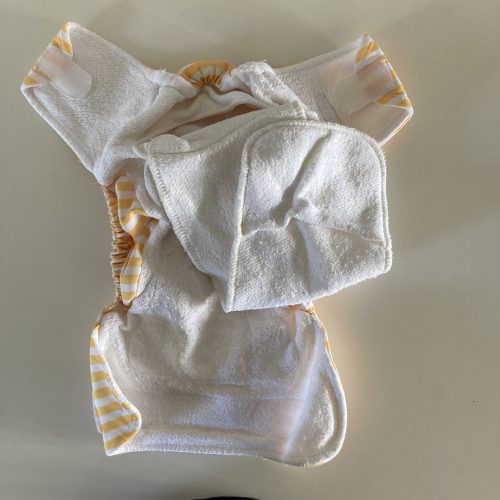 Overall this is a good nappy, especially for those switching to cloth. It has been thoughtfully produced to limit the environmental impact. There are a couple of minor design tweaks I would personally make – but then I could say that about most nappies! The absorbency is excellent. It feels like the first time I have seen a disposable nappy company branch out into reuseables and make a product that does actually work. At £20 it is a little expensive but a reliable nappy.
You can also see this review, and many others, on my YouTube channel.