La Petite Ourse is a Canadian company who make a range of pocket and all in one nappies, covers and wet bags in some lovely prints. They are stocked in the UK by retailer Clothboxed who very kindly gifted me this nappy in exchange for an honest review.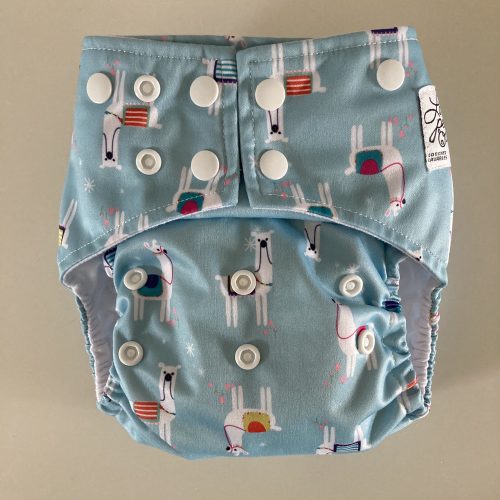 The pocket nappy is birth to potty sized. It is quite generous in the length and so I feel this should comfortably last until potty training. It is only available with a popper-waist fastening. There are overlap poppers on the waist tabs, and hip-stability poppers. It has three columns of rise poppers, my preferred option, and an extra row so it also goes very small. I really like the fit of this nappy on my baby, it suits his tall, skinny shape nicely.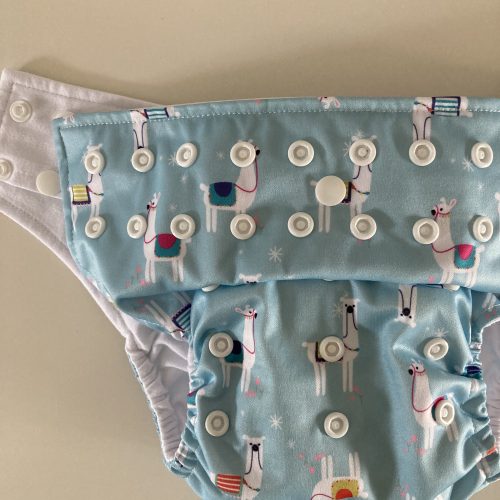 The elastics offer good containment but they are gentle on the legs and don't leave sock marks.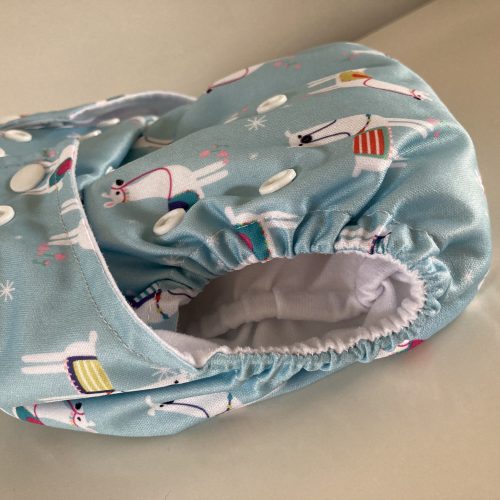 Inside is fully lined with a suede cloth which is very soft. It also acts as a stay-dry layer so you don't need to add a liner if you don't want to. There is an internal double gusset.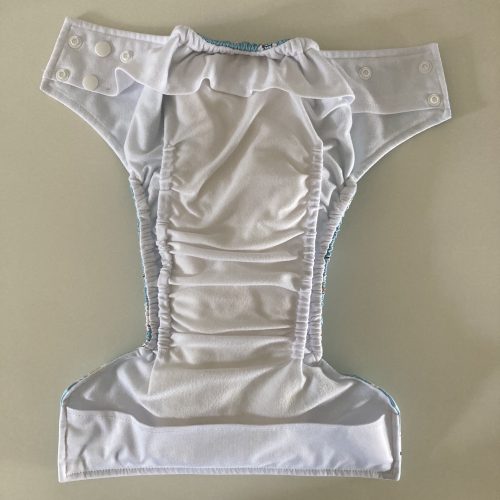 The front strip of fabric across the nappy is actually a PUL tummy panel, it's less obvious at first because it is not coloured like normal, but rather blends in with the lining. I tend to do my nappies a little looser around the waist, so I do find the PUL can creep out of the front of the nappy a little. It doesn't cause any leaks, but is the only really negative I have about the nappy.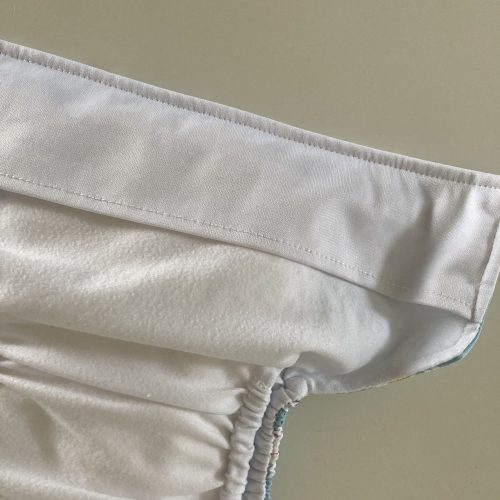 There are pocket openings at both the front and back of the nappy. The back one is a reasonable size. The front opening is the entire front width of the nappy, the PUL tummy panel simply lifts up. There are pros and cons to a double-opening pocket. It does make it easier to smooth any inserts that have bunched up, but it's harder to keep the inserts in place whilst stuffing. Personally I prefer a single opening pocket.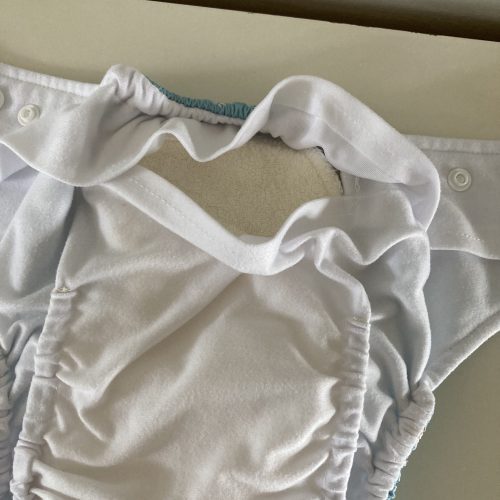 With the pocket you get two identical inserts. These are bamboo/microfibre inserts. They are a bamboo outer with two layers of microfibre inside, so each insert gives you four layers of absorbency. For my heavy wetter I need to use both inserts, but in doing so this gives a reliable nappy. For younger babies, or lighter wetters you might be able to just use the one insert. The inserts dry pretty quickly, and the actual pocket of course doesn't take any time at all.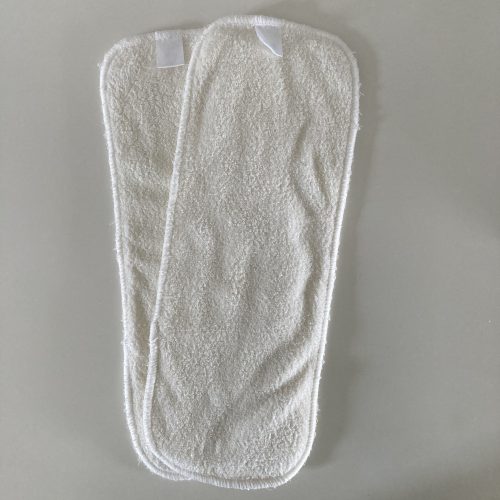 Under the PUL tummy panel there is a single female popper. This is a fairly universal size so I decided to try out if this could be used as an Ai2 nappy as well.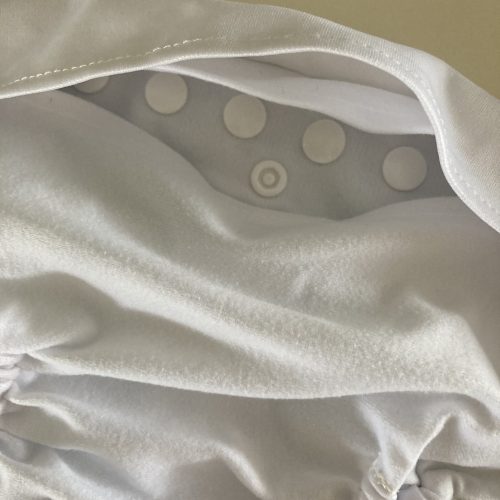 Neither of the two inserts that come with the nappy have any poppers, but I had a couple of options in my stash to play around with. The Buttons Diapers insert (orange trim) fit the popper size but as that popper is quite far down the insert, part of the insert stuck out of the front of the pocket. The Bebeboo Diapers insert fit really nicely, this particular insert isn't stay day topped so I secured it to the nappy and then put it into the pocket and it worked really well. I've also tried the Little Love Bum trifold which works well too. I do wish La Petite Ourse had put poppers on one or both of their inserts after trying this.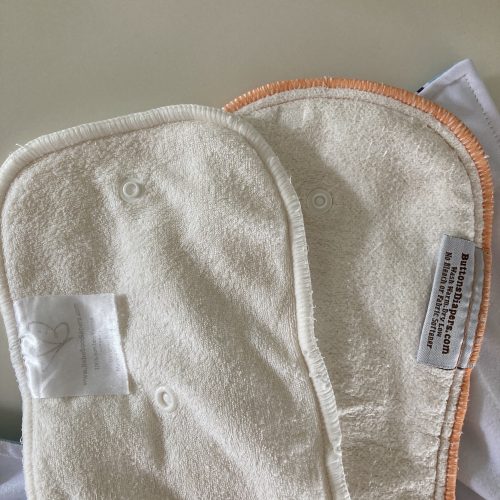 Overall I would recommend this nappy. It offers good absorbency without being bulky, even with both inserts. At £15 (from Clothboxed) it is fairly affordable too. There is good adjustment to the sizing and it feels good quality.
It is a pocket nappy, and sold as such, but I do think poppers on the inserts would be a little improvement if they tweak the design in the future. In the meantime I might popper mine myself :).
You can also see this review, and many others, on my YouTube channel.