Modern Cloth Nappies are a UK-based brand which make a beautiful range of nappies, wet bags, wipes, change mats and CSP. This review is for their Duo pocket, which is a pocket nappy. They also do an all in one nappy called the Pearl pocket (slightly confusing name), which I have reviewed here. The Duo retails for £16.
The nappy features a sturdy PUL. It is only available in a popper waist fastening. There are hip-stability poppers but no option to overlap the tabs for smaller babies. The rise poppers are in three columns, which is my preferred option as it helps hold the shape of the nappy. The rise poppers are well spaced out giving a good range of sizing options. The nappy is generously sized and I'm certain it will last us comfortably until potty training. With the rise poppers it does size down small, but without an overlap tab you may struggle to get a decent fit on skinny/young babies.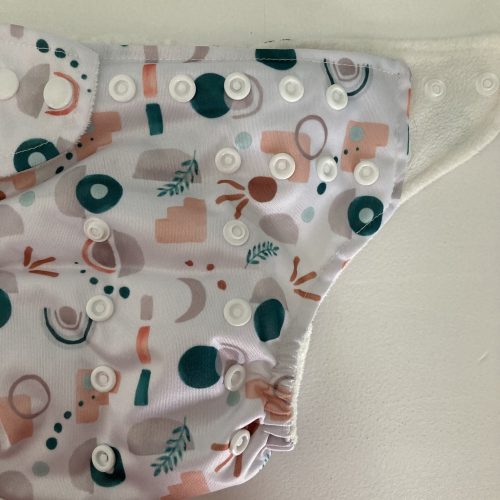 Inside the nappy is lined with a beautifully soft fleece. It has a PUL tummy panel which helps prevent leaks, especially with tummy sleepers. There is an internal double gusset which I'm not personally a fan of but it doesn't cause me any issues.
The pocket opening is at the back of the nappy, again my preferred option. Both the lining and PUL are elasticated giving a good sized opening.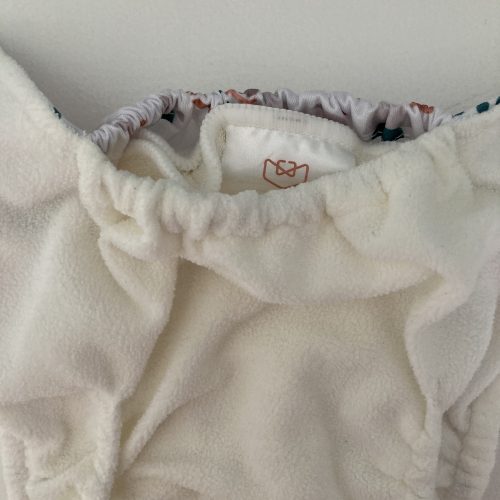 With the nappy you get two pure bamboo inserts. Each one is 3 layers of absorbency. Using both together is sufficient absorbency for us, however there is plenty of space in the pocket if you needed to add extra absorbency. You can purchase additional inserts from Modern Cloth Nappies individually at £2.50 each, or a pack of 5 for £10, however you can also use anything else you may already have. The inserts are very slim, giving us a really good fit. Although I never tumble-dry my nappies the inserts have curled slightly at the edges, although this doesn't effect the use.
Overall I really like this nappy. The materials feel good quality, especially the fleece lining. The inserts are sufficient for our needs but the pocket has been designed with plenty of space to allow the absorbency to be customised. The range of prints is beautiful. At £16 it is a fairly affordable option, and so I would recommend.
You can also see this review, and many others, on my YouTube channel.