The Poppets nappy retails for around £16.50, there are currently 5 PUL prints and one minky. All are sea creature themed.
It comes with a popper waist fastening, overlap on the waist, and high hip stability poppers. It has three columns of rise poppers which I prefer, and it is fairly narrow between the legs which I really like.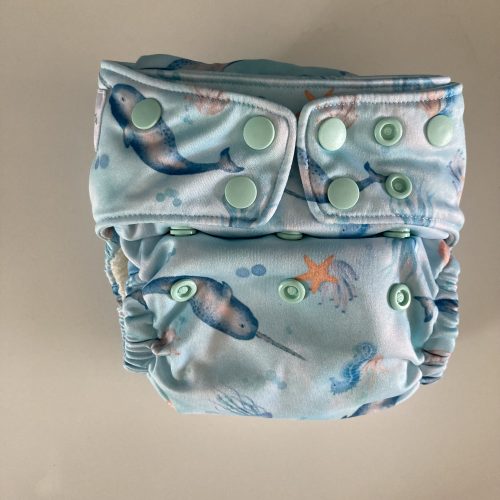 The wings are fairly elongated so it gives loads of sizing options. So despite the nappy looking quite small I actually feel comfortable this will last most babies until potty training, but it also sizes down pretty small for younger/smaller babies. I really love the fit of this nappy.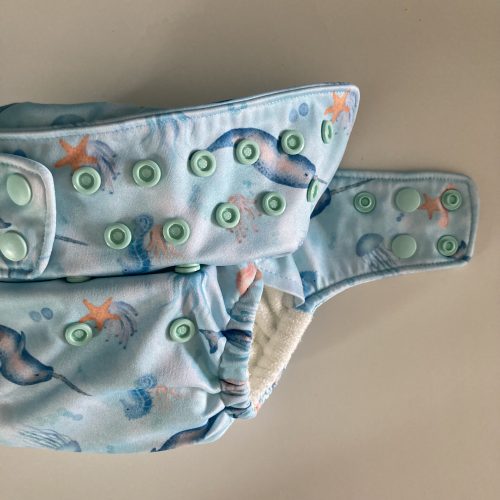 The nappy offers good containment but still has gentle elastics. The back elastic is wider which I really love as its softer on the skin but gives better containment.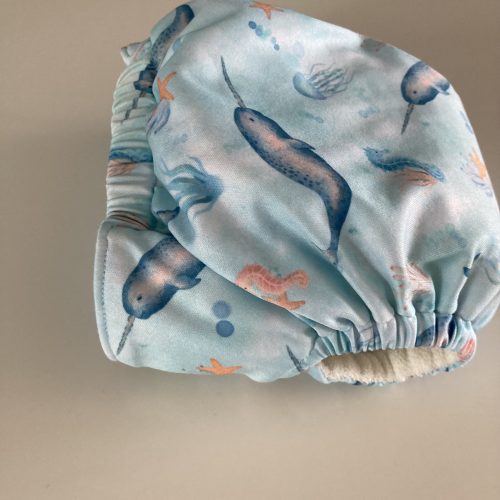 Inside the nappy is lined with a lovely soft fleece which acts as a stay-dry layer so you don't need to add any additional liners if you don't want to. There are PUL panels at the back and front.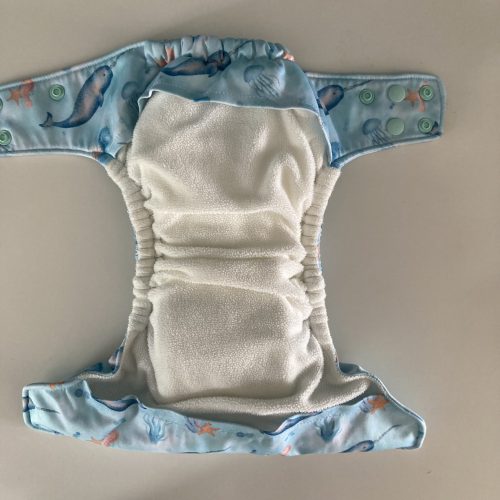 Underneath the front and back PUL panels is the pocket opening – it is double ended. Although in theory this makes it easier to stuff, I'm personally not a fan and would prefer just a back opening. I find inserts have a tenacity to shuffle forwards and it generally affects the fit.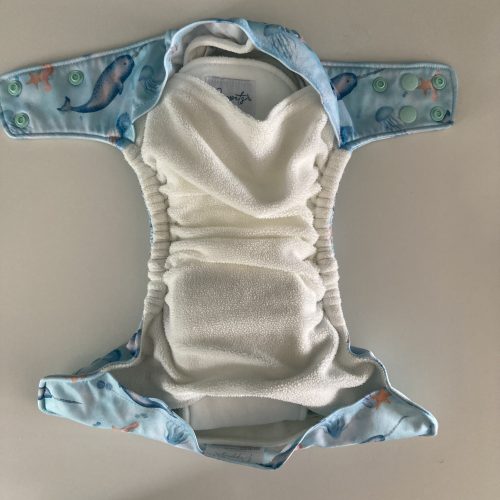 With the nappy you get two inserts, a small 4-layer hemp:cotton rectangle, and a longer insert which has outer layers of organic cotton, with three layers of bamboo inside. Poppets refer to this as a 'fishtail' insert, I'd personally call it an anchor. As you can see the rectangle insert has bobbled quite a bit but this does not affect the use.
The absorbency of this nappy is really good. It is one of few nappies I don't routinely boost and it is very reliable. That said there isn't a huge amount of space for fitting extra boosters if you did need them.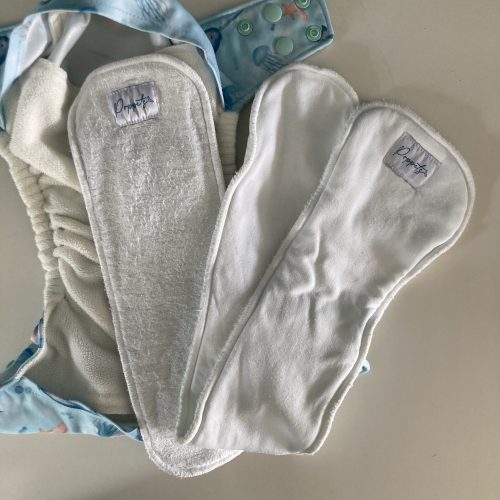 Overall I really like this nappy. The shell design is great, offering a lovely comfortable, fit and good containment. And the absorbency is impressive too. The only downside for me is that the pocket opens at the front as well, otherwise I don't really have anything I'd want to change about it at all.
You can also see this review, and many others, on my YouTube channel.