Petite Crown make a wide range of nappies, a pocket (Packa), Ai2 (Trima), swim, and two wraps (Catcher and Keeper), plus a newborn nappy – the Keeper wrap. It retailers for around £12.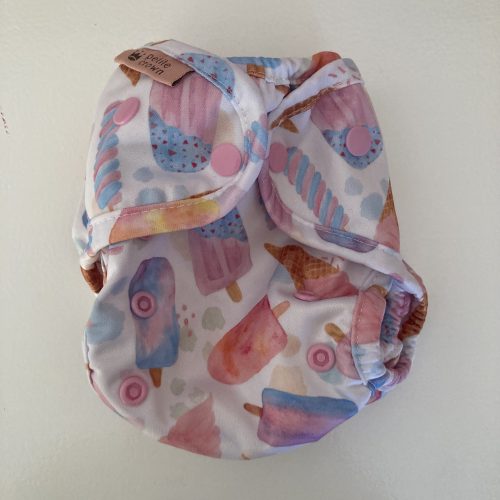 For a newborn wrap it is generously sized. We got a decent fit from birth (7lbs 8oz), it does look a bit messy around the rise poppers on a tiny baby, but out does fit and it does work. It's not bulky as such because its only PUL and its a worthwhile tradeoff in my opinion for the longevity of the fit. My baby roughly followed the 50th centile for weight and height, so she's very much average. This wrap lasted her until 4.5 months which is really impressive. By that point you should be comfortably into birth to potty nappies.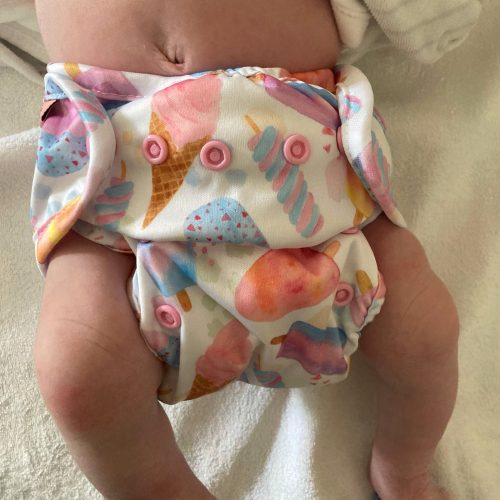 The nappy has an external double gusset on the legs to help with containment. I'm not really a fan of double gussets due to the additional sock marks, but I do find the elastics on this really gentle.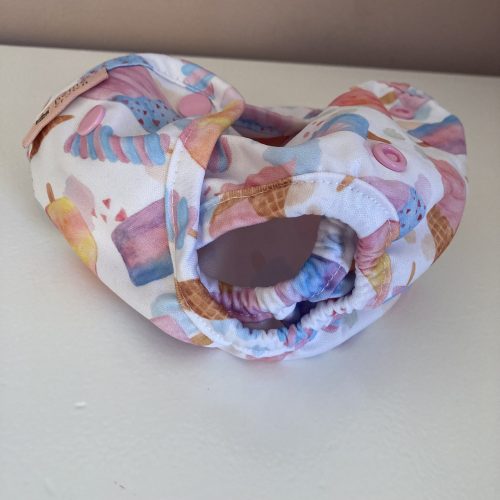 Like the entire Petite Crown range it has a popper waist fastening. The poppers are a single row which I love. There is a good range of poppers on the waist panel to give plenty of sizing options. It doesn't have any overlap poppers for the waist, but I found the was it small enough for us.
There are three rise settings (closed, open one, and fully open) which is great to see on a newborn nappy. The rise is only in two columns but as the nappy is quite narrow, being a newborn nappy, it does hold its shape well. It also features a piece of tummy elastic, this is particularly useful if you plan to use the wrap over a fitted or Terry nappy which can be bulky on tiny newborns. The elastic will help pull the waist back in and prevent leaks.
Inside the wrap it is pretty basic. There's no flaps or poppers but that makes it easy to use and easy to wash. You can reuse the wrap for around 4 nappy changes (as long as it isn't soiled), just wipe down and change the absorbency.
There are so many options on how you can use this wrap. We laid boosters from another brand just inside the wrap, over various fitted nappies (particularly liked it with Motherease XS Sandys, with prefolds, over muslins and terries (even 60cm ones) fastened onto my baby (Petite Crown do some cotton flats which are lovely). I found the bat fold was best for muslins and terries as it sits a bit higher on the thigh which suits this wrap better. Using a two-part system is my favourite method of newborn cloth.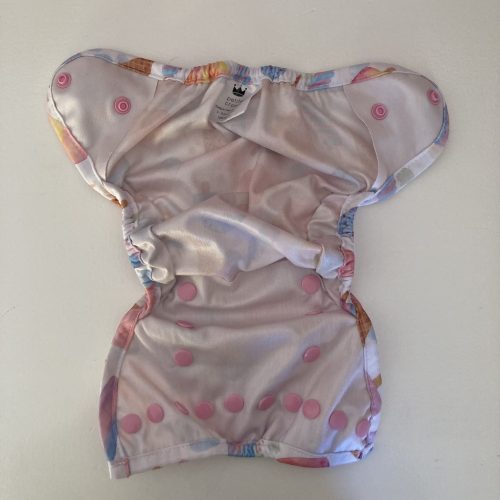 Overall I absolutely loved this wrap and would really recommend it.
You can also see this review, and many others, on my YouTube channel.