The Baba and Boo is a birth to potty pocket nappy. They also do a newborn version (not pictured or reviewed). The birth to potty version is only available in a popper fastening, whilst the newborn only comes in a Velcro fastening.
The outside is PUL covered. It's a fairly thick PUL but is rather noisy when moved about. Length wise I find this good to average so I'm confident it would last the average to tall baby until potty training. It is rather wide between the legs which I don't like for my skinny baby.
Inside is fully fleece lined. The fleece is very soft even after multiple washes. There is a PUL strip on the inside tummy which helps prevent leaks. The leg elastics are thick but soft, they only leave a light sock-mark.
The nappy features a double gusset to help with containment. But unlike other nappies where the additional gusset is an extra piece of PUL on the outside, they have decided to make this some gathered elastic on the inside. I don't like this interior gusset at all. It makes the removal of solids more difficult as the elastics need stretching out to shake anything off, but stretching the nappy requires two hands. If you've not got a 'plopable' solid then it's going to be even more difficult.
There is a reasonable sized pocket opening at the back of the nappy. Both the PUL part and the liner part are elasticated, which looks neater.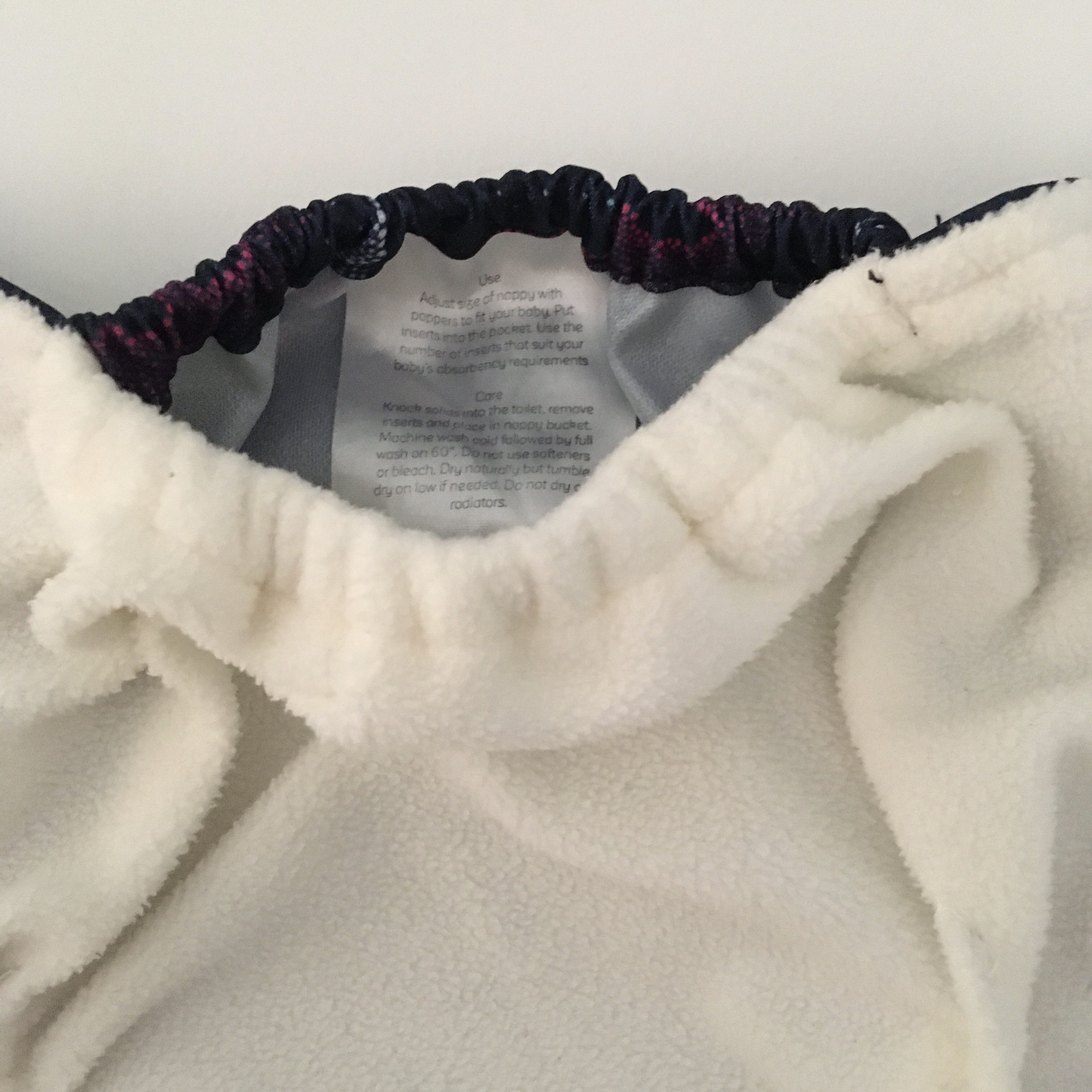 With the nappy you get two Baba and Boo inserts. These fit inside the nappy really well. The inserts are both made of bamboo with a microfibre core to speed up drying time. I don't like bamboo due to the manufacturing process and it's higher maintenance than cotton or hemp in terms of washing and drying. I also strongly dislike microfibre as it sheds microplastics during the wash process. That said the inserts are absorbent. I need to use both inserts for my heavy wetter but I don't need to add anything additional.
I do find this nappy extremely bulky. The inserts whilst absorbent make it very thick. In fact even unstuffed completely I find the shell quite thick, which is a combination of the thick PUL and the design of the interior double gusset.
The nappies are made in China, but Baba and Boo ensure their workforce have decent pay and conditions. They do try to be a bit discreet about the manufacturing location on their website. I don't personally consider Chinese manufacturing a negative from an environmental perspective. After all even if the assembly of a product is local you need to consider where the various components have been produced so it's not as straightforward as simply looking at where the product is made. However the reason I mention this at all is that the information on manufacturing location was not easily available.
These nappies retail for around £15 each. I do think that is expensive for what they are. You can get pocket nappies with bamboo and microfibre mix inserts for around half this price. And these cheaper pockets are slimmer, with nicer PUL and without the annoying double gusset (although admittedly not as soft and fluffy inside). Therefore I wouldn't recommend them as I feel there are several better alternatives.
You can also see this review, and many others, on my YouTube channel.