Flaww are an eco retailer who offer 'factory seconds' of various brands of cloth nappies at a reduced price. I'm a huge fan of their business model as it prevents perfectly usable nappies from going to landfill, and allows customers to buy nappies at a reduced rate. Flaww have since branched out to offering their own cloth nappy which I was kindly given free of charge in exchange for a review, but this is my honest opinion of the nappy.
They've continued with the Flaww branding on their nappy. It is an AIO nappy and retails for around £25 which is at the top end of the cloth nappy market.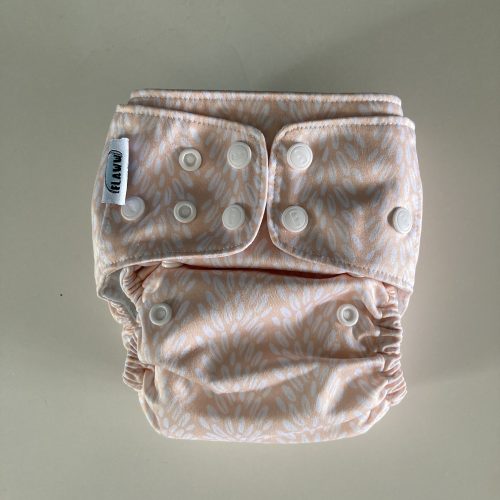 The outer PUL is made from recycled plastic which I really love because it lessens the environmental impact of creating a new nappy. It claims to fit from around the 8lbs mark, I first tried this on my baby (7lbs 8oz at birth and average centiles) when she was around 15 weeks. It gave a reasonable fit at that point, but if I'm being very picky there were tiny leg gaps. By 17 weeks we had a perfect fit. She's now 7 months and we have opened a rise which is comparable with other birth to potty sized nappies we have. I'm not personally convinced it would fit from 8lbs, although that will be dependant on your baby's shape.
The nappy is particularly generous in the length, so a great option for taller babies. It is narrow between the legs which I also like. The rise poppers are only in two columns, I do normally prefer a third column to hold the nappy's shape but I actually haven't found just having two columns an issue with this nappy, perhaps because of the narrowness. The back features a wide strip of elastic which I prefer for comfort. All the elastics on the nappy are gentle and yet offers great containment.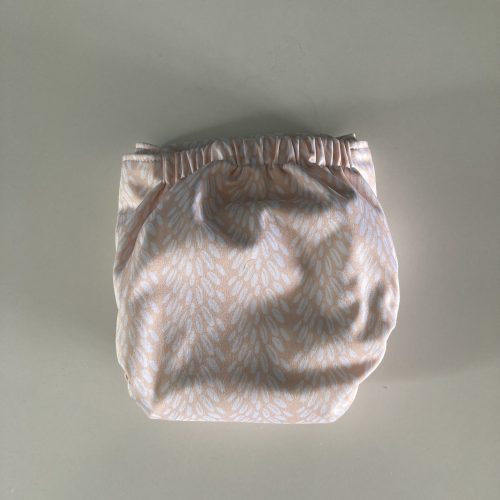 It is only available with a popper waist. It's a double popper with overlap and low hip stability poppers. The poppers are also branded with an 'F' which is a cute touch. There is a good range of poppers which continue to the edge of the shell giving plenty of sizing options. Combined with the generous length I feel comfortable this would fit a range of sizes and shapes until potty training.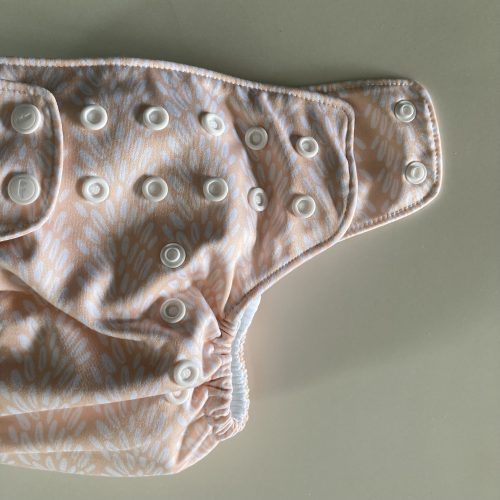 Once you get to the inside of the nappy you see why it has been priced at the more premium end. The absorbency is 13 layers of OEKO-TEX GOTS certified organic cotton. There is no stay-dry layer so if you want your baby to feel dry you'll need to add a fleece liner.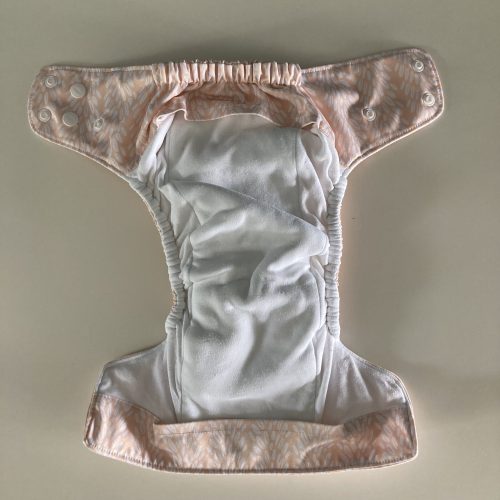 Under the front and back PUL flaps are pocket openings. At each end there is an absorbent tongue which forms part of the 13-layers. By having this separate it helps decrease the drying time, but this is still a slow drying nappy. You can also use the pockets to add additional boosters if you need to, although we have found the absorbency good which is quite a claim right now because my baby is going through a heavy-wetting stage.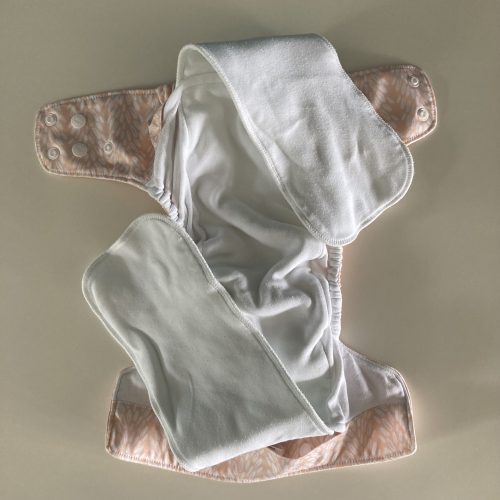 The tongues can either be stuffed into the pockets, or laid flat in the nappy. Although if you do lie flat then bear in mind it might make removing solids more difficult with the multiple layers. You can also fold the tongues to place extra absorbency in your baby's wet zone.
Whilst I do appreciate the tongues significantly reduce the drying time, I do find stuffing them into the pocket a bit fidderly. I think it is because the second tongue has to overlap the first one. But that is the only really negative aspect of this nappy for me. In an ideal world I'd prefer just a tongue opening at the back, but that would increase the drying time so it's a difficult balance!
Overall I think this is a really well designed nappy. Thirteen-layers of organic cotton creates some excellent absorbency. There is a good range of sizing options, and I think it would be well suited to both taller and chunkier babies/children. The price point is at the higher end of the market, and this is definitely a more premium nappy. But if this is within your budget then I would recommend.
You can also see this review, and many others, on my YouTube channel.