Geffen Baby are an American brand who make all of their products in the US. They have an extensive range of flat and fitted nappies, and this review is for their fitted nappy with poppers (snaps), they also make the same nappy but with a Nippa fastening. Like all fitted nappies, you'll need to add a wrap over the top to make it waterproof.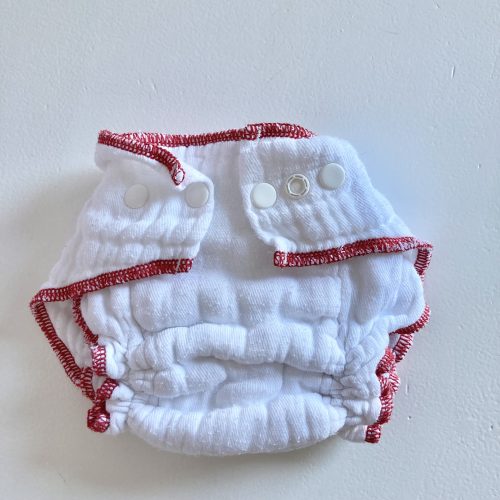 The fitted comes in four different sizes, extra small (prem to 10lbs), small, medium, large (21-30lbs). I have the large, my baby was about 21lbs when we received this and it has fitted her really well but with plenty of growing room. The edging stitching denotes the size to help quickly identify, the colour continues throughout the other sized products like the prefolds which is really useful.
They cost around $9.50-12.99 depending on size, so about £8-11 which I think is a reasonable price, especially for the larger sizes. Sized nappies will always be more expensive but they do give you a better fit. Plus if you're planning on multiple children it does reduce the wear and tear on your nappies so they last longer.
The nappy is 100% cotton, it has bobbled slightly with use which is normal. The popper fastening is a single row, but the outer ones act as a hip-stability popper so you don't get wing-drop. I actually prefer a single row of poppers. There is also an overlap popper. Because the nappy is sized there aren't any rise poppers.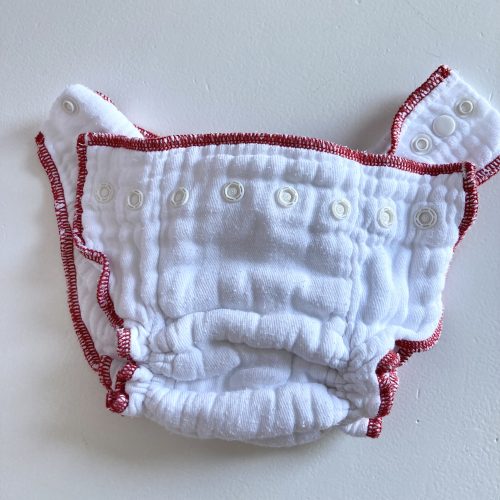 The leg elastics are really springy so they grow with your baby, but they are still very gentle on the skin.
Inside looks very similar to the outside. It isn't stay-dry lined so if you don't want your baby to feel wet then you'll need to add a fleece liner.
In terms of absorbency I use this nappy quite a lot during the day. My baby has a few points of the day (first thing in the morning, after a feed, after a nap) when she's a very heavy wetter and a 'day nappy' is often insufficient. This works really well unboosted on her. For nights I would need to boost this, but then I would expect to boost fitted nappies for night use, unless they were specifically marketed as a night nappy.
Overall I think this is a reasonable price for a good quality fitted nappy. Sized nappies are a bit more expensive so you have to trade that off with the better/slimmer fit. It offers good absorbency and is soft and comfortable. Ideally I'd have liked an inbuilt stay-dry layer but Geffen Baby do like to offer natural fibres (stay-dry layers are polyester).
You can also see this review, and many others, on my YouTube channel.