This review is for the birth to potty version of the wrap, which retails for £12.50. Frog and Bear also offer a larger size and a newborn size but I have not tried either of those. They also have a pocket nappy which I have reviewed here.
Frog and Bear nappies are ethically made by another brand called Kijani Baby who are an Ugandan social enterprise – a truly fantastic company that I'd really recommend checking out. It's great that Frog and Bear are supporting Kijani in this way.
The wrap offers a superior level of waterproofing thanks to its double PUL.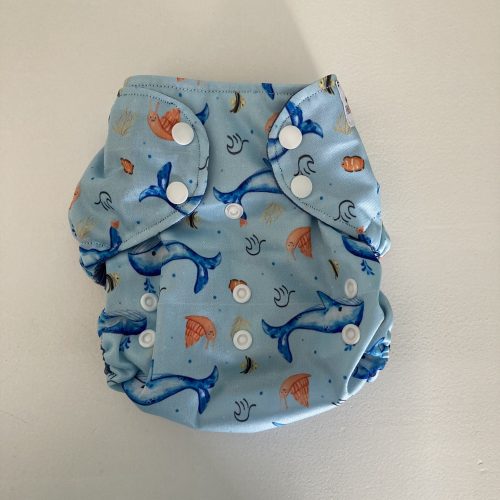 All of Frog and Bear's products are only available with a popper fastening. This wrap just has a double row of poppers. They extend to the edges of the wrap giving you the option to have a larger waist, but there is no overlap on the tabs so you may struggle to get a good fit on a tiny/skinny baby. The rise poppers are in three columns which is my preferred option. The height distance between the rise poppers does vary, with only a small gap between the smallest and middle rise then a large gap to have the wrap fully open. But we have always managed a decent fit.
The leg elastics are what I call a semi-rolled elastic. They are gentle on the skin and easy to fit.
Inside the wrap is all PUL so can be wiped down between nappy changes (unless soiled) and re-used. This makes it more cost effective, especially if you are considering these as a day time option.
The wrap can be used either as an Ai2 or a wrap over a fitted or flat nappy. Due to the normal bulk of a fitted or flat nappy you many find you need to open the rise one more row in order to accommodate the size.
There is a single popper at the back of the wrap, this is a female popper so would not hurt your baby if it happened to touch their skin. The popper is a fairly universal size so can be used to secure a number of inserts. Kijani make an insert themselves which fits nicely, and Frog and Bear also offer a snake insert (for £8 but I haven't tried it myself). I'm sure there are many others that work too. However you do not need to find something that makes use of the popper, any absorbency can be used and simply laid flat into the wrap.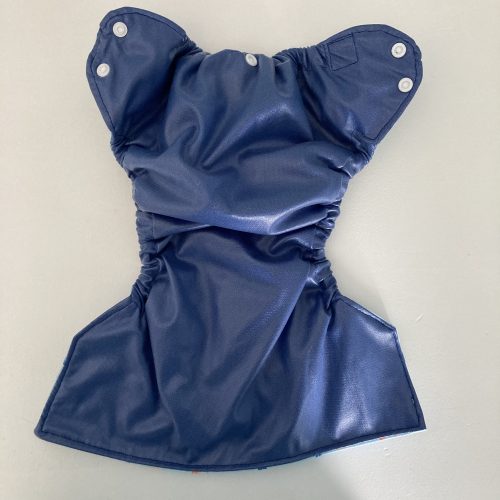 Overall I like this wrap. It is well-thought out to give you a lot of versatility on how you use it. Plus it is reliable. I also love that Frog and Bear are supporting Kijani by asking them to do the manufacturing.
You can also see this review, and many others, on my YouTube channel.