Chuckles are a New Zealand brand which have recently become available for purchase directly in the UK, for around £19.50. I was very kindly offered a brand rep position with them, but under no obligation to post a review. This review is my honest opinion of the nappy.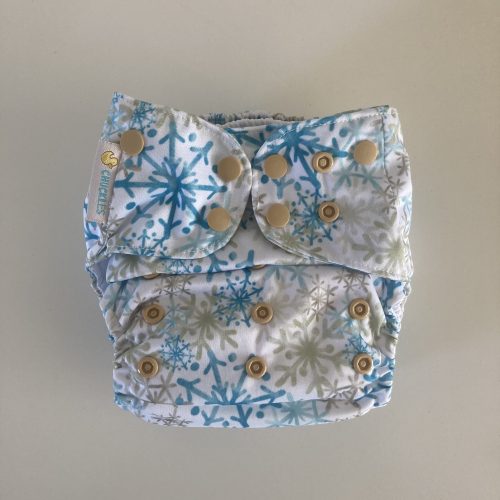 The Prima is an Ai2 nappy. My review is for the standard one-size, which I feel will comfortably fit us until potty training as we still have a rise left open. They do also offer a larger sized nappy, which I haven't tried, but is an option for slightly larger or older children.
The nappy is only available with a popper waist. It features hip stability poppers and an overlap option. The rise poppers are in three columns which I prefer. Despite feeling confident this will fit until potty training, it does also size down surprisingly small.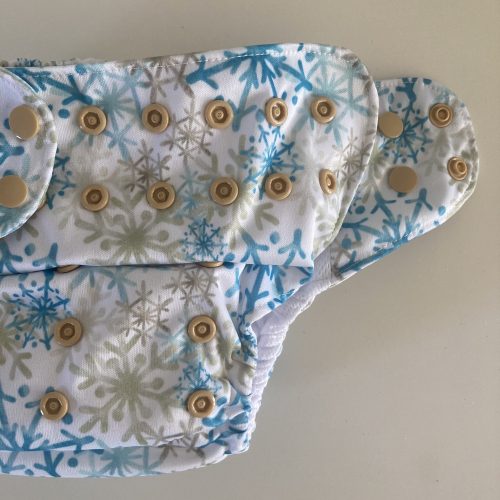 Inside is lined with athletic wicking jersey, which is very resistant to stains. I don't find it a commonly used fabric on nappies available in the UK, but personally I really like it. The downside of the athletic wicking jersey is that it is very porous, keeping my baby dry, but allowing stains to soak into the inserts occasionally. But this is purely cosmetic. There is a PUL tummy panel, and a good sized pocket opening at the back. It features an internal double gusset which I'm not personally a fan of, but because athletic wicking jersey makes it easier to remove solids it does not cause us issues.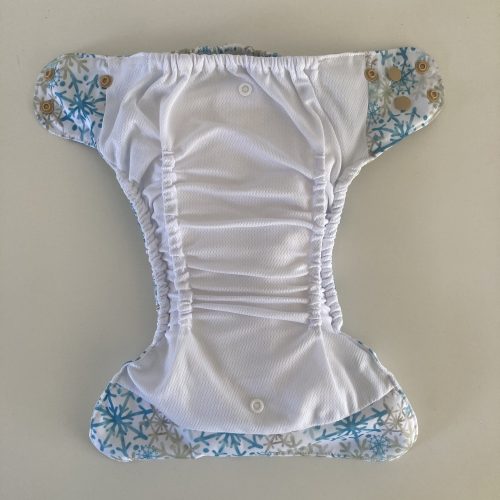 With the nappy you get two inserts. Both are bamboo:cotton blend (70:30) and each has a single popper so you can attach it to the inside of the nappy. Neither has a stay-dry layer so you might wish to add a fleece liner, or for me this is a reason why I use the nappy as a pocket, making the poppers redundant. The rectangular insert is 5 layers, the hourglass insert is 6 layers. Being slightly wider at one end the hourglass allows you to position a small amount of extra absorbency where you need it most. For me, with a boy who tummy sleeps, I always put the wider part at the front.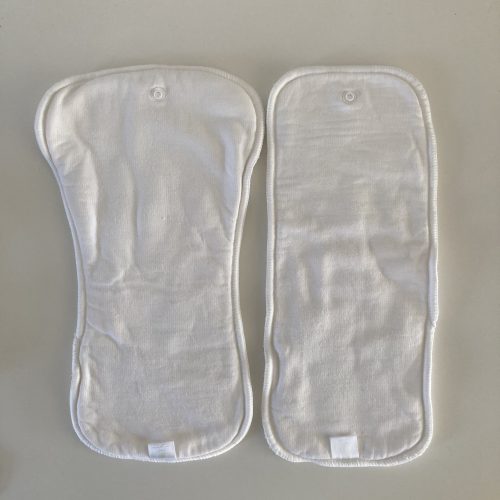 The inserts are very absorbent. I do know parents who manage to use the nappy overnight with both inserts, although that would not be an option for us. The absorbency does mean the inserts are very slow to dry. You can buy inserts separately which is a great way to bulk out your stash as the pocket shells dry extremely quickly.
On the smaller rise settings it is quite difficult to use both inserts in the Ai2 configuration. The shorter length of the nappy makes it difficult to have sufficient space to get both in. With younger babies you aren't as likely to need both inserts, so this might not be an issue for you. If you do need both then they will fit in the pocket together nicely. If you just have one rise popper down up, or fully open then you can use as an Ai2 with both inserts if you prefer.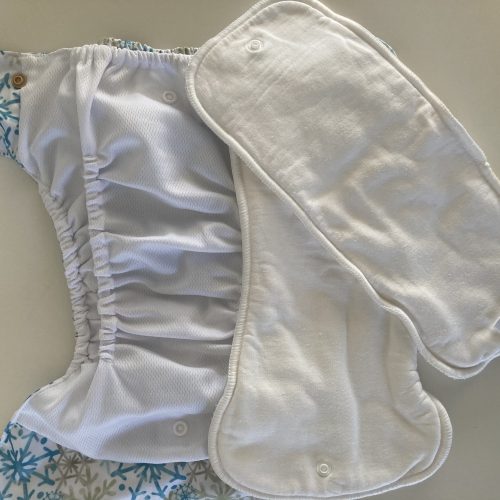 Overall I really like this nappy. It is one of the most absorbent day nappies in my stash, and yet remains fairly slim. Ideally it would just be a pocket nappy for me, without the poppered inserts and shell, but that is partly my personal preference. But I would recommend it, especially if you're looking for something with great absorbency and a good range of fit options.
A video version of this review is also available via my YouTube channel: